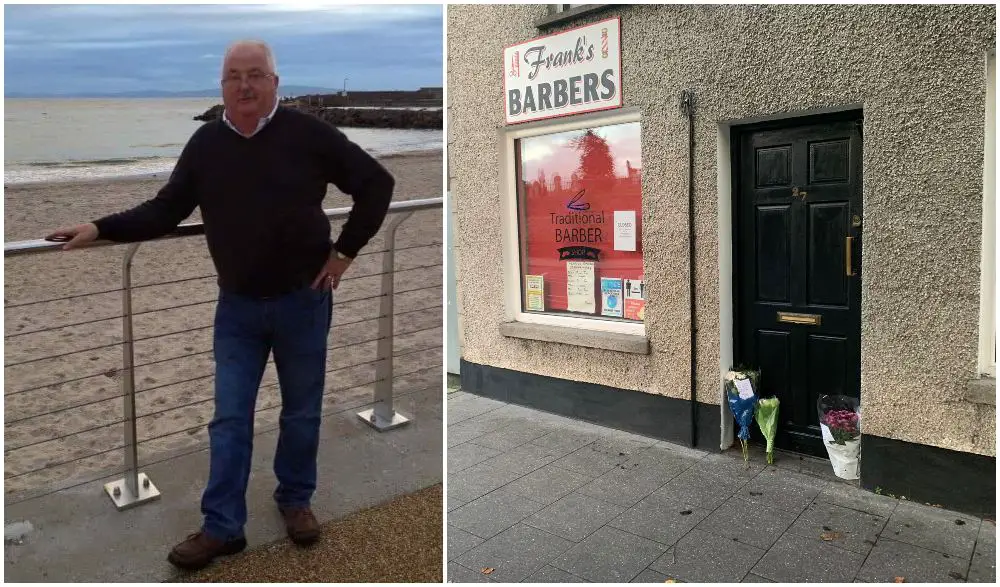 The town of Tandragee has been stunned after the sudden passing of a well-known local businessman and friend to all.
Frank 'Frankie' Burns – who was from Banbridge – was a barber in the town for period spanning more than four decades.
His premises at Church Street were always thriving, his popularity such that he was seen as more than a barber and a port of call for a hair cut.
Indeed, 'Frank's Barber' was a go-to for several generations of Tandragee folk and wider afield.
He was a remarkable man, a kindly confidante and customers fast became friends and returned time and time again.
Frank could engage in all manner of conversation and his light-hearted banter around many subjects, including football, endeared him to many. He was a familiar figure in the town, always a smile, often to be heard singing as he went on his way.
He passed away in the early hours of Sunday morning after a battle with a heart condition.
His son Andrew described him as his "hero", adding "our world has been turned upside down. RIP Dad I love you forever!"
Among those paying tributes was local Independent Unionist Councillor and fellow Tandragee businessman Paul Berry.
He said news of his passing had brought "deep sadness and shock" to the entire community.
"He was part of Tandragee for many years and he was loved and cherished by us all," said Mr Berry.
"His friendship to so many in town and district will be sorely missed. Deepest sympathy to Wendy and his family whom he was so proud of."
DUP Alderman Gareth Wilson commented: "This is such tragic news and my thoughts and prayers are with Frank's entire family circle at this very difficult time.
"Frank was an institution in Tandragee, a real fixture. When I worked full time in Tandragee, only a few metres from his barber shop, he would have almost daily popped in and said hello and he was literally always on top form and had a joke and laugh, rain hail or shine.
"In between hair cuts he would have been sat on his window sill and I remember a running joke when I would walk past he would say could Council not get him a summer seat for outside the barber shop window!
"What a character and what a loss to the town. I know that in recent weeks some of the actual bricks and mortar in town have crumbled, but with the loss of Frank the very community fabric of the town has been dealt a blow. He will be most sorely missed and fondly remembered."
Clann na Banna GLC, for which Frank's association spanned decades as a player, coach and manager, as well as an avid supporter of the club and an entertainer at fundraisers.
Posting on social media, the Club added: "First and foremost Frankie was a family man, and we offer Wendy, Johnny, Karen, Lee, Hayley, Aaron and Andrew and the wider family circle our deepest condolences at this very sad time.
"A giant of a man, the Clann have lost one of our own today. Ar dheis Dé go raibh a anam."
Sign Up To Our Newsletter