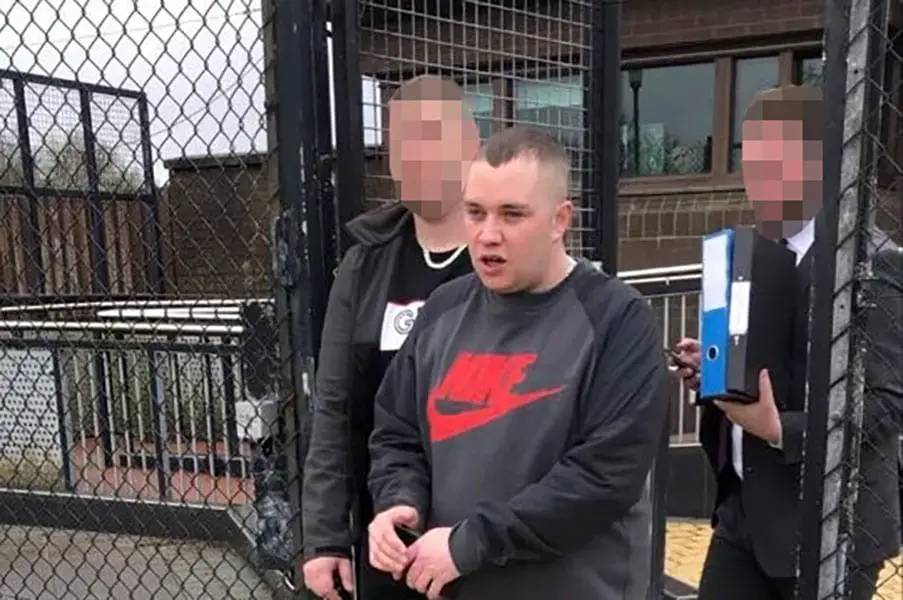 The case against one of the three men accused of murdering a Co Armagh father-of-four earlier this year has "significantly weakened" in light of a forensic report, his defence counsel claimed in court.
Jake O'Brien, who is accused of murdering Shane Whitla in Lurgan in January, appeared before Craigavon Magistrates' on Friday, via videolink from Maghaberry Prison, in a bid to be released on bail having spent the last eight months on remand.
His defence proffered an address in south Armagh, however, police objected to it citing the fact that the address put forward was a licensed premises* and was "not suitable for a bail address".
A detective constable also argued that the address was only 24 miles from the location of the murder and fell within the bail exclusion zone. A second address put forward had been withdrawn.
The detective said that there was a likelihood of further offences as police believe O'Brien to be a member of an organised crime gang. He also told the court that O'Brien's bail history "has been anything but exemplary", having breached bail on a number of occasions, including a one-time trip to Donegal, beyond the jurisdiction.
O'Brien was on bail in relation to the 2019 murder of Malcolm McKeown in Waringstown when he was arrested in connection to Mr Whitla's killing on January 12.
The detective told the court that police "have encountered a real fear in the community" given that the investigation has been linked to 'The Firm', an organised crime gang believed to be operating in the Lurgan area. He argued that if O'Brien was released this would further hamper the investigation.
However, O'Brien's defence barrister showed a printout of the proposed bail address, stating that it was a motel, with a separate entrance to the adjoining bar.
She also asked the detective constable if he was aware if O'Brien drinks or not, to which he said he was not aware either way.
"Would it surprise you to know he doesn't drink?" she asked, pointing to the fact that O'Brien had not had any alcohol-related breaches on his record.
The defence barrister said the bail application was delayed for a week pending the presentation of a forensic report and "it turns out we were absolutely right to wait for that".
She said: "The updated forensic report states that the particles of CDR (Cartridge Discharge Residue) found on Mr O'Brien are antimony-led particles."
Citing the report, she read: "It is my opinion that it is very unlikely the antimony-led particles detected on the items have originated from any of cartridges found near the deceased. The indicative particles on both the suspect's clothing and homes are unlikely to have originated from the same source as those detected on Mr Whitla's clothing."
She continued: "So the case against Mr O'Brien has now significantly weakened. What we have is forensically confirmed CDR particle on his clothing unlikely to relate to the murder of Shane Whitla. We submit a fundamental change in circumstances.
"The applicant has been in custody going on eight months on a case that is growing increasingly weak…", she said, adding that one of the main pillars of the case is "now completely unsustainable".
District Judge Bernie Kelly, in passing down her ruling, said: "I'm happy enough that there is enough as far as connecting him is concerned, which is all that is needed at this stage.
"I have huge difficulties with Mr O'Brien. Firstly, and it's perhaps the biggest point, Mr O'Brien is currently facing a murder charge in the Crown Court and while he was on bail for that he is now alleged to have committed another murder; that therefore would at least on that basis suggest the risk of further offending is exceptionally high and one that this court would be loathe to consider suitable for bail.
"When I compare that to the conditions I'm asked to approve. Firstly…in Co Armagh, [a county] where his co-accused – who are on bail – are banned from entering, I do not accept that, for some reason Mr O'Brien should be singled out as a special case to be allowed in Co Armagh. Irrespective of the Co Armagh bit, I do not accept this is a suitable property for bail given that is a) a motel, b) a bar, or a combination of both."
District Judge Kelly refused bail and adjourned the case until October 6.
*A bail address can be proffered by a defendant without the owner's permission. It is therefore up to police to check the suitability of that address. 
Sign Up To Our Newsletter