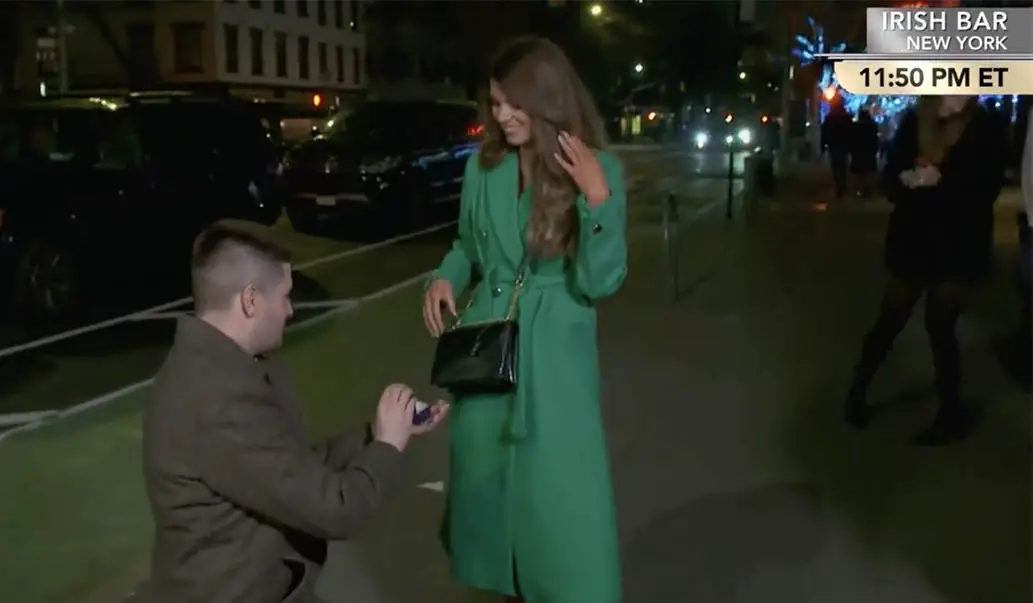 A starry-eyed Benburb man has chosen the perfect moment to pop the question which would put many to shame.
Oisin Daly got down on one knee on New Year's Eve to see if his partner, Keady girl Danielle Renaghan would be up to saying 'I do'.
Pretty standard, we hear you say, so far!
But not for Oisin.
He decided to deliver 'the big ask' on live television, in front of millions of viewers enjoying CNN's New Year countdown from New York.
TV correspondent Donie O'Sullivan was broadcasting live from an Irish bar in the Big Apple just minutes before midnight.
He interviewed the couple, with Danielle revealing that the trip to New York had been a Christmas present from her other half, the couple having been together for two-and-a-half years.
She told the diminutive Donie that the shopping had been the highlight of their visit so far – unaware of what was yet to come…
When Donie asked her if she loved Oisin, she coyly responded: "Of course I do."
Then pitching the same question at Oisin, the Co Tyrone man proved actions speak louder than mere words.
He dropped to one knee and said: "I love her so much I would just like to do a special thing…Danielle would you like to marry me?"
Delighted Danielle is a woman who clearly knows her own mind and she did not keep him waiting for an answer.
"Yes," she beamed, as he placed the ring on her finger and she stooped to plant a kiss on her new husband-to-be's lips.
Applause, cheers and flowers followed for the thrilled couple as they were the toast of Times Square and beyond!
We're quite sure a wee dram or two followed to celebrate a proposal neither will ever forget!
A huge congratulations to the happy couple!
CNN's @Donie O'Sullivan joins a couple who traveled from Ireland to New York at an Irish bar to celebrate an extra special New Year's eve with them. #CNNNYE https://t.co/YZ32bCBsdM pic.twitter.com/QtiiikSnkr

— Anderson Cooper 360° (@AC360) January 1, 2022
Sign Up To Our Newsletter