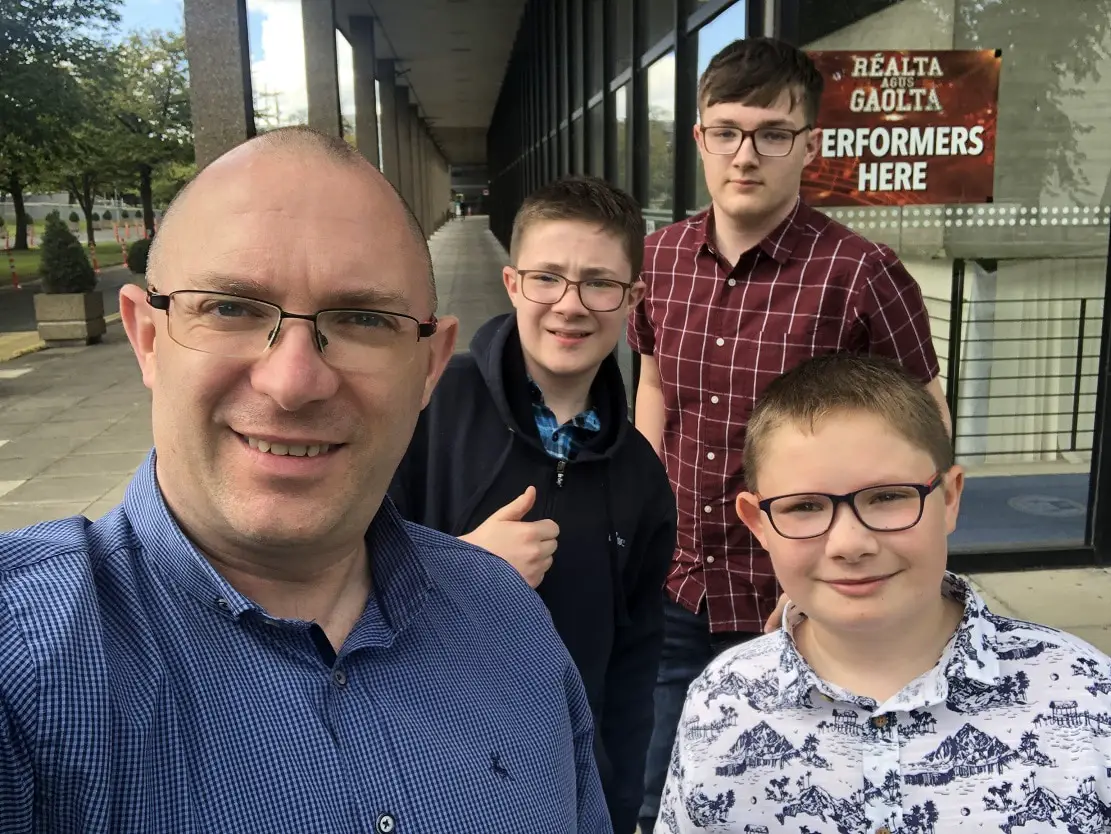 A highly talented Co Armagh family band will be featuring on the new series of TG4's hit talent show Réalta Agus Gaolta.
The Hughes Family band, from Keady, consists of dad Paul along with his sons Niall, aged 16, Liam (12) and 11-year-old Matthew.
The family only began to play traditional Irish music together back in September 2017.
But in three short years with a lot of practice they have quickly progressed.
With Paul on the banjo, Níall the accordion and guitar, Liam the whistle and flute and Matthew on banjo, mandolin and fiddle, this is one talented outfit.
Ahead of the series start this Sunday, we caught up with Paul to hear all about the family band's meteoric rise in such a short space of time.
He said: "It has been a work in progress from 2017. We joined the Armagh Pipers Club in that same month. That is really the first time we started playing the Trad music together.
"There was practising in the background, the boys starting getting lessons, but, for example, Niall hadn't touched an accordion until 2017, even at that it was a piano accordion. It was not until the February that he picked up the button accordion."
Paul put this steep learning curve displayed by his son Niall to "natural raw talent", adding that the St Patrick's High School student could turn his hand to any instrument.
"I am the main driving force in keeping them practicing, but the thing is when they come from school you don't need to shout at them to practice. That comes when you are trying to get them to do their homework," joked Paul.
"It is in them, the music is there and they look forward so much to their music lessons or whatever is coming up."
Prior to this family venture, Paul had been a drummer in the St Oliver Plunkett Accordion Band in the early 90s, picking up numerous All Ireland champion plaudits.
"From that really, I never really lifted an instrument in my hand until I lifted the banjo," he said. "The whole idea behind that was that if I am happy to go to lessons and learn and practice the kids will be happy to do the same."
Revealing how the band were chosen for the show, Paul said they were picked after researchers spotted a video which the family had posted on Facebook.
"They asked us if they could take some videos to submit for auditions," explained. "They asked if we would be interested in having a spot on the show. We didn't really go looking for it.
"We're super excited to have taken part in Réalta Agus Gaolta and having been able to have this opportunity as a family."
You can check out some videos of the band playing on their Facebook page and to see how they got on you can tune in to watch them at 8.30pm on Sunday, November 15.
Sign Up To Our Newsletter