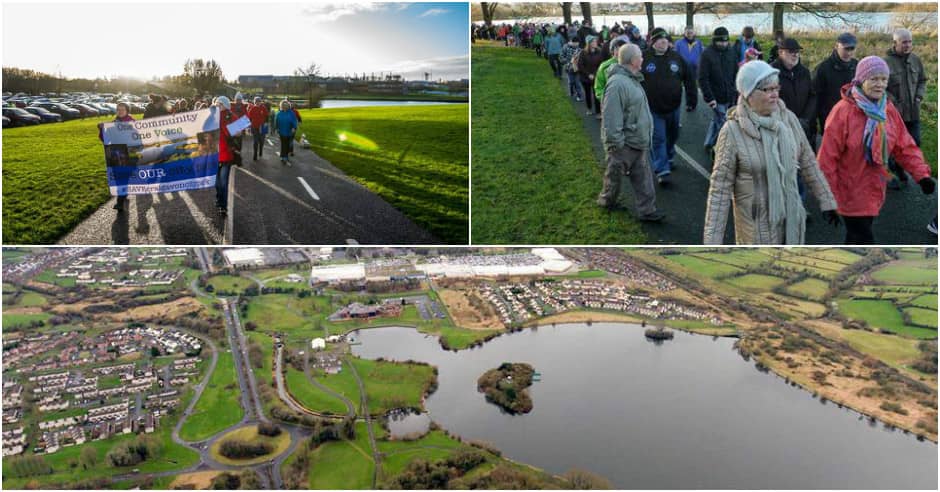 More than 600 people turned out to protest the building of the new Southern Regional College within the boundaries of Craigavon Park on Saturday afternoon.
A group of residents objecting to the College's plans say there are numerous alternative sites for the new multi-million pound campus.
The group have set up a petition on charge.org called 'Save Craigavon City Park and Lakes', which has garnered more than 1,700 signatures so far.
Kelly Laverty is one of those who has signed the petition and was in attendance at last weekend's protest.
Ms Laverty told Armagh I that she, or any of the other residents, had no objections to SRC moving to Craigavon but "we do not want it built in our park".
She added: "It wouldn't be accepted in Lurgan Park or Portadown People's Park so it shouldn't be accepted in ours. There are plenty of alternative sites.
"The more I get involved in this campaign to save our park, the more incensed I become. Incensed and bewildered!
"What planet are they on? We have a fabulous recreational resource available to us at City Park. It is available and accessible to all and it is free to use.
"Most of us live within walking distance of it. It is used by walkers, runners, cyclists, mountain bikers, canoeists, footballers, hurlers, boot-campers, horse riders, dog walkers, swimmers, banana boaters, fishermen, birdwatchers, nature lovers, artists, photographers, and the list goes on.
"It is used everyday and in all weathers. It is used from early in the morning to the early hours of the morning. People travel from far and beyond to use it. It's for young and old, disabled and able bodied, for medication and meditation. A Highway to Health, a Heart Town, a nature reserve …. It is an absolute gem in the middle of Craigavon! So why do the powers that be want to destroy it?
"We are facing an obesity crisis and an epidemic of mental illness, yet they take away our remedy. Where do you go if hitting the gym is outside of your comfort zone or if you need to clear your head? We have the highest suicide rate per capita outside Belfast and our Council is bringing 1500+ students and a college campus the size of Rushmere to the only retreat some of us have.
"The concepts and ideas look good in a glossy brochure, but it's like they've been taken from much bigger and grander projects / areas and they won't work in Craigavon. The only boats that use the lakes are canoes so why do we need a marina? We want you to be realistic and sympathetic to the needs of the people you represent."
However, the SRC were keen to stress that the new campus has been sympathetically and sensitively designed to work in harmony with the local environment and its habitats, ensuring that local residents and park users continue to have access to and enjoy the existing benefits which the area brings.
Brian Doran, Chief Executive at Southern Regional College, told Armagh I: "The development of a single site campus located in central Craigavon offers a fantastic opportunity to transform education provision across the region and to enrich the local area.
"The investment of over £30m in a new community based campus building is essential if we are to continue to meet the future skills needs of local people, business and industry and to address the significant levels of social exclusion and youth unemployment in the region.
"I fully recognise that there may be some concerns in regard to locating the college campus in an area next to the South Lake and welcome the opportunity to engage with all stakeholders through the community consultation process.
"The new build has been sympathetically and sensitively designed to work in harmony with the local environment and its habitats and I can assure the wider community that the College will work with all interested parties to address concerns in relation to the location and design of the campus building."
Read more news:
Staggering 8,000 names removed from electoral register across county's two constituencies
Buddha statue stolen from house in Monday morning burglary
Armagh woman close to tears as she witnesses pensioner's true act of kindness
Decade-long dream for state-of-the-art community centre moves a step closer
Anger and disbelief as deal to save Bannview GP practice falls through
Scam artists 'pretending to be homeless' in Armagh
Co Armagh man makes semi-final of Ninja Warrior UK
Thieves steal 20 cattle from farmer (62) in hospital with pneumonia
Owners distraught after personalised vintage tractor stolen from Armagh farm
Sign Up To Our Newsletter