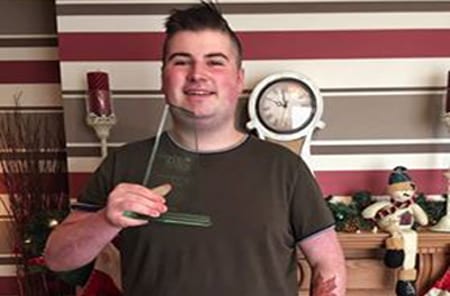 A young Richhill man has scooped a major award for the work which he is doing to encourage, help and inspire  victims of bullying.

Joshua Hewitt was driven to the brink of suicide and was forced to leave school as a result of the relentless bullying to which he was subjected from the age of 13.
Five years on and he has told Armagh I that "life couldn't be better" and again to reiterate to others never give up hope.
He has just been presented with the Ignition 'Campaigner of the Year' award at a special gala event this week in Belfast.
And it was made all the more special as it fell on his 19th birthday.
Brave Joshua – who believes he was singled out by the bullies because of his Aspergers and Tourette's Syndrome – sees himself not as a victim, but as a survivor with a message to bring to others.
It is that message and the means in which he has delivered it so successfully and widely to others that made him an obvious choice for the awards' judges.
Joshua is so dedicated to helping others that he set up his own YouTube channel under the name of the Hewitt Collective.
In it, he speaks of his own life and experiences.
He has also featured in a short film by the charity 'Fixers', in which he faces the camera and talks openly and honestly to the public in a powerful and poignant four-minute window on his life, past, present and going forward to the future.
Joshua speaks of his experiences of being bullied at school and how it continued after he felt no option but to leave in favour of home tuition.
He became a victim of online bullying and was even subjected to a sinister and threatening phone call when he was called a "Touretted retard" and told to "hang yourself or I'll kill you".
Next he was the subject of a glut of threatening messages, singling him out, publishing his address, to the extent he says it felt "like an organised witch hunt".
It got so bad he could not cope but he was determined not to give in, not to let them win, and now to tell others that there is always a positive, always hope, people to turn to.
"No matter how hard it gets there's always a positive way out," he said. "There's always hope and there's always steps you can take. Stay strong, keep your head up. Fight fire with kindness. Follow your passions and talk to your family.
"I raise awareness of all things bullying, constantly reminding myself that I am more than my conditions, more than a victim. If you are feeling put down by the trolls and bullies do not believe the lies – you are more than your condition, more than a victim.
"You will use your experience to help others. Be the change."
Joshua has now collected his 'Campaigner of the Year' award from social enterprise company Ignition Belfast, which was set up as a platform for all organisations to market and deliver their message of 'positive youth' and evaluate learning across all digital mediums.
In all 20 awards were handed out in a range of categories, with Joshua deservedly being named among them.
The inspirational young man is delighted at the recognition and plans to continue to devote his efforts to bringing hope to others who may be experiencing similiar to what he has.
Joshua told Armagh I : "It feels so rewarding to think how much difficulty I had experienced just a few years ago, when I had given up, and now with my campaigning helping others, I find it a great feeling.
"I never thought I'd enjoy life this much!"
Ignition director Gareth Gilvary said the social enterprise was "all about showcasing positive youth and education".
He told Armagh I: "We've had the privilege of working with many great organisations and amazing young people – so we know that more could be done with regard to acknowledging young people's many amazing talents and achievements.
"The very first IG Youth Awards has been a complete success and we're really thrilled that we got to hear about, and show off, so many talented, inspirational and positive young champions from across Belfast and beyond.
"We're very thankful for the amount of support we've received for our first year, as there were a lot of people behind the scenes who contributed in small ways to make the awards special.
"We're extremely proud of every young person last night and its with them we take inspiration to continue developing Ignition and look for ways to engage with more young people and showcase their many achievements!"
We at Armagh I are delighted for Joshua – a fantastic role model for other young people who brings a very important message! Congratulations!
Check out Joshua's YouTube channel 'The Hewitt Collective' here.
Read more news:
Bogus charity street collector sentenced after Armagh scam
Watch this brilliant Mannequin Challenge with a Christmas party twist
Woman charged after store staff in Armagh alert police to shoplifter
Mum outraged as Royal Mail return little girl's letter to Santa
Pensioner robbed of Christmas money before being assaulted and locked in kitchen
Two Co Armagh men arrested during international laundering and tobacco raids
Transplant legacy for 'Bambi' as young dad's organs give four strangers gift of life
Co Armagh family in lucky escape after carbon monoxide engulfs home
'He's a fighter' says sister of teenager fighting for his life after crash
Sign Up To Our Newsletter