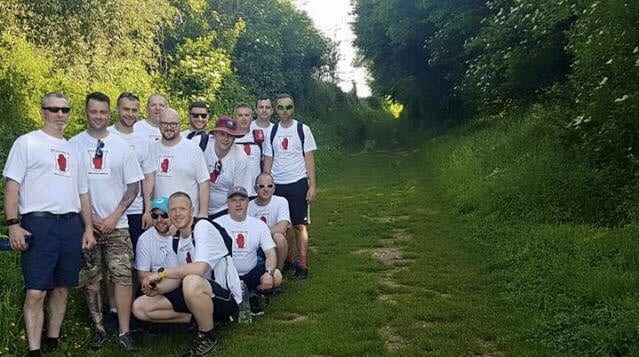 A Banbridge Orange lodge has been awarded a grant of £9,100 to research, remember and share the stories of the men of Banbridge who paid the ultimate sacrifice during World War I.
Heritage Lottery Fund made the allocation through its 'First World War: Then and Now' programme to Banbridge Lodge No Surrender LOL 20. 
The Banbridge project – entitled 'Walk of Remembrance' – was the brainchild of Lodge secretary Stuart Magill, whose great grandfather was one of the fallen. 
It entails a wide range of activities locally in Banbridge including a showcase event in November documenting a 130km walk from Theipval Memorial in France to the Menin Gate in Belgium, over four days, and the extensive research into each of the men associated with the Orange in Banbridge. 
Just returning for the 130km walk, Stuart Magill said: "We are delighted that Heritage Lottery Fund (HLF) has committed to support this very worthwhile project and we want to thank them for their financial support. 
"We as an organisation wanted to walk in the shoes of those men from the lodges associated with Banbridge District Orange Hall who paid the ultimate sacrifice during WW1. 
"However, we were keen that it didn't stop upon our return home. We wanted to teach and support our members and junior members how to research war time history generally, but also to look specifically at those men connected to the hall who fought and those who lost their lives. 
"Over the next six months our group will be using our HLF grant to collate the images from our walk, engaging a researcher for a period of six weeks and start learning research techniques."  
Whilst the trip to France was fully funded by the members of the lodge, Heritage Lottery Fund did provide funding for two members to go on the trip to document the walk and to purchase equipment to record the experience so others could learn about the trip, the history and see the sites visited.
The aim is to produce a lasting legacy via a YouTube video, booklet and website.
The group are also planning an exhibition which members will contribute to via their research and this exhibition will be able to travel to other venues so more people can find out about the Banbridge lodges' First World War history.
Paul Mullan, Head of HLF in NI, commented: "This project was funded through our First World War: Then and Now programme, which has been helping communities across the UK to explore and share the impact of the war on their area. 
"Every community was affected in some way, either by the events that took place, or by the changes it brought about. Each individual project draws out different stories and experiences which add to our collective understanding of that turbulent period of history.
"It is thanks to National Lottery players that we can support local projects like this one. We look forward to seeing what stories emerge from the project."
Mr Magill, meanwhile, added: "Our aim through this project is to educate our members and young people on the reality of war, better equip our members with researching abilities so that further projects can be undertaken and to have a legacy project that will remain within our hall and will be loaned out to local groups for historical talks."

Upper Bann DUP MLA Carla Lockhart has also been working with the group on what she described as a "worthwhile project". 
"It will create a lasting legacy to the men who laid down their lives for our freedom," she said.
"I look forward to seeing this project come to fruition. Knowing our history, particularly our shared history, is vital in Northern Ireland, and this will certainly go some way to educating, informing and documenting these brave courageous heroes."

Sign Up To Our Newsletter