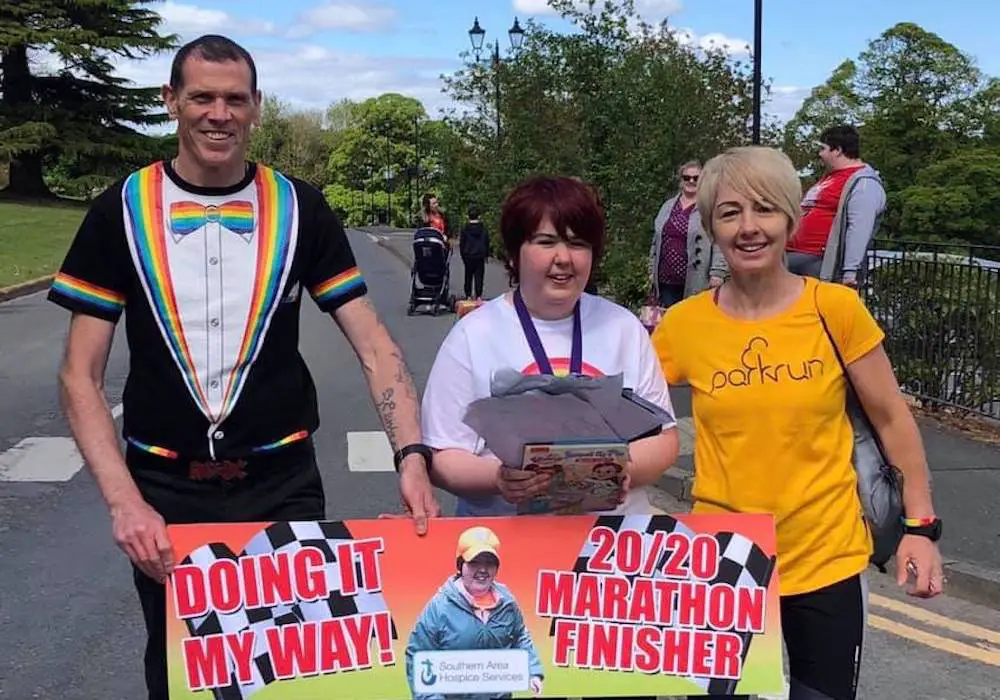 This is the heartwarming moment when a young Darkley woman successfully completes her marathon challenge in aid of Southern Area Hospice.
Jodie O'Connor – flanked by proud mum and dad Bernie and Kieran (main image) – was greeted with cheers and applause by well-wishers as she achieved her goal.
They gathered at the Palace in Armagh to welcome Jodie across the finishing line, a richly-deserved response after such a magnificent effort.
Not only has she done what she set out to do, she has raised a super sum for the crucial work of Southern Area Hospice at the same time.
As Armagh I reported earlier this month, Jodie O'Connor, who was diagnosed with autism at the age of five has, had planned to complete the marathon 'her way'!
Along with mum Bernie, she has been a regular attender at the Park Run in Armagh, for the past six years.
Bernie decided to set 23-year-old Jodie the task of completing a marathon of 26.2 miles in 13 days to raise funds for the hospice.
And no problem to Jodie!
She was beaming this afternoon as she crossed the line.
Mum Bernie is thrilled and would like to thank everyone who has shown their support and contributed.
She spoke to Armagh I afterwards and said they were looking forward to handing over the proceeds, which will be put to good use by the Southern Area Hospice, at what is a difficult time for fundraising with numerous events having been cancelled.
Said Bernie: "Jodie finished her marathon today and even did an extra mile on top!
"The total so far today is at £1331.00, although people are still donating.
"We can't believe she has raised this much – we definitely weren't expecting anywhere near that when we started.
"We would like to thank all who donated and encouraged Jodie.
"It was so good of people coming along today to cheer her on at the end, especially with all the social distancing.
"We are so proud of her for sticking at such a tough challenge for her over the past 13 days – and to top it off to be able to help the Southern Area Hospice who do such great work.
"We would also like to thank Armagh I for covering the story and for highlighting the challenges everyone is facing at this time but good things do come out of tough times."
From all of us – a huge well done to Jodie! You truly are an inspiration to us all!
Sign Up To Our Newsletter