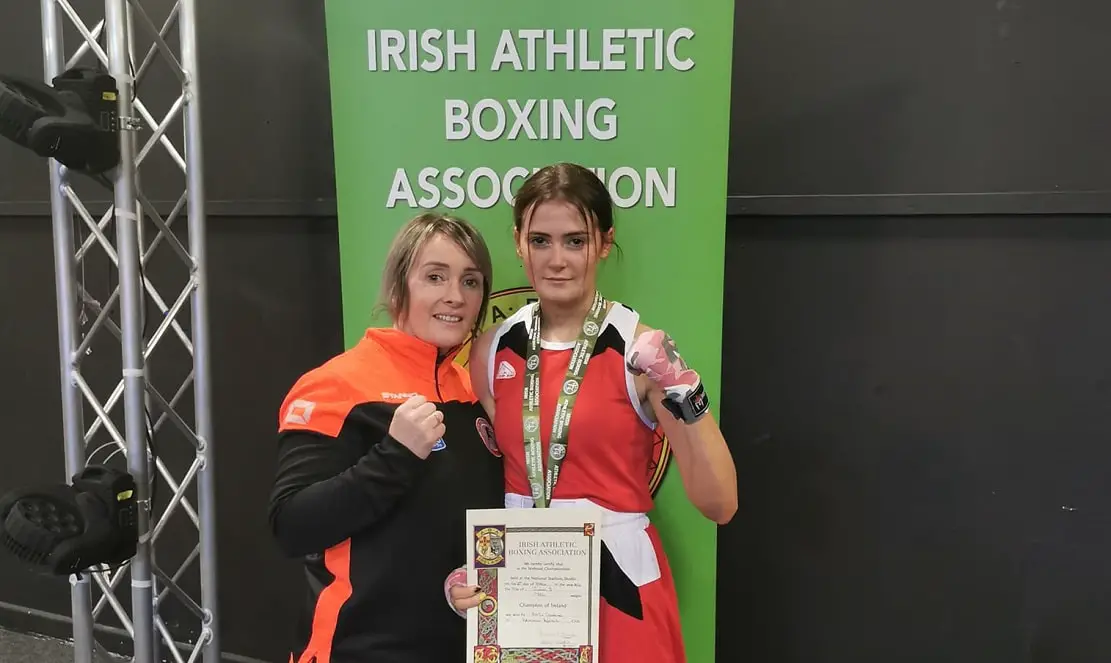 Armagh may have a new sporting star on its hands as the city sees its first female All-Ireland boxing champion.
Aoife Dougan claimed the Junior 1 48kg  Title at the National Stadium after stopping her opponent in the second round on Sunday, which has also marked a first for the city's Amateur Boxing Club.
This accolade has been three years in the making for the 15-year-old, who failed to make it past her semi-final opponent in the 2019 edition of the same tournament.
The youngster began boxing at the tender age of 10 and is proof that the apple does not fall from the tree, with her mother and trainer, Charlene Creaney, being a former European kickboxing champion.
Speaking to Armagh I, Aoife explained how she started the sport in order to "follow in the footsteps" of her mother.
And proud mum Charlene added: "Her was Grandad was a boxer. He was really keen for her to get into the sport and that year the club opened up which was just by chance.
"I was kickboxing in Dungannon which was too far away and there was just a better set up with the boxing for Aoife."
The rest is history, as they say, with Aoife taking to the sport straight away.
She said: "When I first joined there were three of us girls but over the years they dropped off and now it is just me, but there are a few girls in the younger classes now.
"I think I stuck at it because I didn't know anything different, I didn't want to do anything else and I just really enjoyed it."
Charlene said that Aoife had also made friends at the club who all helped each other out.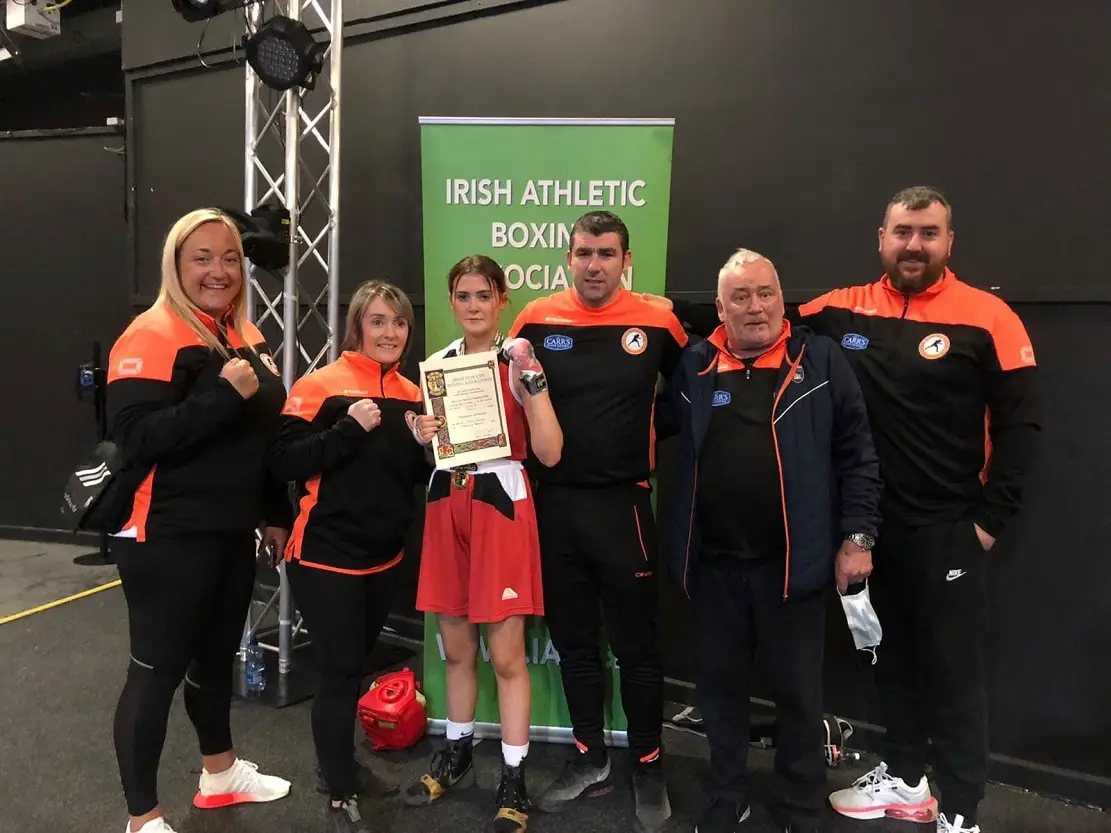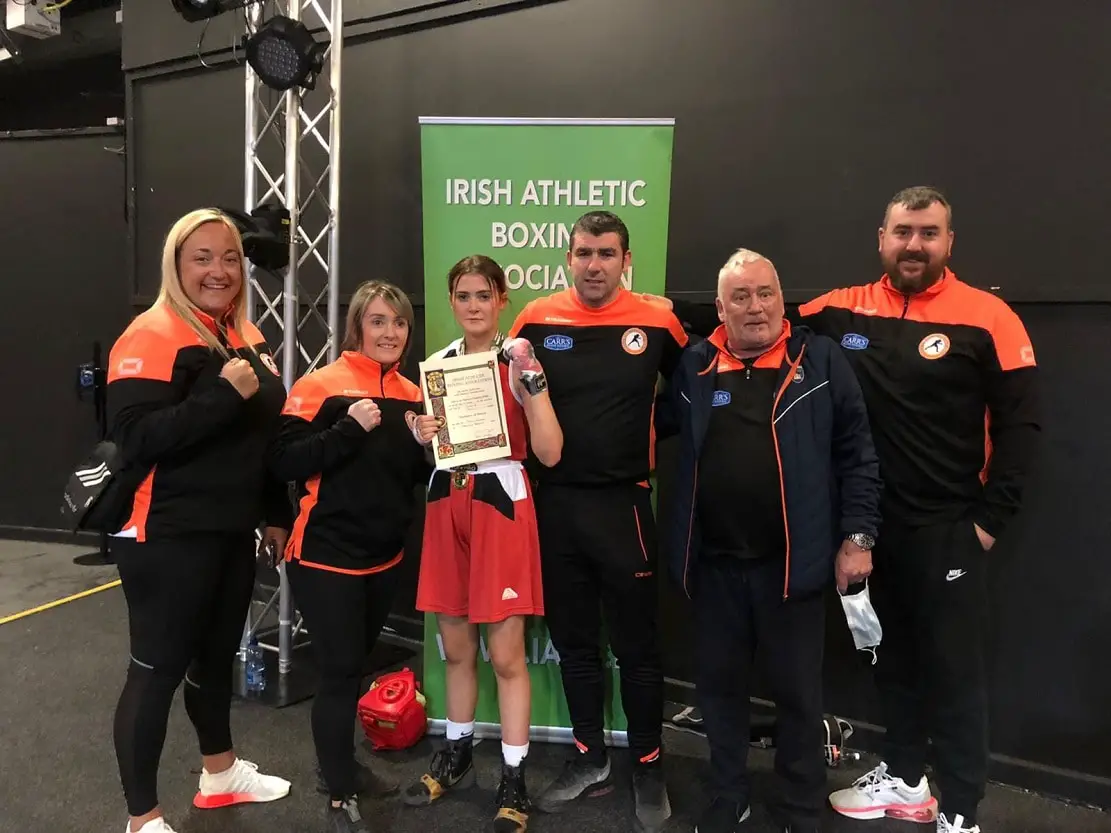 Also a keen footballer, Aoife stated: "I was beat in the semi-finals in 2019, then lockdown hit and I couldn't box for two years but as soon as I got back I made it my goal to win it this time around."
However, over lockdown Aoife had the mixed fortunes of her mother also being one of her coaches.
"It takes a lot of training. I made sure she continued it over lockdown and kept pushing her," explained Charlene.
This added training definitely came in handy when Aoife made the trip to Dublin at the weekend.
"I had never seen as many girls fighting before, we don't have as much of it in the north and it is often hard to get sparring," said Aoife. "I think the first time I went I didn't know how big it was but this time I got to take it in."
Charlene added: "The atmosphere was totally different, it was such a big experience for her to be fighting in Dublin let alone winning it"
Speaking about the moment she won, Aoife recalled: "I just felt relief. I just remember looking over to my corner with my mum and Dolly (Donald Renaghan) my coach.
"I came back after to the City Hotel, where my club mates and coaches had organised a surprise party which was great to celebrate."
Charlene said: "We watched the other semi-final, we knew that if Aoife boxed the way we know she can that she would win but it all depends on the day really.
"It is an amazing accomplishment for her. Colum Doran was the last man in Armagh city to win an All Ireland and he had been down to the club chatting with her which was great."
According to Aoife focus has already switched to next year's All Ireland and she is determined to stay in the sport.
"I think that this win has put a bit of fire in her belly. It has been five years in the making but I think she believes in herself a wee bit more now," said Charlene.
Sign Up To Our Newsletter