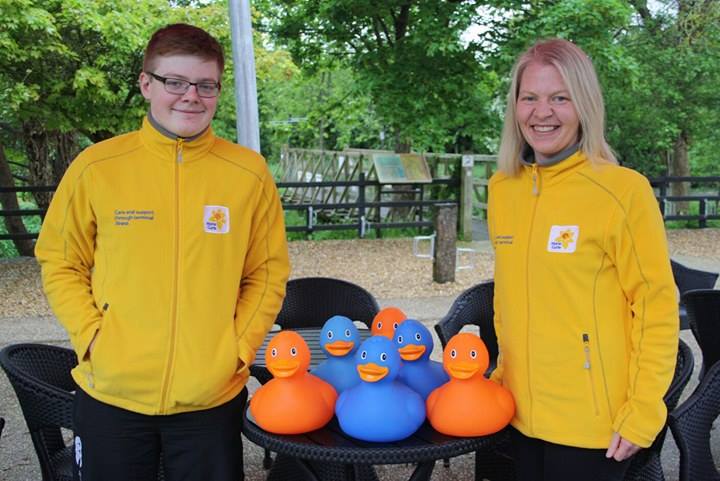 A fantastic fundraising idea for a very worthy cause and all are invited to come along and join in.
The Craigavon branch of Marie Curie will be hosting their annual and ever-popular Scarva Stroll on Saturday, June 4.
This is the 15th year of the event.
But 2016 will see the added bonus of a children's Big Duck Hunt along the Newry Canal towpath.
Fun loving families are needed to help find Scarva's ducks which have gone walkabout – and raise money to support the work of Marie Curie.
Craigavon fundraising group member Jill Hawthorne said: "It's always a fun day out, but we're hoping the duck hunt will have even more people flocking to Scarva this year.
"It's a great opportunity to help support Marie Curie nurses in our community who provide care during the most difficult time families may face."
The walk begins at 10.30am at the Scarva Visitors Centre, and there is a choice of a two, six or nine mile walk – and a reward for finding all six of the large plastic ducks along the two mile route.
There is a minimum fee of £10 per family taking part, but organisers are encouraging everyone to raise as much sponsorship as possible for Marie Curie.
For more information or sponsorship forms visit the Facebook page www.facebook.com/craigavonfg/ call 028 3834 3411 or email sandra.spence@mariecurie.org.uk

Picture: Jake McMillan and Jill Hawthorne, taking part in the Scarva Stroll for their 10th year. Photograph by Karl Holmes.

Read more news:
Exciting plans submitted for new community 'hub' in Markethill
Traumatic attacks on parking attendants happening on an alarming scale in Armagh
Eye-watering amount spent on city's link roads – and not an inch of tarmac laid!
Harrowing accounts given as Kingsmills Massacre inquest gets underway 40 years on
Cars at county Armagh dealership destroyed in arson attack
Watch: Co Armagh man's amazing fiddle cover of Italia '90 anthem 'Put 'em under pressure'
Look inside the £800 a month Gosford Castle apartment
Planners approve new pizza restaurant and takeaway in Armagh in record time!
Sign Up To Our Newsletter