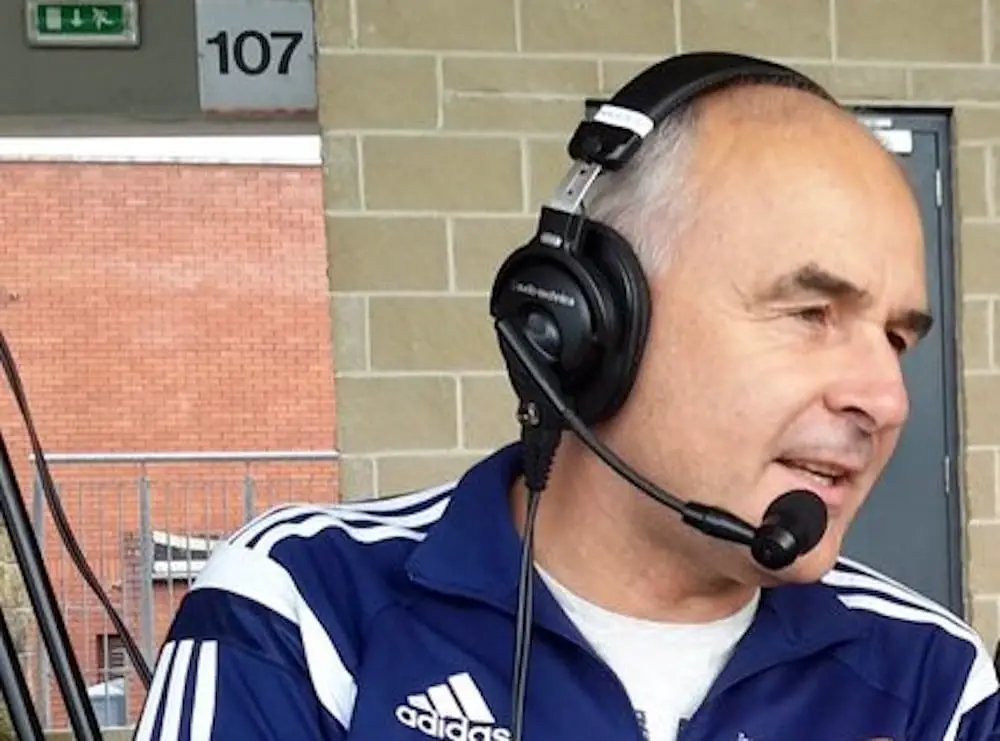 He is known throughout the county and far beyond as the voice of Armagh GAA.
His catch phrases are as unique and individual as his broadcasting style.
We're all familiar with, 'Mary from Killeavy,' the magnetic pull of the hill,' and – of course – 'The Holy Mary Mother of God score.'
When you hear, 'We're coming to you from the ecclesiastical capital,' over the radio or on Armagh TV, you know Damian McCullough is on the mic.
He has taken advice from Rowan Hand, who told him to refrain from overuse of the word 'ball' while commentating on Gaelic games – which contributed greatly to his style.
He's given the great Micheal O Muircheartaigh a hand with information at a game – and the legendary broadcaster never forgot.
He blagged a half-time sausage bap from a woman in the stands with a frying pan at an Armagh game, and was battered over the back of the head by a Crossmaglen woman in the Buttercrane, for over-exaggerating the closeness of a game – Cross were in no danger of losing.
He never forgets the people who make the tea and sandwiches, including Mrs McConvill in Crossmaglen and Mona McEntee who fed him a steak dinner during one match.
For this episode of The I on the Ball, proudly sponsored by Blackhill Energy, Damian expands on all of these tales and a whole lot more.
He misses football during these trying times – like everyone else – but Damian is hopeful that we will get through this and that he'll be back doing what he loves best in the near future.
Radio is his favourite medium and it's clear from Damian's commentary style, just why. Nobody can paint a picture like the Carrickcruppen man. And no-one can keep the fans, and indeed everyone in the press box, on the edge of their seats and endlessly entertained – regardless of the scoreline.
If there's nothing of note happening on the field of play, he regales us with anecdotes, funny asides and background information.
Damian is indeed one of a kind and to find out why and how.
For all of this and more, listen below or subscribe and download here: Apple Podcasts – Google Podcasts – Spotify.
Sign Up To Our Newsletter