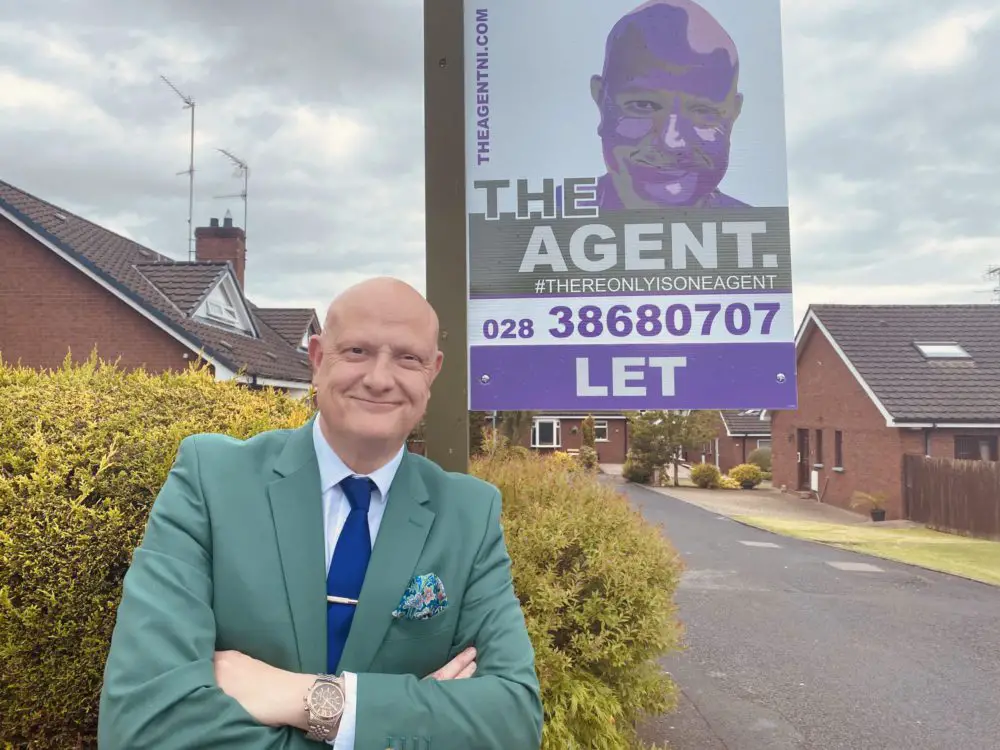 Despite the rise in housing prices over the last year property remains a good investment for prospective landlords, says one County Armagh estate agent.
As for tenants, residential market prices are rising as the demand outweighs the supply, but there is good news for those looking at commercial units, as landlords will no longer have it "all their own way".
When it comes to property, Owen Matchett really is a household name, and in January the Portadown man took the plunge in setting up on his own, under the name 'The Agent'.
So who better to ask when it comes to the state-of-play on all things rental.
Speaking to Armagh I, Owen said that the rent to buy market had "exploded" in recent years with people viewing it as a wise investment.
"There are a lot of people thinking 'it is pension time for me', money in the bank is only making pence in a year", he explained.
"Throwing your money into property can ensure a nice return each year and then there is the annual growth, when it comes to the sale of the house."
However, Owen did admit there were some grumblings in the last year as house prices have rose considerably.
"Landlords are particularly concerned with the cheaper side of the market but for years that stood still, with maybe a one or two percent rise", he said.
"At the peak of the market, your two-up-two down was priced at around £150,000 but when the bubble burst this dropped by about £100,000."
So, according to Owen, what many saw as a prudent investment disappeared overnight, with standard street houses coming in at around £50,000.
"Then there was the problem that banks were becoming very reluctant to lend on these older street houses, which required work on the likes of electrics," he added.
"They are still reluctant, most of these houses have to be bought with cash as they have been sitting for many years without any kind of improvement."
Despite this, Owen believes that these homes, now priced between £70,000 to £75,000, remain good investments for vying landlords.
"You are still getting a fairly good return for your money; the days of landlords making 10%, which is the ideal scenario, does not happen any more but you could be getting a 7 or 8% return."
When it comes to the price of rent, Owen commented that often estate agents would get "a hard time" but sometimes this was unavoidable.
"At the end of the day, the landlord is running a business," he explained, "they have to be getting an X-percent return, otherwise they would be as well just keeping their money in the bank.
"So it's not us that set the rent, the landlord says 'I bought  this house for X amount of money, so I have to price the rent at X in order to pay for the mortgage."
Owen admitted he would often not advise landlords to seek the help of a management firm.
"Morally, I do not offer a management service," he said, "a lot of estate agents would look for about 10% of your monthly rent and the reality is that they don't really do a thing.
"The rent normally ticks over each month, then if the washing machine breaks or there is something wrong with the heating, all the estate agent does is ring the landlord and say 'you need to fix this'."
Instead, Owen stated that his main help to landlords is helping them to get a tenant through the door and making sure that everything is in place to do so.
With regards to renters, he advised that before even viewing a property they should ensure that they have all of the relevant references, bank statements and proofs of employment.
"That's going to give the estate agent – and the landlord – a bit of a bit of a comfort knowing that the affordability is there.
"So it's pointless for a tenant to go and see a property, in my opinion, unless all that documentation is readily available there and then."
In Owen's own words, the rental market at the moment most certainly is one of the demand far outweighing the supply.
He stated that he has let out some properties within just 15 minutes, whilst others have not even made it onto his website as suitable tenants were already awaiting.
However, due to this fact, Owen said landlords have been able to take advantage of this with a "comfortable" rise of 10% on rental prices in the last year.
Contrary to common belief Owen believes the demand is high because many people do not want to buy.
"There are people who simple cannot afford to buy, there are young people who are well paid professions but need to save for a deposit to buy their first home.
"But there are also those who have retired, they are selling their homes which they don't have a mortgage on and they are thinking 'I don't want to pour money into another home'."
Owen stated that he could see where many of those people are coming from and said that when the time came he too would be "tempted".
As for the commercial side of the rental market, Owen said that it was a "sad state of affairs" but was hopeful that this would change as we moved back towards some kind of normality.
"Of course no one was looking at commercial units, quite simple because they could not open," he explained, "the only units which were being rented out were those in the food industry, who could trade."
Owen claimed that potential new tenants, with the re-opening of the retail market, were at an advantage.
"Owners of the commercial units will be crying out for tenants, and where as commercial landlords may have had it their own way in the past, it simple won't be like that.
"They will really want to get these units let out and are going to have to offer very favourable terms, such as a lengthy rent free period and sensible get out clause if things don't work it."
Owen commented that many landlords he spoke to were being "sensible" in this regard and that they needed to be or else the country was going to be full of "ghost towns".
Sign Up To Our Newsletter