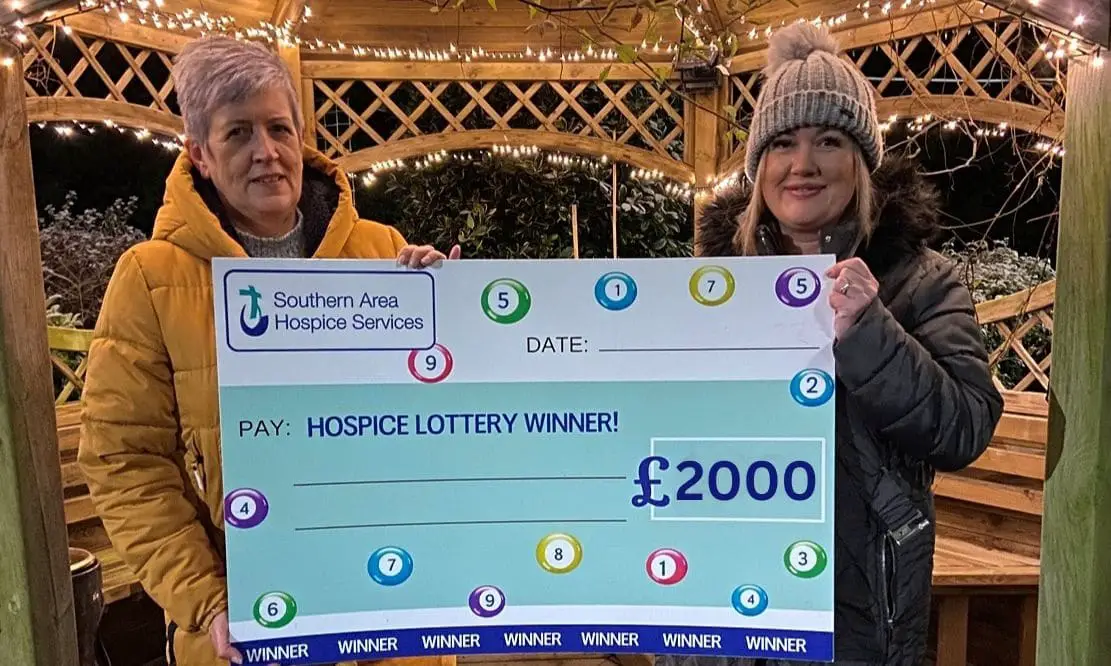 There was a whole Lotto luck for one Portadown woman who won the Southern Area Hospice Lottery Rollover of £2,000.
Sandra Martin says that she "couldn't believe it" when she received the call from the hospice to tell her she had won the prize.
The moment was especially poignant for Sandra, given her deeply personal experience with hospice care and what they did for her late mum whilst she was in their care.
"The hospice is such a precious place, and from my own personal family experience of the hospice I cannot thank the team there enough for all they do," she said.
'Every time you speak with someone from the hospice, even when you ring the fundraising team to register for an event, you can hear how much they care in their voices.
"My mum was in and out of the hospice a few times and the care for her and me was second to none. They're angels on earth."
Sandra joined the Lottery last August to help support the work of the hospice, but never could have anticipated the phone call she was going to receive.
"What a surprise", she said. "Even when Bernie rang me, that fundraising team were so personal. You'd think they had won it, they were just so delighted for me."
Sandra says signing up for the hospice Lotto is a "win-win" as you can show your support for the hospice, all while being in with the chance to win big.
"You know that even if you don't win anything, that £52 a year is doing something. You know you're helping and every pound will make a difference. Nobody knows when they're going to need it and the hospice deserve so much more. They really do."
Bernie Murphy, fundraising officer for the Southern Area Hospice, said: "I am lucky to have the job of ringing our weekly winners each Friday. When I rang Sandra to share the good news she was in complete shock, I don't think she could take in what I was telling her. It is people like Sandra that we are so grateful to have playing our lottery each week as we know that is a source of income that we can rely on in the hospice."
The hospice lottery has been a fundraising mainstay since 1999 and the long term supporters are hugely important to hospice as they help provide the Southern Area Hospice with a reliable source of income.
The hospice are currently working towards the milestone of 3,000 weekly players. They're only 150 registrations off reaching this target, which will generate £3,000 per week of much needed funds for the Hospice. £3,000 could help pay for 24 hours of nursing care in the hospice inpatient unit.
You can enter for as little as a £1 per week donation, getting your name in a draw for three guaranteed weekly prizes of £300, £200 and £100. You will also be in the running for a rollover prize of up to £5,000, with winners selected at random by computer every Friday.
If you would like to support your local hospice for just £1 per week and be in with a chance of winning big like Sandra then register now.
Alternatively, you can call the Hospice Lottery Office on 028 3026 7711.
T&Cs apply. Over 16s only. Be Gamble Aware.
Sign Up To Our Newsletter