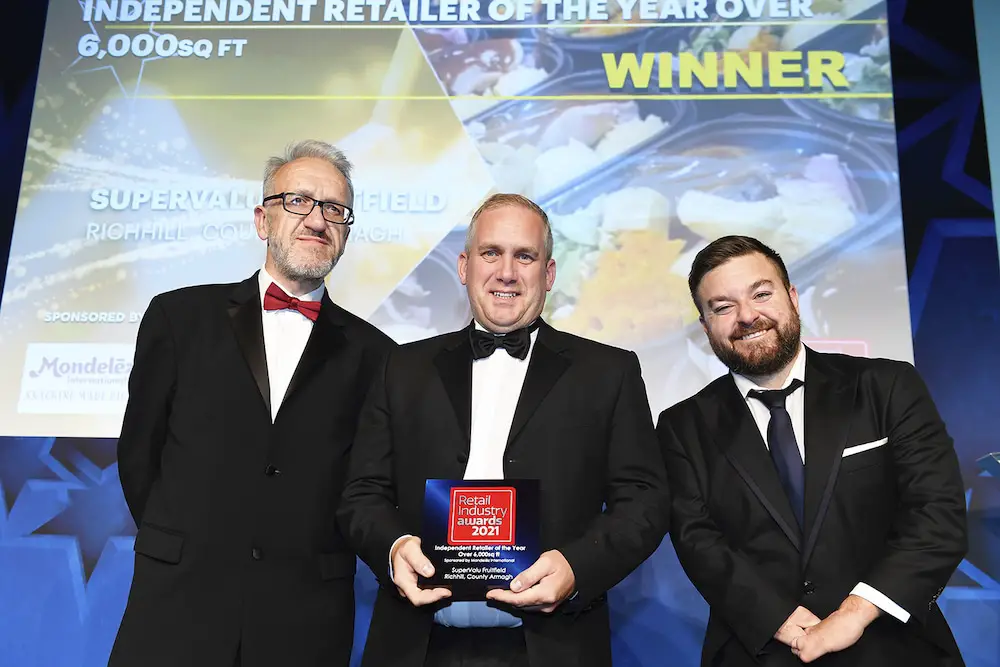 The owner of Fruitfield SuperValu in Richhill says he is indebted to the almost 100 "fantastic" staff members after landing the prestigious 'UK Independent Retailer of the Year' title.
Philip Woods attributed the hard work and dedication of staff, through one of the toughest periods, as paramount in picking up the gong at the glitzy London ceremony recently.
Widely regarded as 'The Oscars' of the grocery sector, the Retail Industry Awards reward excellence and outstanding achievement across a broad range of categories.
"You're up against people from right across the UK, who are a whole lot bigger, and what I would have said, better than ourselves but you just throw your hat in the ring and you never know where things are gonna fall," Philip told Armagh I.
"I do my best to the try and encourage and guide, and do whatever I can to help others, but there's nearly 100 people there who are doing that day and daily looking after customers, providing the service to local community – they're the ones that matter.
While the pandemic has proven to be a challenge – as it has for many businesses – Philip understands the need for constant improvement.
"You can never, no matter what you do in life, stand still," he continued. "When you start to stand still you're going backwards, so we have to keep pushing on for whatever's next and keep making progress and improving. I suppose challenging ourselves to do that wee bit better next year as well."
The pandemic is one thing, but challenges are plentiful in business.
Said Philip: "You have the pressure of energy prices, you have electric going through the roof, gas too, packaging; and our input costs with raw materials are rising.
"It used to be you would look at a quarter and you would have seen a few increases coming through, now you're seeing increases coming on a weekly, if not daily basis – it's concerning."
He added: "Nobody knows what a new normal is going to look like, so it's going to take a wee while to just find out what what normal is going to be going forward.
"All you can do is keep working hard, and do your best. It's about giving the customer the service that you would want to get yourself.
Sign Up To Our Newsletter