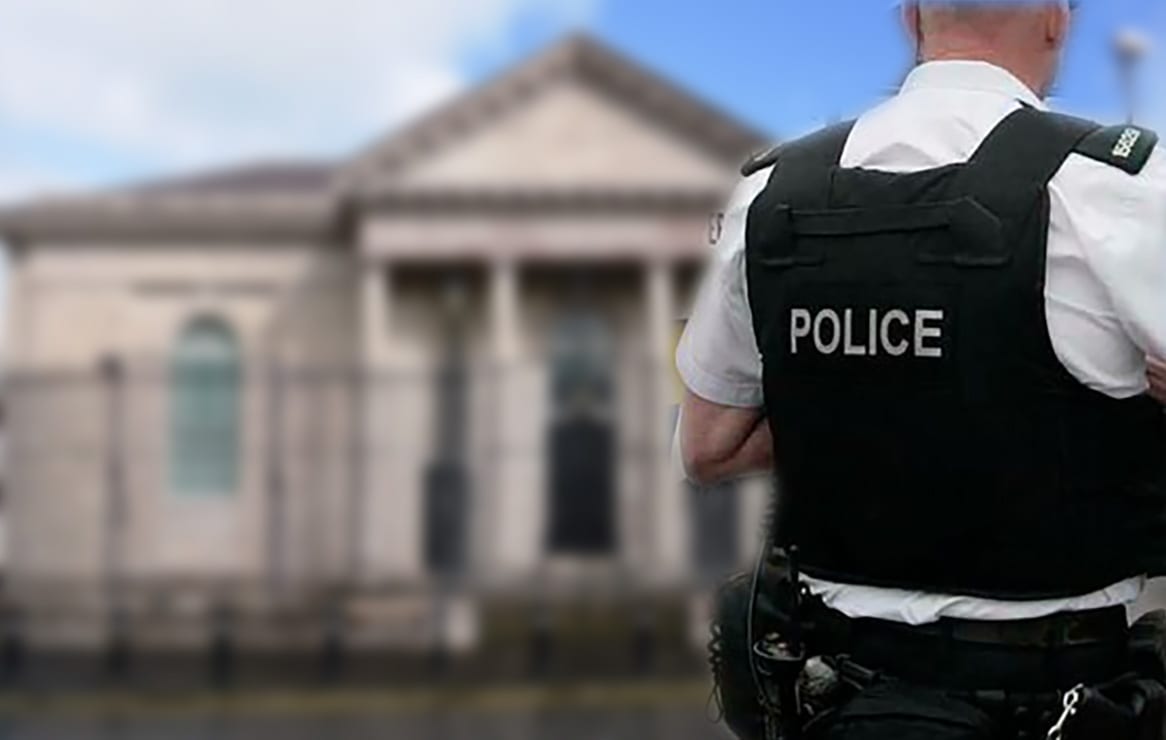 A Portadown man who was found by police on top of a car wearing nothing but a pair of women's pyjama bottoms has been sentenced to six months in prison for a "catalogue of violent, aggressive offences"
The district judge commented that he hoped that the 36-year-old would get medical help but that he had a "price he must pay".
Jason Jaswal, of Summerisland Road, pleaded guilty to two counts of assault on police, disorderly behaviour, criminal damage, two counts of common assault and assault occasioning actual bodily harm at Armagh Magistrates' Court on Tuesday.
Court heard that at 10.26am on March 6, of last year, police were called to a disturbance at Montague Park in Tandragee.
Officers arrived to find the defendant, wearing only a pair of women's pyjama bottoms, jumping on the roof of a Nissan Qashqai.
When asked to get off the vehicle he refused. It was noted by police that Jaswal appeared under the influence of a substance.
The defendant then did jump down from the car and began fighting with the two officers present. They attempted to arrest Jaswal but he resisted.
A member of the public tried to assist in the arrest.
During the struggle one of the officers was struck in the chest.
Back-up was requested and the defendant was placed in the back of a police vehicle after handcuffs and limb restraints were applied.
Damage was caused to the car's roof and passenger door with an estimated repair cost of £1,633.40 before the court.
Whilst en route to custody, Jaswal continued to struggle kicking the back of seats in the police car. This continued despite him being warned he could cause an accident.
It was heard that one of these kicks was so hard that an officer collided with the dashboard and the vehicle had to be stopped.
More resources were called so that the defendant could safely be taken into custody with sirens and lights being used.
In custody, Jaswal informed police that he had consumed a number of MDMA tablets and he was subsequently taken to Craigavon Area Hospital for treatment.
The defendant was kept here for one day for observation, where he continued to behave erratically and on occasion refused treatment.
Court heard the officer who collided with the dashboard complained of injuries to their back, knees and elbows.
Defence barrister Patrick Taggart stated: "Clearly the facts of a man in nothing but women's pyjama bottoms on top of a car does not sound like a sane man.
"A cocktail of drink and drugs were involved, he has no memory of the incident."
He continued: This is a man who is repeatedly appearing before this court. The doctor's report shows concerns of him getting long term help without a court order but he is prepared to take him on.
"He has been assessed as appropriate for an enhanced combination order. He now sees the seriousness of the offence and is horrified that this was committed in front of young children."
Mr Taggart stated: "From the report, it is identified that he has had a difficult disruptive background, the breakdown of a relationship and the loss of his job have led to an explosion of offending.
"If he could turn back the clock, he would. I would ask that he is given the opportunity to get the treatment that he needs."
District Judge Paul Copeland said: "This was an appalling catalogue of violent, aggressive offences perpetrated not only against members of the public but also police officers.
"You have been described as being in an emotionally unstable condition, you have difficulty with dealing with the problems of life and choose to deal with them through drink and drugs."
He continued: "This was a sorry saga on this occasion. You could only be described as crazed on a concoction of drink and drugs.
"The defendant has had challenges in his life but he also has over 50 previous convictions, he is now at last beginning to realise there are consequences for and of his conduct."
District Judge Copeland stated: "He has to be held accountable for his record, I do not feel it is just for him to be handed an enhanced combination order.
"He was intoxicated and under the influence of alcohol, I am not entirely convinced he will follow the directions of the court order or any medical agency. I hope he will but there is a price he must pay."
Jaswal was sentenced to six months in prison and ordered to pay the cost of the damage, £1,633.40, within nine months.
Sign Up To Our Newsletter