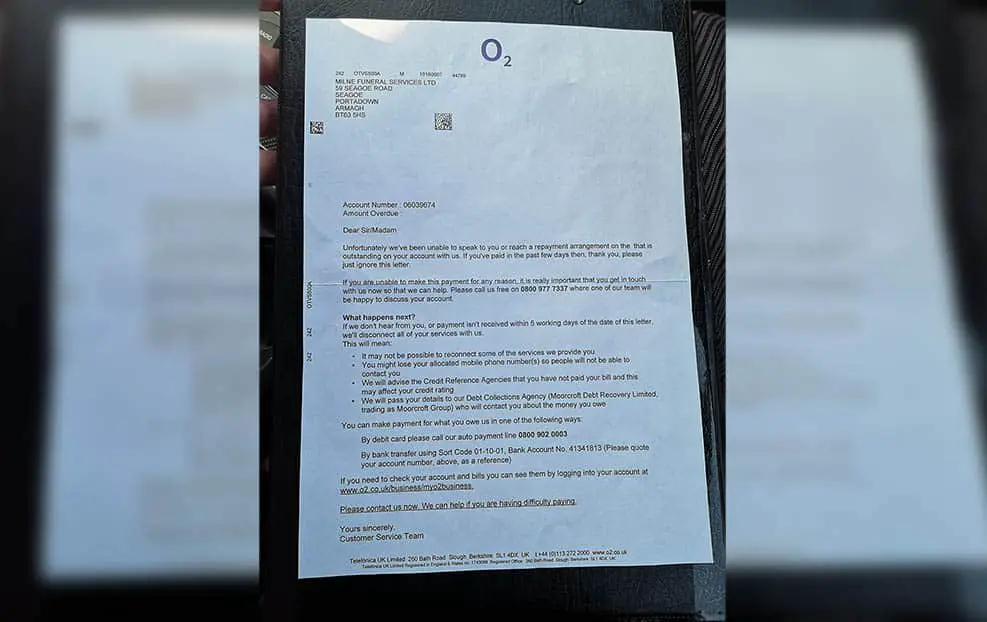 A Co Armagh funeral director has issue a warning to the public to be vigilant after receiving a letter from O2 which "look so authentic".
Milne Funeral Services, based in Portadown, shared a letter, which on the face of it looks like a genuine letter, asking for payment.
The letter provided an 'O2 account number' as well as an 0800 number to make contact and ultimately, make payment.
It read: "Unfortunately we've been unable to speak to you or reach a repayment arrangement on the that is outstanding on your account with us. If you've paid in the past few days then, thank you, please just ignore this letter. If you are unable to make this payment for any reason, it is really important that you get in touch with us now so that we can help. Please call us free on 0800 977 7337 where one of our team will be happy to discuss your account."
However, the letter goes on to state that if "payment isn't received within five working days of the date of this letter, we'll disconnect all of your services with us".
They also threaten to involve a debt recovery service which, on a quick internet search, is a legitimate company based in England.
For added effect, the letter even suggests the recipient checks their O2 account and gives the correct web address to do so, all adding to the ruse.
However, on sharing the latter, Milne Funeral Services said they went into the local O2 store "just to be sure".
"The very helpful gents cross-referenced the details and discovered it was a scam," they said. "If I rang the number and passed on card details I most likely would have lost a lot of money. Be careful folks."
---
– How to deal with debt collectors in Northern Ireland
Sign Up To Our Newsletter