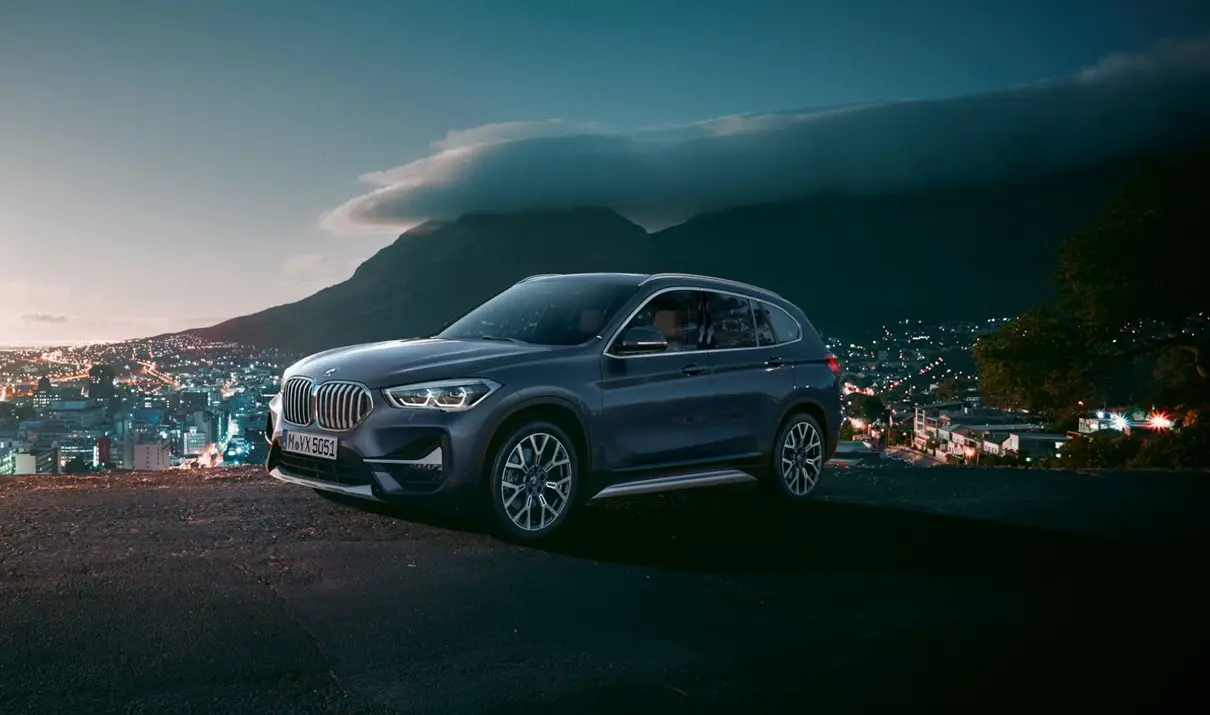 With Prentice Portadown, your perfect BMW couldn't be any closer!
Now in its second generation, the BMW X1 is the German manufacturer's entry-level SUV. It's designed to offer the kudos of a premium badge with the convenience and practicality of a smaller sized SUV, not to mention the driving pleasure that BMW proudly announces across its entire range.
With a mid-life facelift introduced towards the end of 2019 to inject a fresh wave of interest in this strong-selling model it's safe to say the X1 is proven as popular amongst its competitors Audi A3 and Mercedes GLA.
The original BMW X1 was one of the first smaller family SUVs to wear a premium badge, arriving well before this kind of car enjoyed a boom in popularity. Its jacked-up, chunky looks proved a hit, but it wasn't until this second generation arrived that it truly deserved its BMW badge.
Every X1 engine is 2.0 litres in capacity. The petrol engines, badged 18i and 20i, are available with two-wheel drive only (sDrive in BMW-speak).
The entry-level 18d diesel is available with a choice of two or four-wheel drive (xDrive), while the 20d is four-wheel drive only. The sDrive18d is the pick of the range because its performance is more than punchy enough to make the more expensive 20d seem unnecessary.
Many buyers still value the traditionally sharper handling of BMW cars and the X1, despite its SUV body style, doesn't disappoint on that front.
The handling isn't up there with the lower sportier 3 Series, yet there's still an appreciable difference between the way the X1 drives when compared with most if its rivals.
The steering, body control and outright traction levels all go beyond what you'd traditionally expect from an SUV, meaning there's fun to be had behind the wheel of an X1 if you go searching for it.
The biggest change for the second-generation X1 was the introduction of styling and dimensions that are more familiar to the larger X3 SUV than the 1 Series hatch. That means a raised ride height and a bigger body that creates more space inside, making the X1 a viable choice for buyers needing more space than a compact family hatchback can offer.
Just because the X1 is the baby SUV in the BMW range doesn't mean its treated to anything less than the usual high-quality, logically laid out interior. The 2019 facelift introduced a newer iteration of BMW's iDrive multimedia system, together with trim enhancements to make the cabin feel even more inviting, including double-stitching on the dashboard and door panels, with contrast-colour lower mouldings with certain interior hues.
There's a good range of adjustment in the seat and steering wheel, plus a central armrest to aid comfort. The driver's seat has plenty of side support, too, even on the SE model. So all in all, you'll have no problem getting comfortable.
Overall, visibility is very good in the X1, helped by a driving position that's higher than a traditional hatchback's. Helping further is a low-mounted dashboard that doesn't interrupt your view over the bonnet.
CLICK HERE  to make it easier for you to find the model you want from the best new car offers at Prentice Portadown. 
With relatively low CO2 emissions and decent fuel economy, X1s with the sDrive 18d engine are the cheapest to run, especially if you're a company car driver, although even the more powerful fourwheel drive models won't prove too ruinous. If it fits with your lifestyle (if you can make use of the 35-mile battery range and can commit to a regular charging routine), the plug-in hybrid could be cost-effective to run.
BMW's X1 may not be getting any younger, but it's still a competitive option against the likes of the Audi Q3, Jaguar E-Pace and Volvo XC40, while its 2019 facelift has given it a dash more visual appeal. Overall practicality and build quality score well, plus there's plenty of tech on offer if you're willing to pay. The sporty driving characteristics will no doubt attract buyers who wish their BMW was a sports car rather than an SUV, too, so it's an upmarket crossover that should be on your shopping list.
Other rivals for the X1 come from the same stable, in the shape of the BMW X2 and MINI Countryman. The former is a sportier looking alternative to the X1, which has racier looks, but not as much space inside, and carries a premium of around £2,500. The Countryman is around £4,000 less than the X1 but offers a bit less space.
Currently the X1 is available with low rate 2.9% APR and an X1 sDrive 18d M Sport. monthly payments start from £349 with a first service included. Check out BMW Select finance with Prentice Portadown  CLICK HERE
Are you eligible for the Motability scheme? Where better to go than Prentice Portadown.
Since 1977, the Motability charity has been working in partnership with car manufacturers to provide the Motability Scheme, a nationwide initiative that gives disabled motorists easier access to a car through a lease arrangement.
Prentice BMW have a dedicated team to help guide you through the process or ordering a new car, whether it's your first car through the scheme or a renewal.
The BMW X1 is proving to be the most popular car on this scheme and how could it not be. The new X1 is available on the Motability scheme from £749 Advance Payment. With the scheme your servicing and maintenance will be covered along with roadside assistance when you need it.
To find out more CLICK HERE  
Sign Up To Our Newsletter