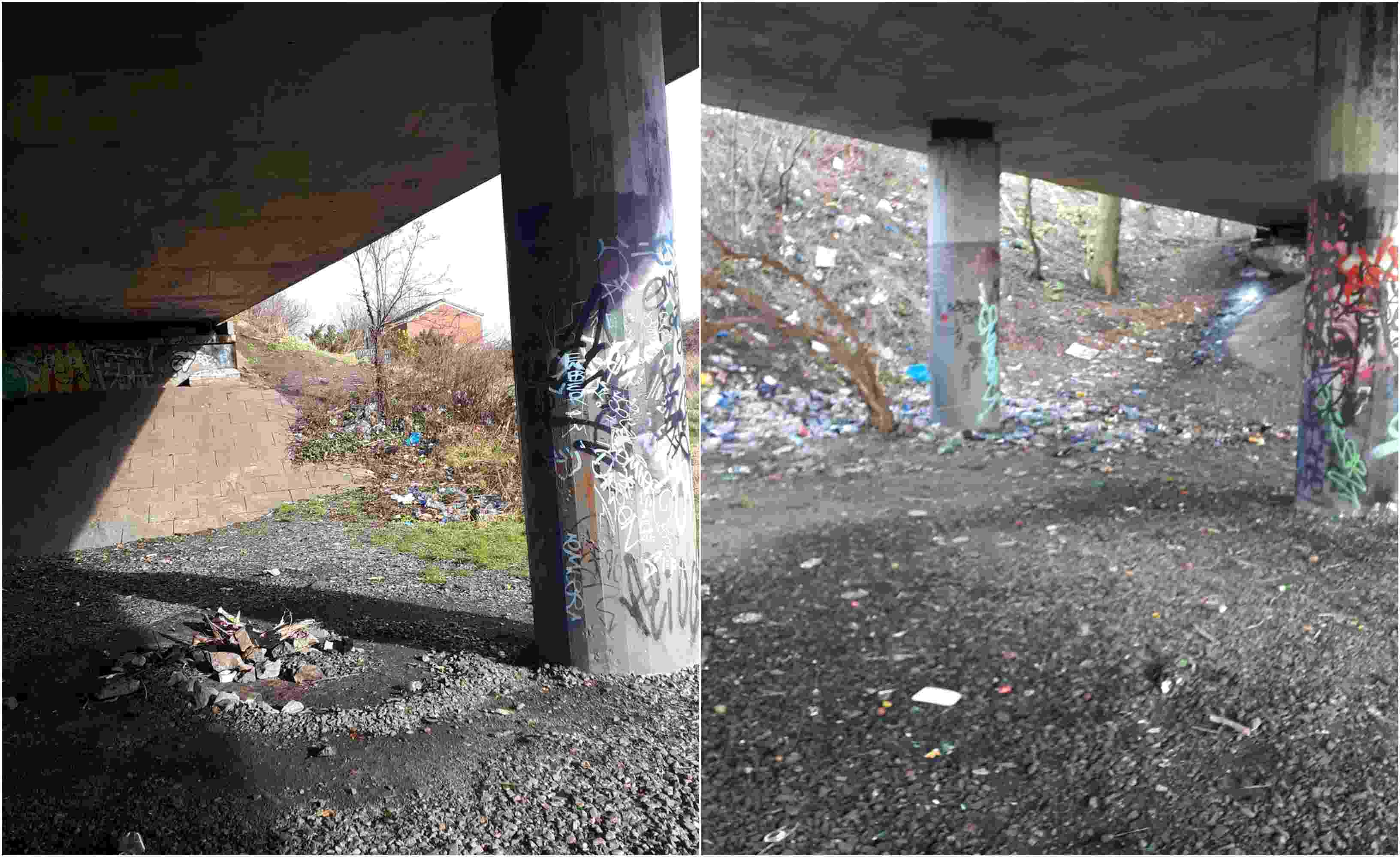 A run-down area of derelict land under the Northway in Portadown poses an "imminent" risk to the lives of young people in the area.
The area, just off Foundry Street car park, is frequented by youths and is a well-known anti-social hotspot in the town.
Today (Friday) a number of councillors from the Portadown DEA, along with police officers and a local businessman, visited the site, all with a view at closing off the area.
Among them was Ulster Unionist councillor Julie Flaherty, who says a long-term solution must be found but the issue is more immediate than that.
"It's a very dangerous spot and this is an area of the town which has been repeatedly brought up at Council," said councillor Flaherty.
The area of land in question, under both the main Northway carriageway and rail-line is currently owned by Transport NI, and effectively out of the Council's hands.
Incidents have been well documented in the past, with one youngster having to be rescued from the River Bann, which runs adjacent to the site, last summer.
"At the moment we need an immediate, short-term fix," explained councillor Flaherty. And fencing, she says "is not the answer".
Adding: "There have been instances of teenagers in the water in recent times. We don't want to be in a position where we are talking about this place after a tragedy. It is hugely unsafe in many, many ways. The smell alone is horrendous.
"But whether we like it not, these young people chose to go there; why they do is beyond me, but they chose it themselves.
"There is so much that goes on for young people across the borough and I have seen it in a wider context as Lord Mayor right across the borough but they chose to go there; they don't want to play midnight soccer and that's their choice.
"And we have to be mindful that teenagers will just move on to another place if we close one place up. We've had this problem in other areas of the town. One place is hot one minute and cold the next."
Continuing councillor Flaherty added: "You have to be proactive in that area because it is such a safety risk.
"The youngsters, they can get onto the Northway from there; that's a rarity but there have been incidents lately. You have that and the railway nearby but it's the river that poses the greatest risk for me – it's just right there in front of you.
"We know these youngsters are making unsafe choices and that is something plenty of agencies are working on but immediately there is a safety issue, especially giving the proximity of the river there.
"I don't want to be in a position where I am judging what they are doing down there, I'm certainly not condoning it, but there is an imminent safety issue at that site, especially when it's dark – that needs to be the focus of our efforts."
Independent councillor David Jones was another on site today.
He said: "You can see by the debris, this area is used for drinking and drugs. Of course, for parents of teenagers it is none of your children, or is it? They must be someone's youngsters.
"Make sure yours are not here at the weekends. You don't want your child being brought home, or worse having to identify them on a slab at Craigavon Area Hospital morgue."
Sign Up To Our Newsletter