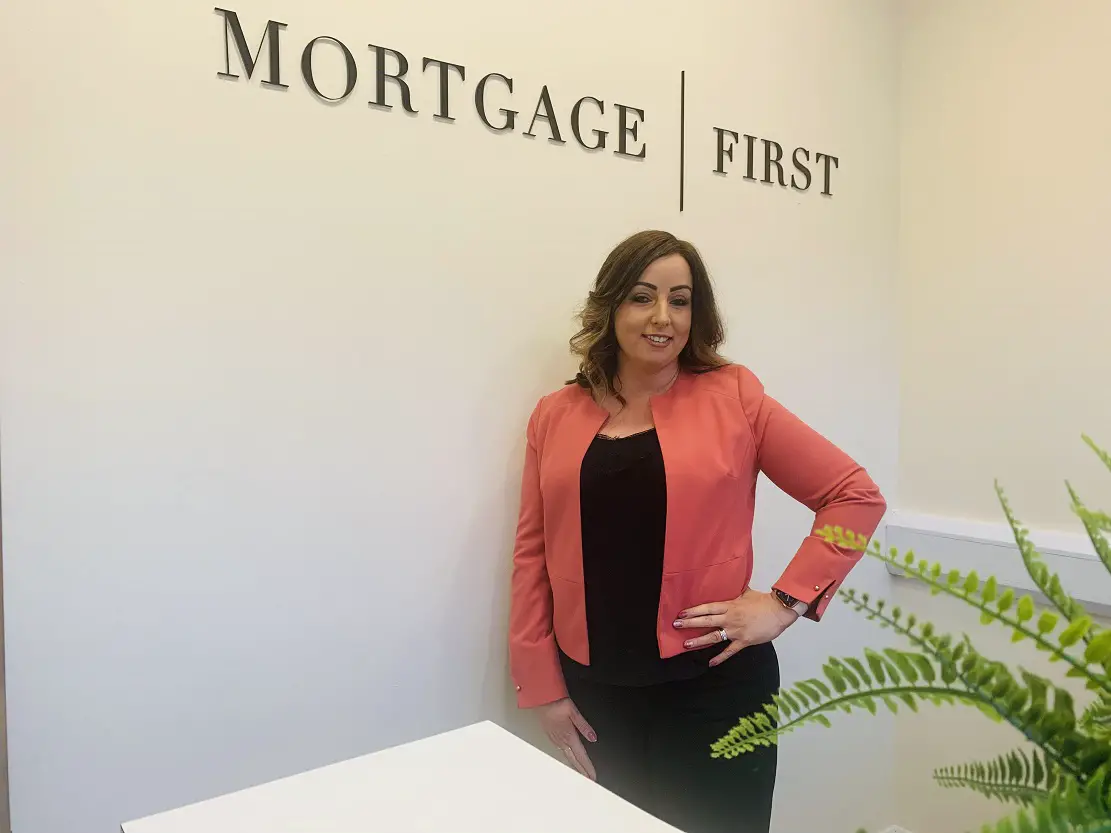 Birches woman Alannah Dawson could be seeing patients in a GP surgery today but instead, as a busy and expanding mortgage adviser, she is taking care of the financial health of her clients.
As a student, she had been accepted to study medicine at university but after a gap year spent working in the Ulster Bank in Portadown, she was hooked and her career took an entirely different direction.
Alannah spent over 15 years with the bank as a mortgage adviser, branch manager and area manager for mortgages, before taking voluntary redundancy in 2018.
However, she has put that huge amount of knowledge gleaned over the years to good use, joining the company Mortgage First and opening two franchises in under two years.
Having operated initially from an office on the Armagh Road in Portadown, she built up her brand before opening her first franchise in Bridge Street in April 2020 and her second in Hill Street, Newry, in August this year.
And having started out on her own, she now employs five other members of staff.
In Portadown, she is assisted by full-time advisers Laura-Jane Maguinness and Amy Mann, while in Newry, the full-time advisers are Shane McKernan and David Morton. All four have years of banking and mortgage experience as well as being well-known locally in their sectors.
 The most recent recruit is Tess Archibald who joined in August as a trainee mortgage adviser and supports both the Portadown and Newry offices.
Alannah, a mother-of-two, prides herself on trying to make the often stressful experience of buying a home and securing a mortgage as stress-free as possible.
"We are a one-stop shop," she said. "As well as sorting our your your mortgage, we take care of insurance and life cover, as well as liaising with solicitors and estate agents. Buying a home is one of the biggest decisions of people's lives.
"We will always get the best deal for our clients. We had a customer last week who went directly to his own bank and then came in to see us afterwards and we were able to find him a mortgage £100 cheaper a month."
As a member of the Openwork Partnership, Mortgage First have access to over 50 lenders right across the marketplace, with 2,000-plus mortgages deals available.
Said Alannah: "The interest rates are really competitive at the moment, and we would encourage people who haven't reviewed their mortgage in a while to come in and talk to us, to see if we can secure them a better rate.
"About 50 or 60 per cent of my business comes from referrals from clients we have already worked with, and we also work closely with Hannath Estate Agents.
"We have a range of clients, from first time buyers and to co-ownership to people remortgaging and upsizing or downsizing. We also specialise in self-build and I have personal experience of that as my husband and I built our own house five years ago.
"The housing market is really busy at the moment. There's nothing sitting for any period of time. We have a lot of interest in newbuild sites and people are getting good prices on their houses."
With the quick turnover in housing stock, Alannah would encourage any first-time buyers to have a decision in principle on a mortgage before they start bidding on a house.
And she says there are still deals available for buyers with deposits of between 5-10 per cent as well as longer mortgage terms of up to 35-40 years.
"It's about getting the right balance and finding a payment level where you can enjoy your house while still being able to enjoy your lifestyle," she added.
"I get great satisfaction in helping people get into their first or forever homes."
Alannah – who has made it into the top 200 advisers for the whole of the UK's Openwork network – and her team aim to offer clients an appointment within the week.
The initial consultation is free and can be held face-to-face or by phone or Zoom.
Hours area flexible as well with the branches open until 7pm on Thursday and on Saturday morning, while appointments can also be arranged outside normal working times.
Anyone interested in booking an appointment or finding out more should phone the Portadown branch on 028 3829 7729 or the Newry branch on 028 9693 6842.
Sign Up To Our Newsletter