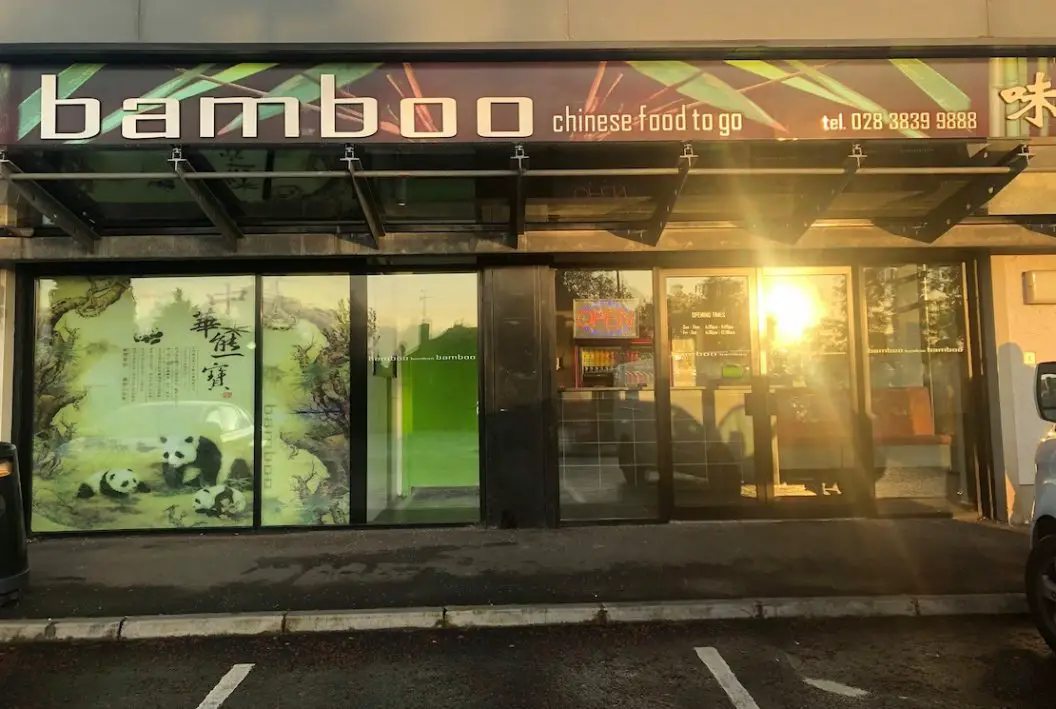 Two men have appeared in court accused of the robbery of a Co Armagh Chinese takeaway over the weekend.
Court heard that items including a concealed gun holster, a crowbar, two mobile phones, a black face mask and a hat, believed to have been used in the offence, were allegedly found in the defendants' car.
James Carlisle, 38, of Finulagh Road in Dungannon, and Christopher Barry Carlisle, 35, of Spelga Place in Kilkeel, both appeared charged with robbery at Craigavon Magistrates' Court on Wednesday.
Christopher Carlisle also faced a separate charge of carrying a firearm or imitation firearm with intent to commit an indictable offence.
A detective constable said he believed he could connect the pair to the charges.
Defence barrister Michael Ward made the court aware that a bail application was being made on behalf of Christopher Carlisle.
Outlining the case, the constable said that the alleged offences related to a burglary at Bamboo takeaway on November 23
At 12.05am, two masked men entered the premises armed with a crowbar and a handgun or imitation firearm.
They threatened staff and made off with around £500 in cash.
A witness followed the two males accross grass to the rear of the property to a staff apartment block of the Craigavon Area Hospital.
This witness was told by the two men to leave the area as they were joined by a third male.
The constable said that CCTV showed a white car enter the apartment area at around 11.52pm.
It was also seen leaving at speed at 12.09am, the car headed in the direction of Craigavon and the passenger side brake light was noted as defective.
Upon further investigation of the CCTV, police described a dry run which involved the vehicle in the same area around 9pm.
The constable said that in the early hours of Monday morning, a vehicle matching the description was stopped in Portadown.
This car was allegedly driven by James Carlisle with Christopher Carlisle being a front seat passenger.
During a search of the seized vehicle, the court was informed that police found a concealed gun holster, a crowbar, two mobile phones, a black face mask, a hat and a receipt from Homebase.
Inquiries were made at the Homebase store, and CCTV allegedly showed Christopher Carlisle purchase various items including a crowbar.
The court was also told that the phones were found to belong to the two defendants and records showed they had been in contact up until 2.12pm on the date of the offence, which led police to believe they were together following this.
During interview, Christopher Carlisle had said he had woken up at 8.30am on November 23 but refused to say in what town he had been.
He told police he had been drinking Buckfast and smoking weed.
The defendant said he may have been in Portadown that day and informed officers that he had received death threats.
He also commented that he knew Bamboo as it was his favourite Chinese takeaway and he would often order from it.
The constable outlined objections for bail stating the applicant had 159 previous convictions, 30 for acts of dishonesty, one for robbery, one for possession of a firearm and three for possession of an offensive weapon.
He stated: "We believe he is a danger to the public. He would also be aware of the area and could interfere with witnesses.
"There is also a risk to Mr Carlisle himself as he is under threat. We also have concerns that a firearm is still outstanding."
The constable also informed court that the defendant had allegedly breached bail previously on eight occasions and there was another suspect still outstanding.
Mr Ward stated: "He co-operated with police, he was released only to be arrested 12 hours later. He accepts he was in the area and had bought the crowbar on November 11 to carry out work on a flat in Kilkeel.
"His address is in Kilkeel, so he would be excluded from the Craigavon and Lurgan Area."
He continued: "This case is in its infancy. It will take some time before it makes its way through the court. He will be living a significant distance from where this occurred and he can avail of a surety.
"I submit that this is a tenuous circumstantial case against him."
District Judge Amanda Brady said: "I think that this is a premature bail application. I think the investigation is at an early stage and there is still one suspect outstanding.
"There is certainly a risk that he could interfere with this case."
Bail was refused.
Both defendants have been remanded in custody to appear via videolink on December 13.
Sign Up To Our Newsletter