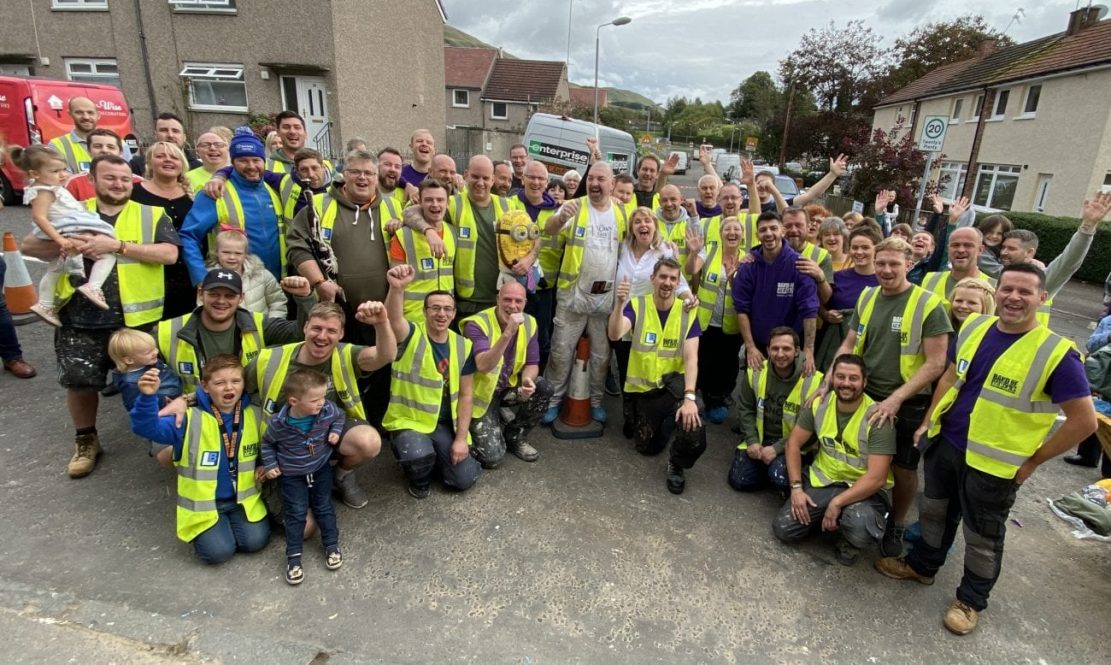 A registered charity set up to help tradesmen and women in their hour of need is looking to extend its reach to help those this side of the Irish Sea.
Affectionately known as BoB, Band of Builders carries out projects and adaptations to help UK tradespeople and their families affected by illness or disability.
The charity was formed in 2016 by landscaper Addam Smith, after his friend and employee Keith Ellick was diagnosed with terminal cancer and was given just 12 months to live.
When Addam offered to help, Keith said all he needed done was a fence putting up at his home in Lincoln.
But when his boss shared his heartbreak about his friend's plight on Facebook, he was inundated with offers of help from people up and down the country to chip in.
Keith lost his battle with cancer in 2017, but Band of Builders continued to help other members of the UK construction industry battling illness or injury.
Speaking to Armagh I, Ellen Manning, who works with the charity, said: "I am a journalist, I literally just wrote a story about these guys four years ago and I haven't been able to walk away since because I love what they are doing.
"We have members all over the place, anyone can sign up but we haven't had any projects in Northern Ireland and the guys are keen to do that."
She said: "It is really a combination of wanting to expand and wanting people to get in touch if they need Band of Builders' help.
"It is kind of them helping their own really. There are charities which help service men or people suffering from certain illnesses but in terms of a sector of people they don't have much help."
Examples of the work carried out include: installing a specialised bathroom for Pippa Atkinson, an electrician's daughter suffering from a rare skin condition, and landscaping a garden for builder Jamie Thompson, who is suffering from Motor Neurone Disease, so he can safely watch his children play, as well as installing a new kitchen.
Ellen explained: "Lots of them are self employed and support their families, so when something happens for example we helped one man who had a brain tumor and another was a roofer who fell from a roof so he can't work.
"There was another in Scotland, where a man had started work on his house but sadly died, so the guys went up and finished what he started for his wife and children."
She also stated that tradesmen in general are notorious for not asking for help when they need it.
"For a lot of them it is very difficult when you work in an environment where you don't say when anything is wrong and you don't ask for help," said Ellen.
"It is really about changing that, making them realise there is nothing wrong for asking for help and everyone wants to help."
In addition to this, Band of Builders have also organised for teenager Jack Nottingham, who was diagnosed with inoperable cancer, to carry the match ball on to the pitch at Wembley for the Checkatrade Trophy final.
Ellen stated: "The problem is there are so many people who are willing to help, but others fear asking for it.
"It really is so heart warming to see everyone working together. There have been times too when local business offer food or services for the tradesmen."
She added: "We are so excited to get a project going in Northern Ireland and getting the word out."
To keep up with the work the Band of Builders are doing visit their Facebook page or their website. 
Sign Up To Our Newsletter