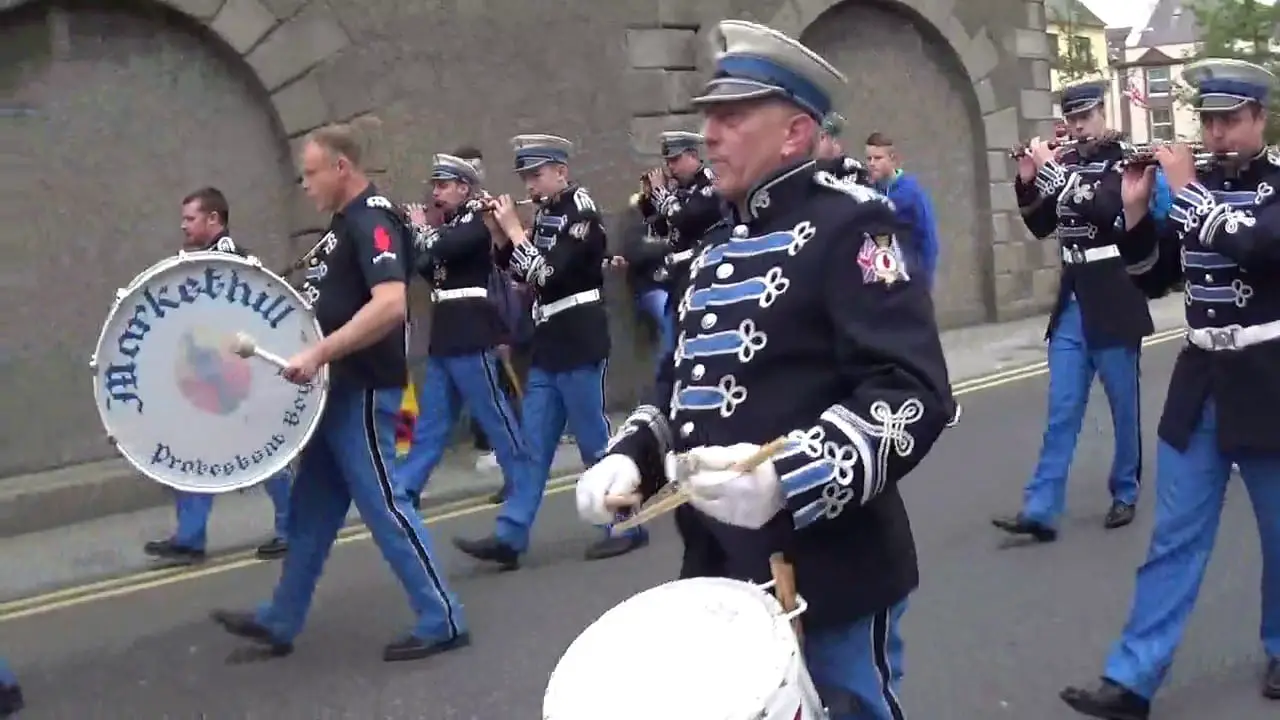 A County Armagh band has responded to claims that it played "blatantly sectarian songs" in Newry on July 13.
Sinn Fein Councilloe Charlie Casey has made an official complaint to the Parades Commission after saying he witnessed Markethill Protestant Boys Flute Band playing 'The Famine Song', among "other inflammatory songs".
The band has issued a statement and rejected the claims made, after the councillor had expressed his belief that there had been a "breach of the Parades Commission's Code of Conduct".
Councillor Casey had said: "Newry is a diverse and vibrant city, and is home to people of many different cultures and traditions. For years we have sought to ensure that the deeply held beliefs of everyone are respected and accommodated in the hope of embracing a shared future and society.
"The playing of unnecessary sectarian and blatantly triumphalist songs in Newry's streets flies in the face of the tolerance and mutual respect which runs through our shared community.
"Not only does 'The Famine Song' constitute a flagrant disregard for the respectful conduct required by the Parades Commission, but behaviour of this kind threatens to undo the good will and progress made through dialogue and engagement in recent years.
"I have filed an official complaint with the Parades Commission, and expect that action will be taken to ensure that Newry's citizens are never again subjected to such disrespect and triumphalism."
The band responded with a statement saying it "noted with great disappointment the recent comments" made and stating that it would "reject totally his assertion regarding the performance of the band on the 13th of July in Newry".
The statement reads: "More so, given the blatantly infantile and ambiguous description of our role in the long established Royal Black Preceptory procession in the City he provides, his statement can only be interpreted as nothing less than politicking and an attempt to raise tensions in the area.
"At the core of the Councillor's claim is the obviously false declaration that the band plays 'songs', inflammatory or otherwise. Markethill Protestant Boys, and indeed every other band within the massive Ulster marching band movement, do not play 'songs'. Our band and all others play music. Our band does not sing, nor do we have any sort of accompaniment who sing. We play musical score's which come from a vast and diverse range of sources.
"Our current repertoire includes classical music, Scottish jigs and reels, and television and film themes, alongside what most regard as being traditional Irish airs. Popular music also features heavily, and it is a piece from this genre that Councillor Casey has fixated. Irrespective of what others may choose to perceive or believe, the melody referenced is the 'John B Sails', a centuries old piece of folk music from the Bahamas. Unsurprisingly, Ulster marching bands have been interpreting and playing the piece since it came to worldwide notice after being recorded in 1966 by the Beach Boys as the 'Sloop John B'.
"It is notable that in his claim of other sectarian and triumphalist 'songs' being performed, he was unable to name any specific airs.
"Markethill Protestant Boys pride ourselves on our discipline, our deportment and our musical integrity. We are satisfied that we have not breached any guidelines by the Parades Commission, and indeed that we have not committed any offence within a legal framework.
"On the contrary, we believe that the ambiguity and blatant misrepresentations contained in the statement from Councillor Casey classifies as defamation, and we have forwarded it to our legal representatives to assess the possibility of legal recourse."
Sign Up To Our Newsletter