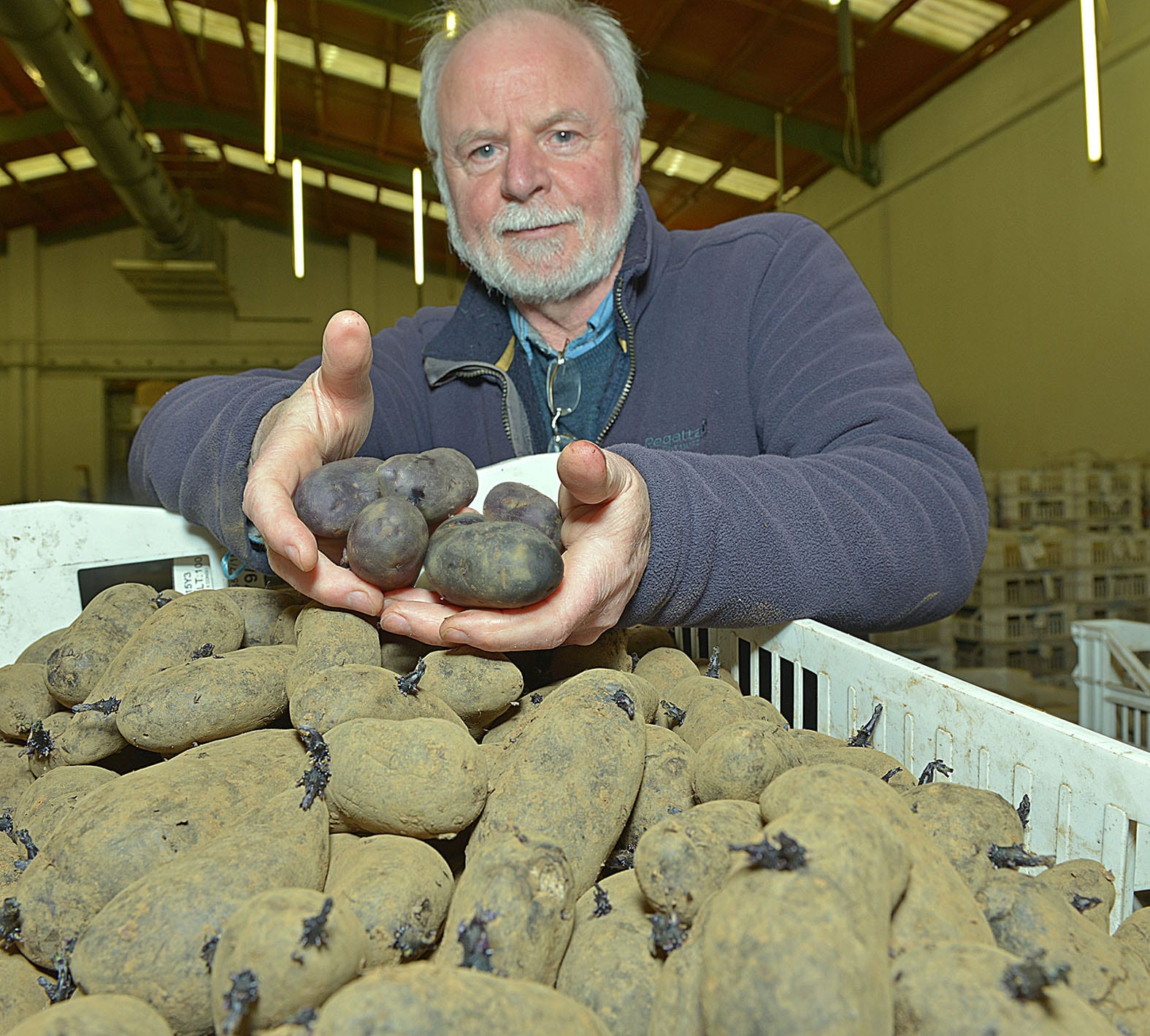 A purple potato with cancer-fighting properties has landed a place in the final of a competition celebrating outstanding new inventions.
The humble spud was developed at Loughgall in County Armagh by scientist Paul Watts.
And thanks to the innovation of the Agri-Food and Biosciences Institute, where Paul came up with the new breed, the 'Purple Magic Potato' has now reached the final of INVENT 2016!
World domination awaits for the Purple Magic, which is already on sale in North America and should be available right across Europe within the next couple of years.
AFBI scientist Paul Watts has used innovative scientific methods to elevate disease resistance and tolerance to stress within the potato breeding programme over the last 30 years.
More recently, with a growing awareness of the positive health benefits of increased consumption of highly coloured fruit and vegetable – and the range of products being offered by supermarkets – Paul invented a novel potato variety that would appeal to modern consumers.
''In the early 2000s medical and nutritional research began to show there might be significant health benefits from eating fruit and vegetables with high levels of anthocyanins," explained Paul.
"And in 2003 we made a series of crosses with coloured 'heritage varieties' to try and boost the levels of these antioxidants in new, high yielding and disease resistant varieties. The crosses yielded a rainbow of colour in the 2000+ seedlings AFBI produced and they had better yields and disease resistance than the parents.
"A Canadian potato producer visited AFBI Loughgall and this led to one of the seedlings being registered in Canada as 'Purple Magic'.
"And, yes people are buying it and they want more of it.
"We are now registering the variety in Europe and plan to have it on the market by 2018."
AFBI's Purple Magic Potato is currently available in North American markets and seed productions.
Recipe development and antioxidant analysis is currently underway prior to development of the European market.
Picture: AFBI Scientist Paul Watts with some of the Purple Magic Potatoes.
Read more news:
Piece of Armagh history goes on the market for 'commercial development'
Council vote passed on funding for two more Somme centenary projects
South Armagh MLA confirmed as one of four new Sinn Fein ministers
Prince Charles and the Duchess of Cornwall sample Co Armagh's delights during second day of visit
Exciting plans submitted for new community 'hub' in Markethill
Traumatic attacks on parking attendants happening on an alarming scale in Armagh
Eye-watering amount spent on city's link roads – and not an inch of tarmac laid!
Harrowing accounts given as Kingsmills Massacre inquest gets underway 40 years on
Sign Up To Our Newsletter