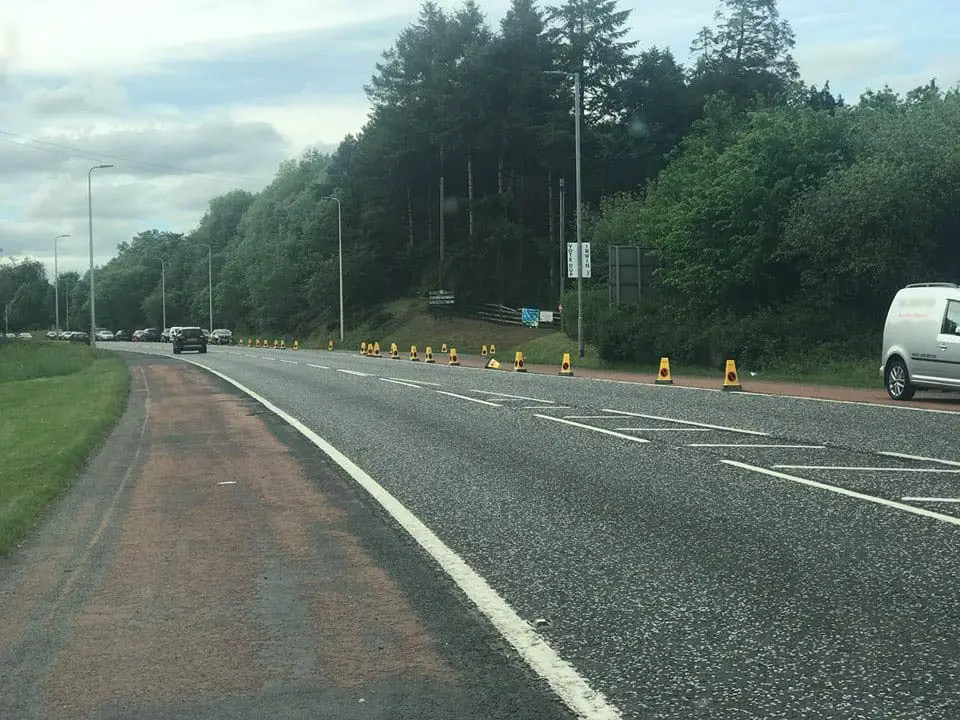 Drivers determined to park on the hard shoulder at Gosford at any cost have run up a bill of over £1,200 by stealing and damaging cones.
The details were revealed as the controversial issue was once again raised during the course of the first ever remote meeting of Armagh City, Banbridge and Craigavon Borough Council on Thursday night.
With the re-opening of the park and warmer weather, there was a real sense of deja vu approaching the popular Co Armagh forest park.
Vehicles, dozens upon dozens of them, had taken to parking on the hard shoulder and the side entrances too.
Alderman Gareth Wilson – who said he feared this would happen – said a "joined-up" approach was needed as a matter of urgency to stamp this out.
The DUP representative told the meeting that the opening of facilities was always going to have a knock-on effect and this certainly had been the case with Gosford.
He said: "It's been opened and the advice at the time was that it was only for local people, because the Executive's advice was travel for exercise was only to be on foot and local to you, and I know they were enforcing that in around Tandragee and that.
"And that being the case Gosford was opened and, because the car park wasn't opened, we were effectively encouraging people to come and park on the hard shoulder which is happening quite a lot.
"The advice has now changed that there is some travel allowed for exercise or you can go to your nearest park and that is now becoming an even greater issue."
Alderman Wilson said he had spoken to police on the matter.
He said the cones had been put out for a number of months, but there had been cases of cars driving over them or people taking them and this had been a concern for the PSNI.
The local representative said the PSNI were doing the council a "huge favour" in relation to the placing of these cones.
But Alderman Wilson revealed: "There was a cost mooted in or around £1,200 for getting cones replaced. So you can understand police aren't immediately just going to go away and spend that."
He said they needed real focus on the issue as he added: "There needs to be some kind of joined-up approach with council in trying to get the cones back out there.
"When they were there they were a really good deterrent and I know that police did take a really keen interest in trying to prevent the parking and the cones obviously denoted that you should not be parking here. But with the cones away the parking's back and we aren't opening the car park – for obvious reasons – and people are taking the most convenient route to Gosford, which is parking on both sides of the entrance and it is causing a huge issue for pedestrians then who are trying to access the park."
Alderman Wilson said it might not be an issue to the same extent at other parks, like Lurgan, but it was a "huge issue in Markethill".
"I would really like to see that addressed," he added.
Ulster Unionist Alderman Jim Speers echoed those sentiments.
He told Thursday's meeting he had raised the matter on many, many occasions, before adding: "I have observed in recent days not only the traffic at the main entrance on the road but, indeed, yesterday there was at least 12 or 14 cars down at the Chapel Crossroads.
"People were parking there as a handy way of getting into the ground from the Hamiltonsbawn Road."
Alderman Speers cautioned: "I've said it on many occasions – it's only a matter of time before some tragedy happens on that road.
"We need to find some permanent solution in some way to that issue."
Strategic director Mark Parkinson said there had been an issue with Gosford and they had been liaising with police.
He agreed that it was a matter of concern and felt that the cones needed to be replaced as they had helped to limit the number of people parking.
SDLP Councillor Eamon McNeil also asked that attention be given to similar problems which were occurring at Loughgall.
He said drivers were also parking up in the area to access the park to go for their daily walks.
On a separate topic, Alderman Wilson also said he had been contacted by people who are involved in engraving headstones who were having difficulties fulfilling their roles despite reopening of cemeteries.
He described it as a "sensitive issue", and explained they are not permitted as yet to access council-operated cemeteries to carry out maintenance or indeed, given the tragedy as a result of coronavirus, to "perhaps add names to headstones".
Said Alderman Wilson: "In my mind if someone is coming in it's usually one person working on a single headstone and doing a job on that and leaving and I think it can be quite easily accommodated.
"I think we as a council need to be more reactive and understanding to see how we can slightly alter the arrangements in very reasonable circumstances to allow that type of work."
In relation to the issue of cemeteries, Strategic Director Mr Parkinson said he could not give an answer at this time, but promised to go away and look at the legislation.
But they would, he added, give it "serious consideration".
Sign Up To Our Newsletter