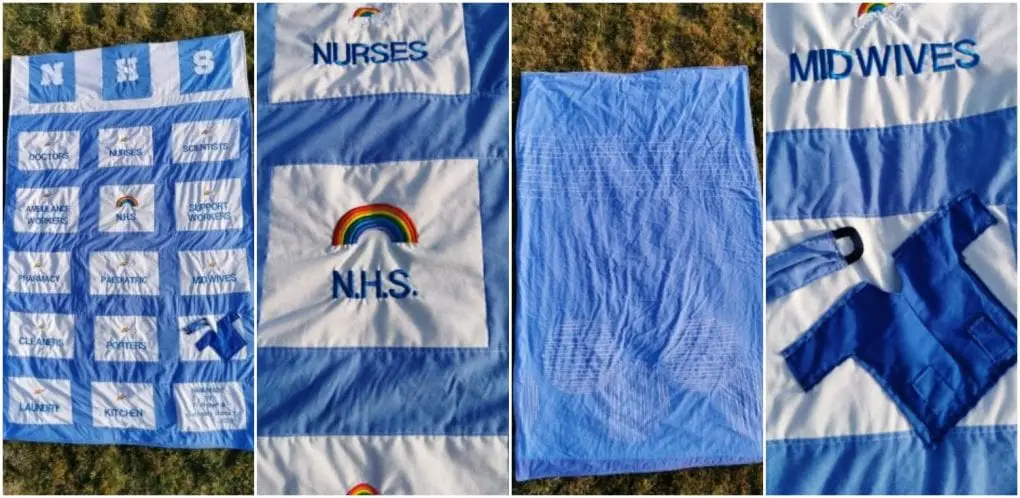 A beautiful patchwork quilt painstakingly crafted by a local seamstress is to be raffled to raise money to support our NHS Heroes.
The quilt – which also features a mini scrub top and mask – took Pauline Frazer two weeks to create from start to finish.
And the stunning one-of-a-kind creation will be won by a lucky entrant for just a pound!
Pauline, from Newtownhamilton, said the individual pieces had to embroidered separately, and the letters NHS appliqued, sewn in strips and then all the pieces stitched together.
She hopes that it will find a good home and explained her reasoning and goals in her fantastic efforts.
Pauline told Armagh I : "I have been busy sewing masks and donating them all to the NHS and frontline workers. I've made almost 500 to date and then have been sewing scrub tops and scrub bags too.
"I wanted to do something different but also give someone the opportunity to receive something as well as raise funds for the NHS.
"A lot of people were putting rainbow pictures on their windows and I knew I had a design that would be suitable. But I wanted a bigger rainbow for the centre with NHS added as well so I purchased the design and pieced the rest together.
"With my creative mind I wanted to make this quilt more unique so I added the miniature scrub top and miniature mask."
Pauline has her own page 'Everybody Wants 1' & 'Memories Sewn Forever' on Facebook, and makes memory bears and cushions and other personal items from fabrics taken from a loved one's clothing, to allow people to have a special piece to cherish.
This has been a very memorable self-assignment for the gifted Newtownhamilton crafter whose motto is 'Give me a piece of fabric and I will make it into something special'.
She certainly has done just that and now everyone can go online and donate £1 to stand a chance to win this truly wonderful work of art.
And they can do so in the knowledge that every single penny will go to support the work of the NHS and health workers who have been putting themselves at risk in order to help save lives.
With money taken via PayPal money pool, there is no charge for this service, unlike some other fundraising pages.
At this stage, it is intended a winner will be randomly selected on May 15 – although this date could be extended depending on demand.
Added Pauline: "All money raised will go directly to the NHS. Depending on how much we raise will depend on what we can buy to support them."
Friend Julie Weir is encouraging people to show their support.
Julie, from Markethill, has also been involved in the ongoing efforts to help support the NHS through these difficult times.
She has been appealing for and gathering together the fabrics and cord necessary to allow Pauline to make much-needed scrubs and now this exclusive quilt.
It will be something to treasure always, a memento of a community spirit which endured during unprecedented times.
Added Julie: "This was made from donated fabric from the general public. It is a testament of how our country has pulled together to battle COVID-19."
To be in with a chance click the following link: https://paypal.me/pools/c/8olu2pp1xg
Sign Up To Our Newsletter