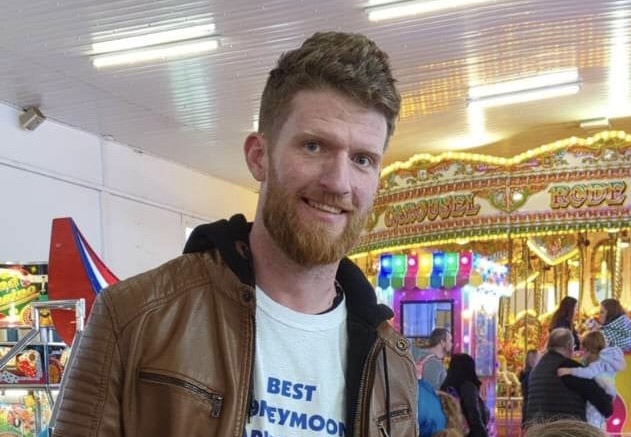 A Markethill man, cleared of two counts of common assault against his wife, has spoken of how the last nine months have been the hardest he's ever had to face.
Gareth Cully was accused of assaulting his wife on two separate occasions but was acquitted at Newry Magistrates' Court earlier this month.
Now, the 31-year-old says he wants to turn what he described, as the lowest point in his life, into a positive by helping others struggling with their own mental health.
Gareth says he went to hell and back in those nine months after being accused of "something I just didn't do".
"It made me feel sick, it was hard to comes to terms with the accusations," he told Armagh I. "I wondered why, after being with someone for 10 years, this happened."
"I thought we were happy but then it all came tumbling around me when I was accused of assault."
Gareth says he was being called all sorts by people on the streets – "I ended up with real bad mental health over it all.
"I couldn't go out locally without someone shouting abuse to me. I got real bad anxiety. I couldn't go anywhere by myself, I always had to have someone with me. It felt like the whole world was after me for something I didn't do."
It got so bad for Gareth that he thought he had nowhere else to go and he tried to end his own life on two occasions.
"When I first got arrested, I was asked by the sergeant if I had any suicidal thoughts. At the start I didn't, but then as soon as I was locked in a cell, reality hit in.
"My head was everywhere. I just broke. I lost nearly 2-3 stone in weight because I didn't eat for a couple of months. I was punishing myself, thinking, what I had done to deserve this.
"I lost my car because I was missing days at work going to solicitors, or going to court, or just struggling with my mental health, I couldn't get out of bed. I was losing days pay and couldn't keep up with payments for the car and eventually lost it. It just felt like what is the point."
Before that, it was all so different for Gareth, who had only been married three months to the woman he had spent the last decade with.
"Before all this I was a man on Cloud 9. I thought I had my life set but it just all blew up in my face."
Gareth was adamant he was innocent and maintained that stance right through until he got the verdict in his favour, which he says "was a weight off my shoulders".
"At the start (following the verdict) I didn't really realise what the judge had said until I went outside. It was then I saw my sister crying and she came over and started hugging me. That's when it hit home."
He added: "It was a relief knowing the justice system proved my innocence. That was me for nine months trying to tell people I was innocent, that I hadn't done anything wrong, but you still have it in the back of your head that there are people still looking at you differently."
Since then, Gareth has started a TikTok account with the aim of trying to help people who are struggling with their mental health – it's both therapeutic for him and, he hopes, for others who are willing to listen, or be listened to,
"There's always someone out there to listen," he says. "It doesn't matter how stupid you think your story is. I opened up and had a young man reach out; he was struggling. I took him for a walk and we got breakfast. I helped him through it by using my own experience of poor mental health.
"Even though I was still feeling terrible, and my head was still a mess, I still had the strength to try and help a young man who was going through an awful time himself."
Gareth believes the worst thing anyone can do is bottle up their emotions and not talk.
"As soon as I started talking I got a little relief. I was feeling good talking to people close to me at the start and then I began to feel better and that's when I started opening up to other people and trying my best to help others.
"Please don't be embarrassed to talk to someone. Even just lift up the phone and call Lifeline or the Samaritans, anything.
"I went through a horrible time for nine months and I know how that felt; I wouldn't want absolutely anyone else feeling the way I did. Don't sit in the dark and struggle."
---
Lifeline: Call 0808 808 8000 for free. Open 24 hours a day, 7 days a week. Find out more on the Lifeline website.
Samaritans: Call 116 123 for free to talk to a trained volunteer. Find out more from the Samaritans website.
For more help and guidance visit the Zero Suicide Alliance here.
Sign Up To Our Newsletter