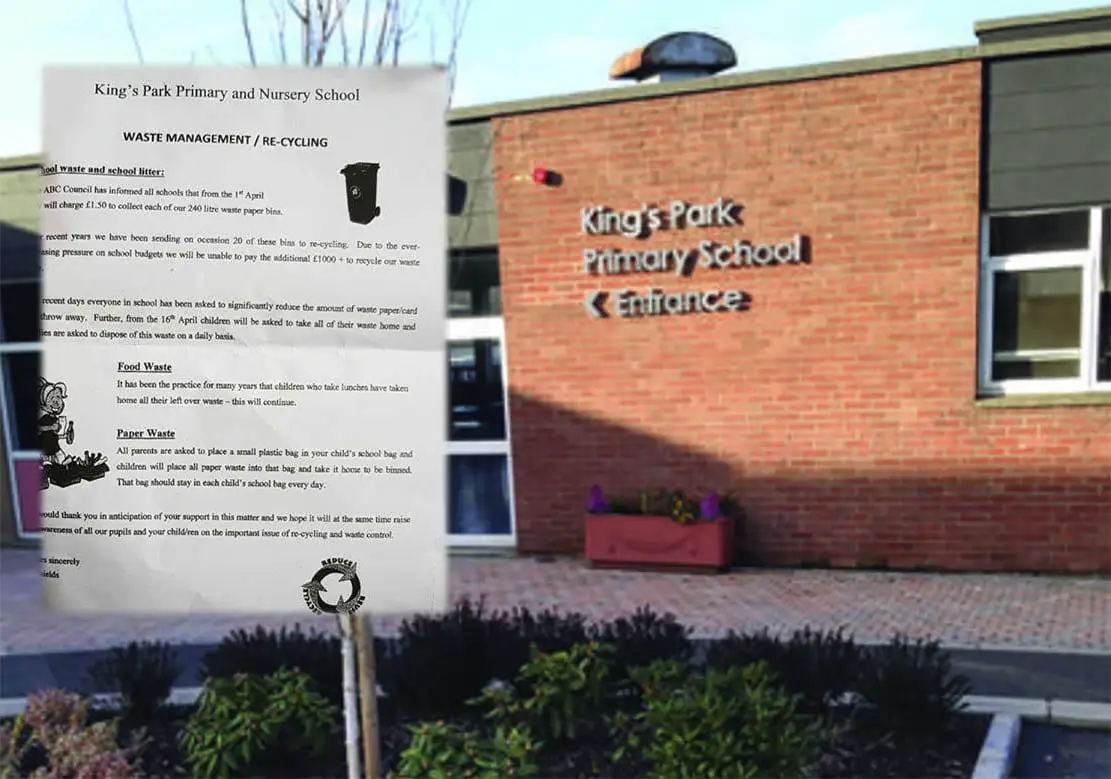 Pupils at a Co Armagh primary school are to be asked to take their rubbish home with them as the cost of emptying bins is due to increase next month.
King's Park Primary and Nursery School in Lurgan has written to all parents to ask them to send a plastic bag with their child each day as part of this belt-tightening measure.
One parent who contacted Armagh I branded the situation "an absolute disgrace".
But she added: "It's not the school's fault, I know that, but it's ridiculous that the school should be forced to even consider such ideas in the first place.
"It's a sad indictment that children should be forced to take waste home with them rather than put it in the bin simply to make sure there's enough money available to teach them in the classroom.
"Have things really got this bad? What kind of country are we living in that it has come to this? I actually thought it was an April Fool joke to begin with when I saw the date the charges were to come in."
The initiative was outlined to parents in a letter which was sent home with children this week, headlined as 'waste management/recycling'.
The school, at Avenue Road, in Lurgan, is not expected to be the only one forced to consider alternative ways to help meet rising costs.
Principal Terry Shields, a former headmaster of the Armstrong Primary School in Armagh, has thanked parents in advance for their support.
As well as helping preserve money earmarked for teaching, he said it would help raise pupils awareness of the "important issue of recycling and waste control".
Mr Shields, in his letter, outlined the reasons for taking such steps.
"The ABC council has informed all schools that from the 1st of April they will charge £1.50 to collect each of our 240 litre waste paper bins.
"Over recent years we have been sending on occasion 20 of these bins to recycling.
"Due to the ever increasing pressure on school budgets we will be unable to pay the additional £1,000 + to recycle our waste paper.
"Over recent days everyone in school has been asked to significantly reduce the amount of waste paper/card they throw away.
"Further, from the 16th of April, children will be asked to take all of their waste home and families are asked to dispose of this waste on a daily basis."
The letter explains that children taking packed lunches to school already take home their left-over waste.
But pointing to the new change and how it will be worked, it adds: "All parents are asked to place a small plastic bag in your child's schoolbag and children will place all paper waste into that bag and take it home to be binned.
"That bag should stay in each child's schoolbag every day."
Upper Bann MLA Carla Lockhart is calling for a rethink by council on its decision to add this burden on the budgets of local schools.
"I have spoken at length on this matter to a number of our councillors and raised concerns about this approach given the pressure on school budgets at the moment," said the DUP representative.
"I have asked for it to be taken back to committee to discuss this decision further and engage in extensive communication with school principals.
"I would have concerns about the ramifications of this decision and therefore I feel it needs to be looked at again."
Sign Up To Our Newsletter