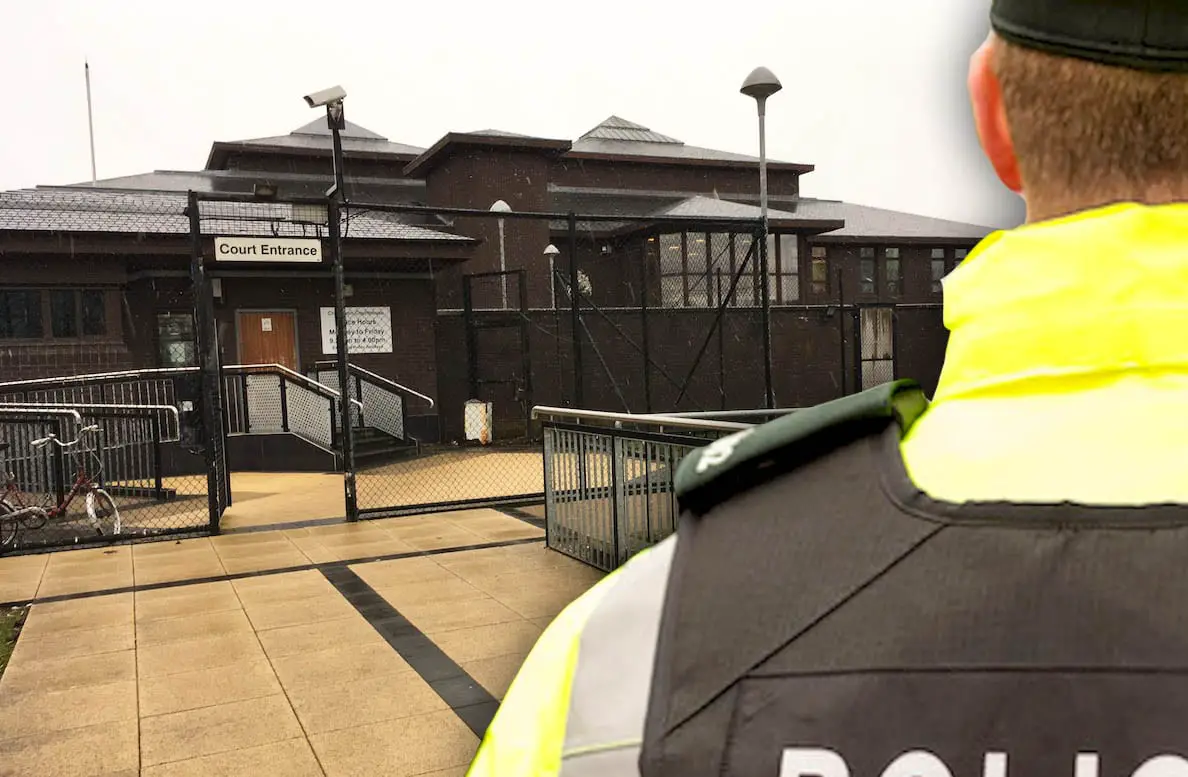 A Lurgan man who kicked the front door of his ex-partner while her child was present has been handed a community-based combination order.
Joseph Kearney, of Carrickvale Manor, appeared before Craigavon Magistrates' Court on Friday for sentencing.
The 36-year-old was charged with criminal damage, attempted criminal damage, disorderly behaviour, resisting police, common assault and assault on police.
The court heard that on June 8 of this year, police received a report of a domestic incident in Lurgan. The injured party stated that her ex-partner had arrived and was kicking on the door of the property.
Police located the defendant outside the property; he attempted to make off and was arrested for attempted criminal damage. Further enquiries revealed that he had kicked the door repeatedly and thrown a concrete coping from a gate pillar across the green outside the property.
When the defendant was arrested, he struggled and resisted police, shouting obscenities in the street. He was further arrested for two counts of criminal damage, resisting police and disorderly behaviour.
The injured party further made an allegation that the defendant had ran at her while she was standing in the doorway, claiming that he was aggressive and made her fear that she was going to be assaulted.
When he was interviewed in sobriety, the defendant said that he could not remember anything about the matter because he is  an alcoholic.
The defendant's counsel stated that his client had "taken the first steps to address his addiction issues", and added that "he now realises that ultimately that is one of the major issues in his life that he needs to address.
"He is entitled to credit for the way that he dealt with this, he entered a plea at the first opportunity," his defence said. "He is deeply remorseful for all that he has done."
District Judge Bernie Kelly commented: "Domestic violence is a serious matter, and it has to be taken seriously by this and all other courts.
"The pre-sentence report highlights that the injured party's child was also present during this altercation, and I'm sure that would have presented as a very frightening experience for that child."
Judge Kelly noted that the defendant was entitled to credit for his plea of guilty and for the fact that he had no previous record for offences of violence.
The judge imposed a combination order, which entailed a probation order of 12 months, wherein a condition was made that the defendant actively participate in any programmes recommended by supervising officers.
Additionally, a community service element was imposed, which was set at 80 hours.
Judge Kelly added: "I can tell you today that if this comes back because of your lack of cooperation, the court will replace the combination order imposed today with a period of immediate custody.
"Any further behaviour of this type which involves domestic abuse or domestic violence will also gain you an immediate custodial sentence."
Sign Up To Our Newsletter