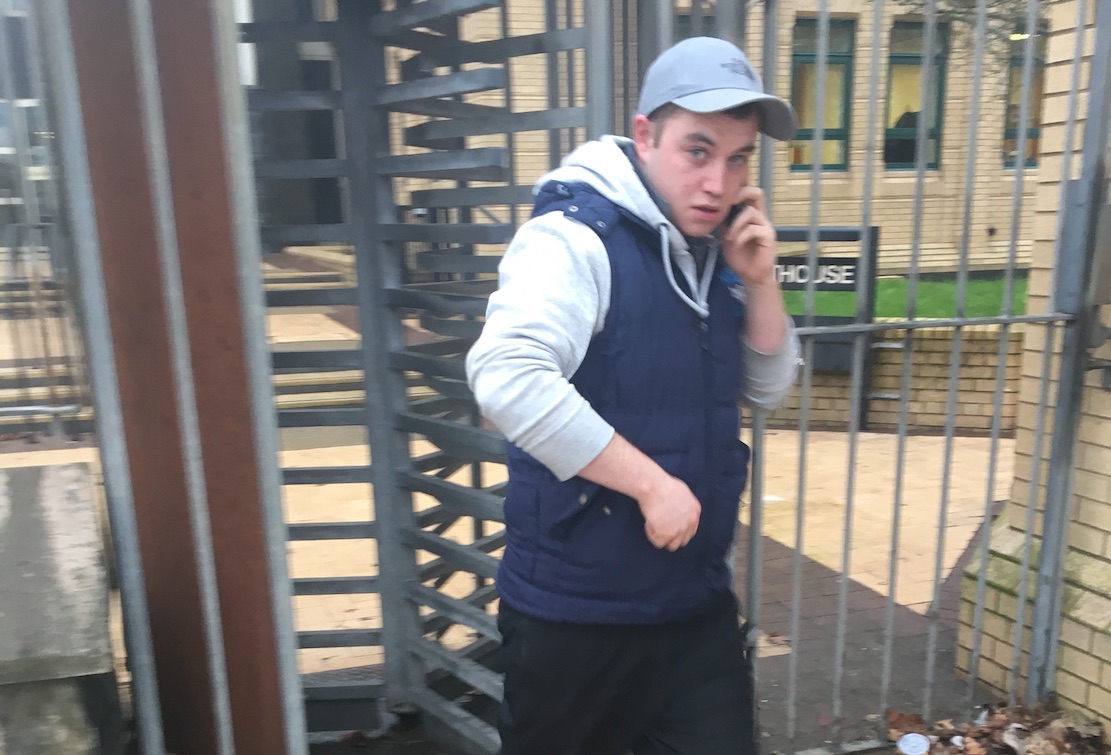 A Lurgan man accused of being involved in the murder of Malcolm McKeown in Waringstown has been refused bail.
Court heard that CCTV and forensic evidence had connected two men to a vehicle believed to have been involved in the killing of the 54-year-old last month.
Jake O'Brien, 24, of Rectory Road (pictured), and Andrew Martin, 24, of Trasna Way, appeared charged with murder at Craigavon Magistrates' Court on Friday, via videolink from Maghaberry.
Defence barrister Damien Halloran, who represented both defendants, made no objection to a four week remand in the case of O'Brien but made it known that a bail application was to be launched with regards to Martin.
He stated: "Mr O'Brien has had his licence recalled so he is now essentially a sentence prisoner."
Prosecution informed the court that bail in the case of Martin was being opposed.
A Detective Inspector was called to the stand to outline the case.
She said that Martin was alleged to have been involved in the murder of Malcolm McKeown on August 19.
The 54-year-old victim was found dead in his car behind a service station in Waringstown having been shot six times to the head and body
CCTV from the scene identified a blue Volkswagen Passat – which had been stolen from the Republic of Ireland in February – in the area at the time of the murder.
The Detective Inspector stated that Martin was connected to the offence through CCTV and forensic evidence.
She said that CCTV from Green Hill Park in Lurgan, showed a male get out of a green Volkswagen Golf, which was registered to the defendant, before getting into a dark car believed to be a Passat at around 5pm.
A Blue Passat was detected on the Dunkirk Road heading towards Lurgan at 6.22pm and entered the parking area of the service station at 6.26pm.
The vehicle remained there and is only seen leaving on CCTV at 7.20pm following the gunshots.
It is seen to return to Green Hill Park in Lurgan where is it set alight and two males wearing boiler suits make off in the Golf.
Martin was stopped at 9pm that same evening for an unrelated matter, court was told.
The Golf had originally been seized because it was believed to be uninsured but was returned to the defendant the next day when he provided an insurance policy.
The Detective Inspector told court that body cam taken at the time showed two boiler suits in the Martin's car.
A black latex glove found at the scene had proved a positive match to O'Brien – the co-accused.
When interviewed on August 24, Martin refused to give details on his whereabouts on the day of the murder.
The Detective Inspector stated: "Bail is rejected because of flight risk and it is believed he has the means to support this.
"There is also a risk to himself and others; this is part of a longstanding and ongoing feud between gangs involving drugs and firearms in the Lurgan area.
"It is also objected to because of obstruction to the course of justice; the vehicle belonging to Mr Martin is unaccountable for and he refuses to give details regarding this.
"There is also a risk to interference with witnesses, those who gave statements live and work in the Lurgan area."
The proposed address was also objected to as Mr McKeown's family and friends live in that area.
Mr Halloran disputed that there was no proof that the car seen at 5pm was the same vehicle leaving the murder scene.
He said: "There is no evidence with regards to Mr Martin's whereabouts between 5pm and the time of the murder.
"The murder was not caught on CCTV, there is nothing forensically linking Mr Martin to the murder and there is nothing linking Mr Martin to the burnt out car."
The barrister stated: "Mr Martin has no relevant record, police had his vehicle and released it back to him.
"I accept that this is a serious charge, but the seriousness of a charge is not a reason to refuse bail."
Mr Halloran added: "Mr Martin is aware that there is a risk to his own life but that is not a concern for the court, in my respectful submission there is not a prima facie case to answer."
Deputy District Judge Gerry Trainor stated: "This murder occurred less than five weeks ago, bail is refused as I am satisfied police can connect this defendant to the offence.
"He has failed to account for his movement and most significant to the police investigation the disappearance of a vehicle owned by the accused that he has refused to account for the whereabouts of."
Both cases were adjourned until October 18 for an update.
Sign Up To Our Newsletter