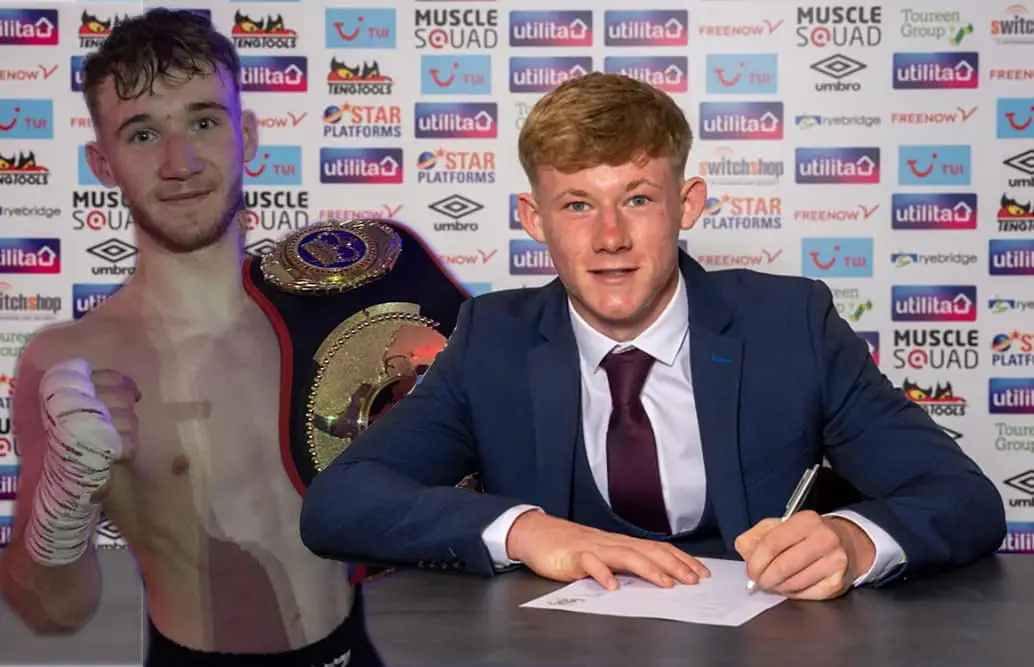 A Co Armagh father says he couldn't be prouder as his two oldest sons continue to make headlines in the sporting world.
Neil Anderson is the beaming father of Jack and Sam, the two Loughgall siblings who are pulling no punches as they strive for success; in Jack's case – quite literally.
Jack claimed his first title earlier in the summer and added another over the weekend thanks to a clinical first round knockout win over Jack Jordan.
The 19-year-old will now fight in Belfast's Mecca of boxing – the King's Hall – in February. The challenges will get tougher, the following bigger but he's already proven he's ready for the next step.
Meanwhile, younger brother Sam (17) recently signed a two-year scholarship deal with Premier League club Luton Town. While it took 10 weeks for his signing to be cleared, the talented teen has been busy making up for lost time.
Despite his tender years, Sam was recently called up into the Under 21 squad where he came on as a second half substitute against Chelsea.
Speaking to Armagh I, dad Neil, said: "I have been taking Sam to football from he was four years old; he's been all over the place. He has always shown great potential, winning player of the tournament at the Milk Cup when he was 12 or 13.
"Luckily his feet are firmly on the ground and he's focused on working hard. He's also represented Northern Ireland from about 13 right through the age groups. Off the field he enjoys the craic but on the field he's driven by success and winning."
Neil, who tries to get across to England as often as possible to watch his son in action, says getting called up into the U21 squad so soon was "an unbelievable experience, not only for him but for myself".
Sam signed his scholarship deal in July.
"It's a big void in the house," said Neil. "Even his younger brother (8) and sister (11) were lying up in his room, missing him. He was away from the dinner table as such. It isn't just me missing him, it was everyone about the house."
As for Jack, he's plying his trade closer to home, having picked up another boxing title at the Devenish Complex on Saturday evening.
The pair of brothers have always been sports mad and that rivalry adds to the healthy competition between the two said Neil.
"It's always been a good rivalry; good banter. I posted a good luck message for Jack before his fight on Saturday and Sam replied under it, 'he couldn't box eggs'. They get on great and it's unbelievable to see them both do so well.
"Sam, he is on a little mid-season break so he was at home at the weekend and he got to go to the fight on Saturday night which meant a whole lot and I know it meant an awful lot to Jack too. I'm really, really proud of the pair of them."
Sign Up To Our Newsletter