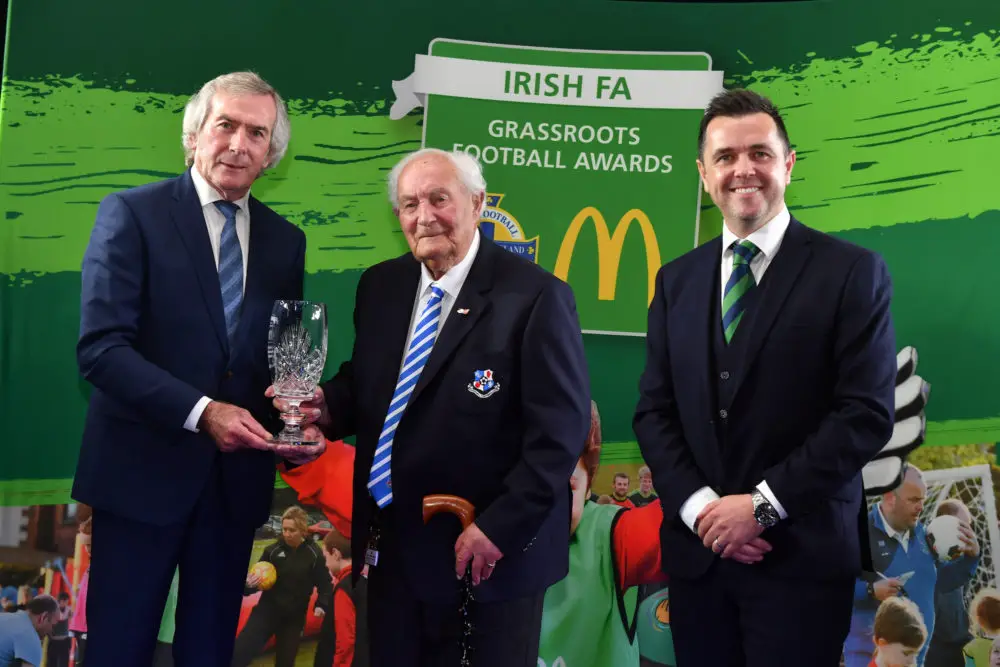 A 97-year-old man who completed 100 laps of Lakeview Park in the summer to raise money for Loughgall FC has been honoured with a top award.
Hilbert Willis picked up the prestigious People's Award for Outstanding Contribution to Grassroots Football at this year's McDonald's Irish FA Grassroots Football Awards.
Hosted by radio personality Pete Snodden, the 2021 awards ceremony featured a raft of interviews with well-known footballing heroes, including Northern Ireland manager Ian Baraclough and McDonald's Fun Football Ambassadors Pat Jennings and Casey Stoney.
Attendees of the event also heard messages of support from Junior Minister Gary Middleton MLA on behalf of the First Minister of Northern Ireland.
The annual McDonald's Irish FA Grassroots Football Awards, which celebrate 21 years in Northern Ireland this year, recognise the incredible work and commitment of football clubs and volunteers who give up their time and make a long-lasting impact on young people and communities across Northern Ireland.
The prestigious People's Award recognises the outstanding contribution that an individual has made to football in their local community and beyond. The winner of the award is decided by public votes in the lead up to the awards ceremony.
Hilbert has given more than 50 years' service to Loughgall Football Club and went the extra mile for them this year with his Captain Tom-like fundraiser, which netted more than £27,000 for improvements to the clubhouse and grounds.
Hilbert is a lifelong fan of Loughgall FC who served the club as a groundsman for 30 years and as chairman for almost a decade, amongst a host of other voluntary roles.
Ahead of the awards ceremony, Hilbert said: "If I win, it would be for the club because I just love the place. It means everything to me. My heart is in it, and it always was. If there is anything happening about the club, there is something wrong if I'm not there."
McDonald's Fun Football Ambassador Pat Jennings insisted the awards provide a great opportunity to celebrate the fantastic work that takes place at all levels of the grassroots game in Northern Ireland.
He said: "Congratulations to all of our award winners and nominees, who all work tirelessly in the background of their clubs to keep the local grassroots game alive.
"The McDonald's Fun Football programme gives young people across Northern Ireland the chance to keep fit, healthy and active as well as engage with others in the community. However, it wouldn't be possible without the unwavering support of our local grassroots heroes, and it has been fantastic to celebrate with them all again in person."
Through the McDonald's Fun Football programme more than 75,000 children across Northern Ireland have benefitted from 250,000 hours of coaching, games and fun.
McDonald's recently celebrated the huge milestone of providing five million hours of free Fun Football to children in the UK a year ahead of its 2022 goal, before vowing to offer 1.5 million more hours in the next 12 months.
Sign Up To Our Newsletter