A number of treacherous school routes in county Armagh will not be gritted despite a number of incidents in recent weeks.
Minister Chris Hazzard has refused to add Clea Road, Keady and Farnaloy Road, Madden to his scheduled, saying it would cost £5million annually to include school bus routes on the gritting schedule.
Councillor Thomas O'Hanlon sent a letter to Mr Hazzard but was disheartened with the reply.
"I am deeply disappointed at the Ministers response, but not half as disappointed and as angry as those who live on and use the Clea and Farnaloy Roads," slammed Mr O'Hanlon.
"These roads have hundreds of properties, schools, churches and community facilities on them, they are both used by school buses but all of that doesn't matter to the Minister and his officials.
"Two weeks ago, we had the first cold snap of this winter and the Clea and Farnaloy roads were treacherous, just like many other rural roads.
"On the same morning there were near accidents on both roads, it's only by sheer luck that no one was seriously hurt.
"I have received calls from other communities explaining that their roads are just as terrible.  This happens every year, time and time again.  I invited the Minister to personally  come down and see these roads for himself, they're busy roads not small back roads."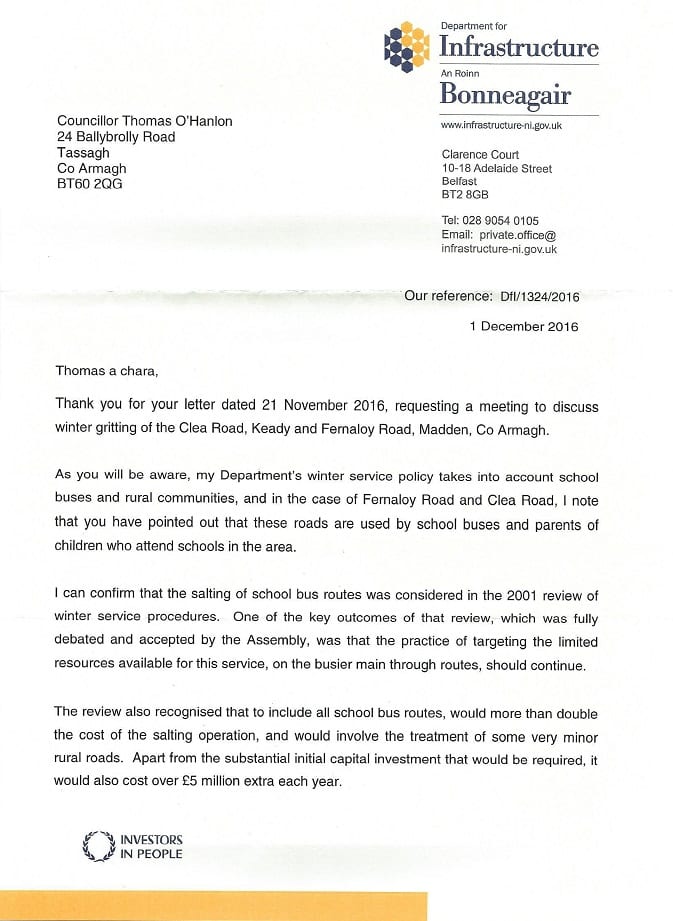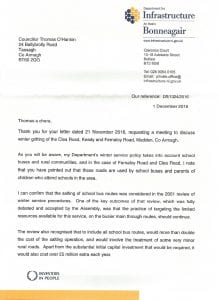 He continued: "The Minister has said no, he has rejected my request to include both roads on the winter gritting schedule, he has rejected the request to consider gritting all school bus routes and he doesn't see the point in meeting.
"In the Minister's reply to me he says 'given that my Department is not able to commit to the addition of the Farnaloy and Clea Roads to the routine salting schedule, I consider that there would be little benefit from meeting at this time. The people of this area deserve better, the children of this area deserve better.
"Year after year, nothing changes. There needs to be a fundamental review of the policy. The policy states that there must be 1500 vehicle movements each day for a road to be included on the Winter Gritting Schedule, this is completely unachievable in rural communities. The Minister and his officials know that.
"This is a knock back for this community, they, like me had hoped the Minister would listen and that he would take the opportunity to review the policy, which he states himself was adopted 15years ago (2001). Whist I am deeply disappointed in the Ministers response, this is not the end of the matter or the fight.
"All school bus routes must be gritted, we cannot allow this decision to be based in monetary terms, the lives of children cannot be valued monetarily.
"The Minister says it would cost £5million a year to grit all school bus routes, I would argue that it would be better spent gritting roads than the £1.7Million the NI Executive is giving to the UDA-linked Charter NI, or the £9million support for one of the world largest airlines United Airlines. Stormont really does need to get its priorities right."
Read more news:
Watch Lord Mayor abseil down Armagh City Hotel for Southern Hospice
Taxi driver's terror as passengers threaten to sexually assault him in south Armagh
Mum's faith in humanity restored as treasured stolen bicycle returned to speechless son
Cast of Cinderella do Mannequin Challenge at final dress rehearsal ahead of Armagh shows
Police warn shops and public to be alert to fake bank notes circulating
Sign Up To Our Newsletter