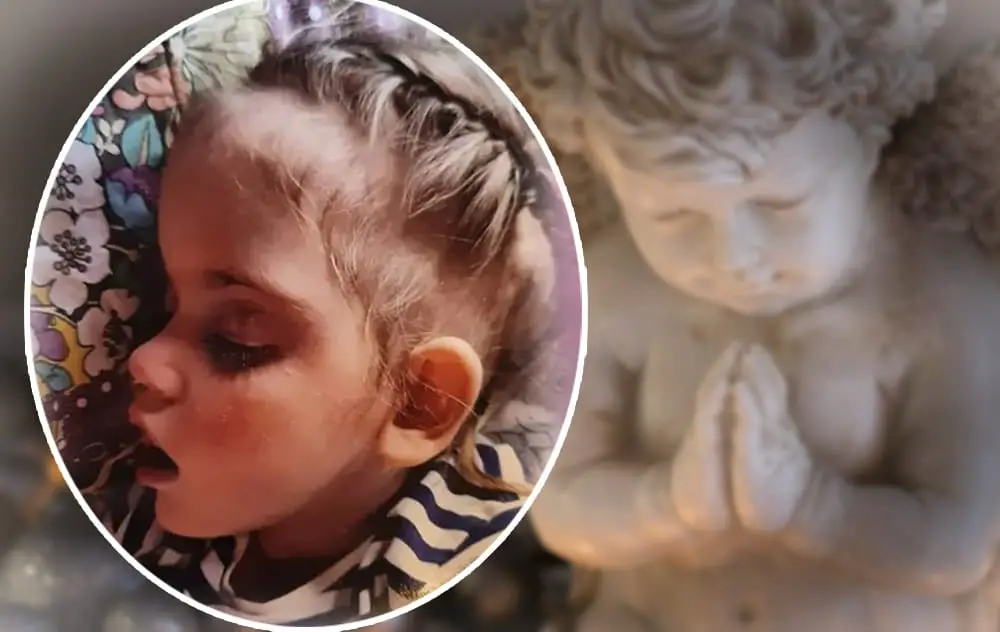 The heartbroken family of four-year-old Keady girl Gabrielle Chambers have been told she is now "a little Angel in Heaven".
A true gift from God, Gabrielle passed away on Wednesday afternoon in the care of her family.
And at St Patrick's Church in Keady today (Friday), they were joined by friends as they celebrated the Mass of the Angels and remembered a little girl who lit up their lives more than words can express in her short time on this earth.
Gabrielle, one of six children of Leo and Phil Chambers, of Crossnenagh Road, was also the much-loved granddaughter of Phil and the late Brian (Renaghan) and Mena and Larry.
At her funeral Mass today, celebrant Fr Aidan McCann told of the sense of loss following Gabrielle's passing.
But he assured all those who grieved for the four-year-old that her presence would be forever felt.
"Little Gabrielle, with the beautiful eyelashes, loved music, I'm told, being able to express herself with her wee left hand," he said.
"She was baptised here beautifully on Christmas Eve, just as Christ was being born into the world.
"Today she is born into the eternity of Heaven, joining one of the choirs of angels, along with her namesake, the great Archangel Gabriel.
"In Heaven, our Blessed Mother Mary, she is the Queen of all the Angels, who Gabrielle now joins in their singing the praise of God and His Blessed Mother."
And he added: "Our loved ones are only ever as far away as God is and God is very, very near.
"To be in the presence of God at Mass and in the Blessed Sacrament is to be in the presence of the Saints and Angels, and by extension of course, with Gabrielle too.
"Gabrielle is now a little Saint, a little Angel in Heaven. And like all the Angels and Saints, she does not forget her family here below. May she help us and pray for us all now."
The Prayers of the Faithful were brought by Gabrielle's little siblings Leo, Oscar, Connie, Phoenix and Finlay.
Bravely, they came to the front of the church together and one-by-one they led those present:
"We pray for my sister Gabrielle, who has gone to Heaven. May she help us in our grief. Lord hear us."
"We pray for Mummy and Daddy, who miss Gabrielle so much, and all of us children too. Lord hear us."
"God help all the nurses who helped look after Gabrielle at home and in hospital. Lord hear us."
"God help our Granny and Granda. Lord hear us."
During the course of a beautiful Mass, Gabrielle's heartbroken mother was applauded after she courageously read a personal poem, a reflection – entitled simply 'Mother to an Angel' – in which she brings to words her unimaginable loss.
"A tiny little Angel,
With a silent sweet goodbye,
To a sad and weeping mother,
Then flew off to Heaven's sky.
When a spirit child is perfect,
There's no need for them to stay.
They come into the family,
Then go quickly on their way.
The trials and pains of Earth's life,
Are not theirs to endure.
God knows these precious little ones
Are much too good and pure.
But while here a bond is made,
Closer than no other.
One of everlasting love,
Between a child and mother.
I am the mother of an Angel,
Who is watching over me
How I wish you could have stayed,
But it's not meant to be.
For a time my little Angel,
You and I will be apart,
But until I hold you in my arms,
I hold you in my heart."
After Mass, Gabrielle was laid to rest within the adjoining cemetery.
To her parents, Leo and Phil, her siblings, Leo, Oscar, Connie, Phoenix and Finlay, grandparents and the wider family circle, we offer our heartfelt condolences at this time of immense loss. May Gabrielle Rest in Peace.
Sign Up To Our Newsletter