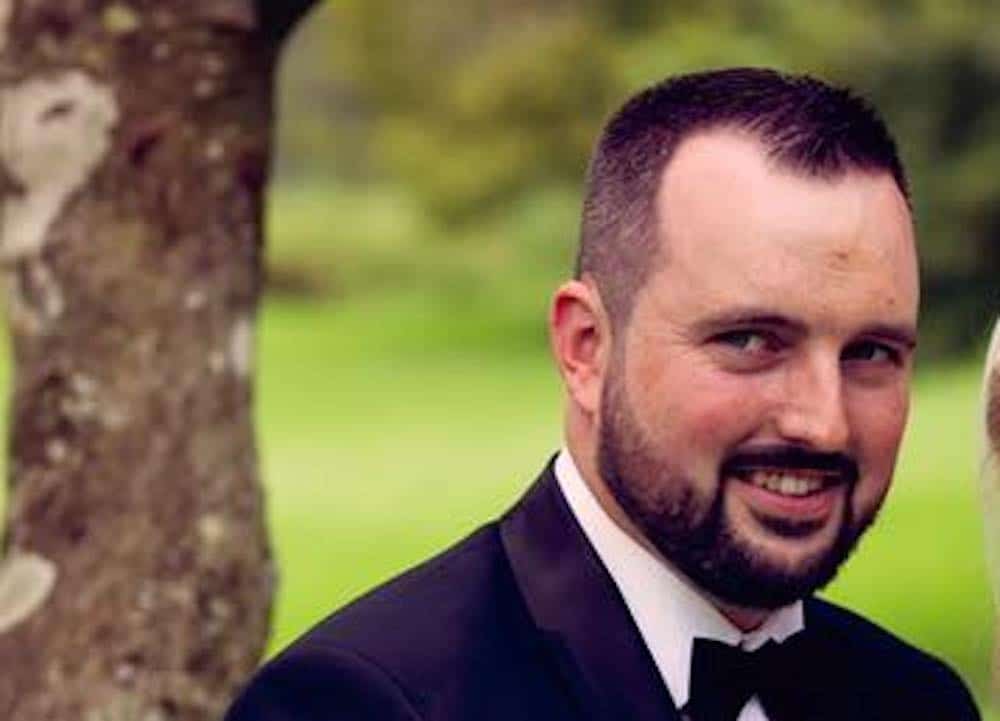 A young man who lost his life in a tragic accident in Keady on Saturday has been remembered as a man not only with big hands but also a big heart.
Shane Lappin was working on building a new home for himself and his new wife on the Madden Road area of the town when tragedy struck.
Medics were called to the scene but unfortunately the 30-year-old passed away from his injuries.
The 30-year-old was laid to rest following a funeral mass at St Patrick's Church in Keady this afternoon (Wednesday).
Fr John McKeever paid tribute to the popular Mr Lappin by quoting the opening lines to the Dickens novel 'A Tale of Two Cities' – "It was the best of times. It was the worst of times."
"When I look back over these past 12 months," he continued. "It certainly seemed like the best of times for Shane, when he came to see me about his wedding papers, round this time last year.
"He was full of excitement about his upcoming wedding to Sarah; he was full of plans and hopes. After a long day's work he was still full of energy and of course, full of chat.
"Whatever other times we find listed in our reading for Shane, every time was a time to talk.
"Everyone wanted Shane and Sarah to enjoy the best of times, for they certainly deserved it."
Fr McKeever noted the love and high esteem that everyone had for Shane.
"Friends neighbours, teachers, workmates and employers over the years, all the customers he dealt with across the country, his work for John Bell, and of course, above all his family and his new in-laws was simply outstanding," he said.
"It's no surprise that having inspired such devotion and admiration in life that Shane's passing has led to such heart-rending grief.

"It seems so wrong, that the best of times, should end so quickly, and be followed by what we can now honestly say are the worst of times, as we all struggle to make sense of Shane's accident."
On Mr Lappin's sudden passing, Fr McKeever said: "It's tempting to spend our time thinking only of the future that Shane had planned. Yet now it cannot be.
"But that would not be fair to Shane, or fair on ourselves, because he already achieved so much in a short life and he has left us so many happy memories, which he would not want to be forgotten."
Fr McKeever spoke of how Mr Lappin's parents had always seen him as "a miracle baby; a special gift of God".
"He was a dream, son," he said. "Never causing any trouble, never getting into fights or falling out, even as a child at school, he was so pleasant and friendly. Something that his teachers noticed.
"He was always eager to work, especially in farming and he was never happier than on a John Deere tractor.
"When he was born, the doctor who delivered him remarked that he had never seen a baby with such large hands. They were farmer's hands, Lappin hands, but they were much more than that."
Mourners heard how Mr Lappin put his hands to anything.
"A skilled joiner by trade he could also fix any tractor, take on any practical job, the work he did in building his own house is a testament to that," Fr McKeever added.
"With Shane's big hands, went a big heart. He'd always do a favour for someone if he could.
"He never made any distinctions between people but made time for everyone, especially to talk, because he was so generous with his time."
Mr Lappin's timekeeping was never the best, "except on his wedding day"
"Sarah, got him a wristwatch for his birthday," he said. "And he got a pocket watch too. So, he was sure to be on time, that day at least."
Talking of the grief experienced by the family, Fr McKeever said: "Life is always a mystery, we cannot understand life's tragedies but we also cannot understand its blessings.
"We can't take them for granted either, we seek answers for the calamities, but we just accept the miracles and unquestioning amazement".
He continued: "I cannot explain how a 17-year-old girl from Cloughoge could run into a 19-year-old lad from Keady, by chance in Warrenpoint and know at that very moment, that they would be married, and for them to actually get married.
"Many dream of love at first sight, but find it's only an illusion but for Shane and Sarah, it was real. They were devoted to each other, they were meant for each other.
"What strange power brought them together, the same power that brought Shane into the world as a miracle baby.
And it is the same power to which he returns."
Sign Up To Our Newsletter