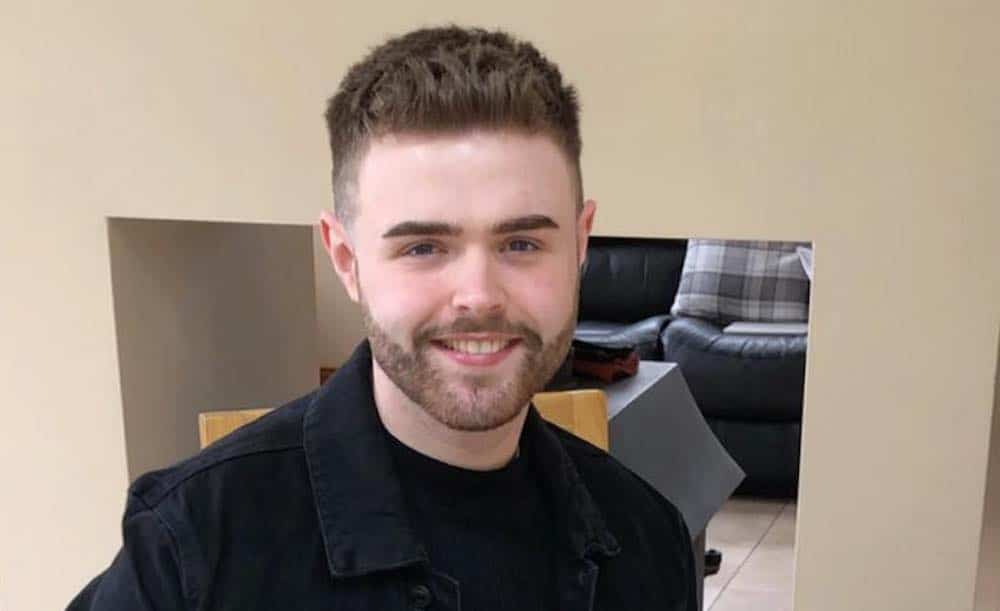 Heartbroken mourners at the funeral of a young County Armagh man have heard how his smile projected someone who was "absolutely happy, full of joy" and someone who "did not have a care in the world".
Ryan McClelland was just 22 years of age when he passed away following a tragic accident last Sunday night.
At St Mary's Church in Granemore on Friday – just a few miles from where Ryan spent most of his young life – Parish Priest, Fr Greg Carville, spoke of a man who had a "beautiful gift of smiling".
"Our community, and the wider community as a whole, are mourning for a much-loved young man; I know you were all broken-hearted, especially Ryan's family; what happened to Ryan isn't fair – it's very, very unfortunate," he said.
"We can, and are allowed to ask the question, why did this have to happen, especially to Ryan? He was a fine young man, just 22 years of age. He still had his whole life ahead of him to life, but sadly I don't have any answers here today."
Fr Carville, who had been offering comfort to the family in recent days, said he hadn't heard anything other than "very kind and genuine words about Ryan McClelland".
"Ryan could be described as a very pleasant young man, obliging, sincere, quiet, decent and in every photograph of Ryan he is smiling, absolutely happy, full of joy and not a care in the world," he said.
"It would be very true to say he was very photogenic and his dad Brian said to me the other day, 'he knew how to pose for the camera'.
"From looking at the photographs of Ryan, even from a young child as a page boy at a wedding, to more recent photographs, he didn't have to pose for the camera, it was in his nature to smile at the camera. He had a beautiful gift of smiling, not only at the camera but at people too.
"I knew Ryan to see at his part-time student job in Marks and Spencer and just like the photographs of him, there he was smiling, pleasant, courteous and kind to all customers who came in contact with him. He was there helping out in whatever way he could. Why? Because it was in his nature to help and assist such was the good upbringing that he had."
Ryan and his family lived for a time in Derrymacash, outside Lurgan, before moving to Granemore.
And it was his primary school whose pupils formed a guard of honour as the cortège made its way into the Church.
When the family moved to the area, Ryan joined the local school as a Primary 5 pupil.
"He was such a good all-rounder," said Fr Carville, "that he was one of the ones chosen in P7 to be Head Boy and that led to very good things".
"He had a great love of pop and country music; music helps all of us and can show our emotions, and a very strange and spiritual way, when tough days are ahead, when you're on your own, be it in the car or at home and the radio is on, and one of Ryan's songs is played, you will be thinking of Ryan just before that song, it is Ryan letting you know, 'you know mum and dad, I'm okay'.
"He's happy and he keeps going. We call this the Angels of the Airways. It's your guardian angel and Ryan letting you know all is okay and it's okay to cry. Someday those tears will turn to smiles."
Ryan spent four years at the University of Ulster studying art, computing, technology and design. It was here he made so many great friends.
It was Ryan's creativity and art – a beautiful gift and talent – which set him apart from others.
"Some of the paintings were on display in the house and one could not stop and stare at the beauty of his work; the hours, the time, the effort, the detail he put into those paintings stood out," said Fr Carville.
"His paintings were striking, modern, contemporary but most of all, beautiful. As time slips away for all of us, people will indeed say, 'I continue to marvel at Ryan McClelland's work'. And even when we're long gone, I believe his legacy will continue in his artwork, which will be admired by many, many people in years to come.
"God gives us all talents, some of us use our talents, some of us don't. God gave Ryan the talent for art, creativity, a perfect eye for colour, vision and beauty. Ryan thankfully used his talent wisely and to the best of his ability."
He added: "Today is a very sad day, it has been a very tough week for Ryan's family and friends. If we can turn our sadness into a little bit of happiness we can be grateful for who Ryan was, for the fact that his life, although short, was a good and happy life, especially over the last four years. The memories of Ryan are always going to be good and warm."
Ryan's older sister Shauna also paid a heartbreaking tribute, on behalf of the family, to "our unique wee boy".
"Nothing about today is good, or right, or makes sense," she said. "We can't accept the reality that you are gone, that we will never hear your voice, or your amazing laugh again.
"We will never again see that beautiful smile or unique sense of style. You are our unique wee boy who grew up to be a handsome and loveable young gentleman, loved by all your family and your many, many friends.
"Our family is not whole without you and we know you are an angel looking down on us now. We will miss you forever and you will never leave our hearts or thoughts.
"Our memories together will stay with us forever. It is so difficult to express how we feel about losing such a massive part of our family and describe the impact Ryan had on our lives. Ryan we love, we miss you and we will always be thinking about you."
As Ryan was taken to his final resting place Dolly Parton's 'I Will Always Love You' played out – a fitting send off for someone who will always be loved.
To Ryan's family and friends, we at Armagh I wish to offer our sincere condolences. May he Rest in Peace.
Sign Up To Our Newsletter