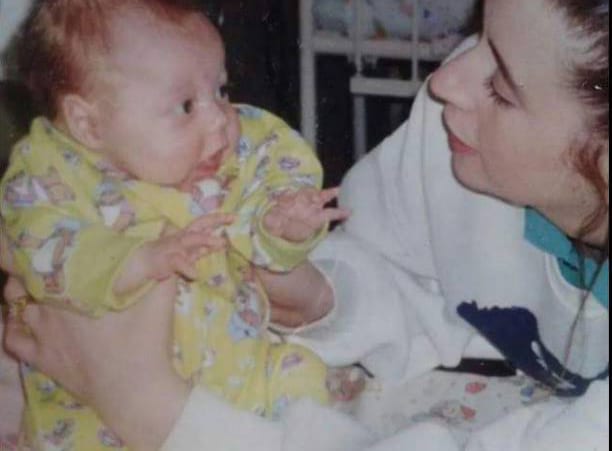 A distraught county Armagh mother is today reeling after discovering items of huge sentimental value stolen from her baby daughter's grave.
Jackie McGuigan from Keady, whose daughter Leanne died in 1998 at just four months old, says she has been numbed that someone could act so cruelly.
Around 6.50pm yesterday (Saturday), just before evening mass, Jackie was attending her daughter's grave at St Patrick's Church in the town when she noticed it had been stripped of a lantern, a teddy in a glass box, a personal plaque and a tortoise ornament bought as a gift from her uncle.
A dumbfounded Jackie, speaking to Armagh I, said she was "stunned, absolutely stunned" by what had happened.
"It beggars belief that someone would do this; I really can't understand it," she said.
"Of all the break-ins that there have been in Keady, and the other things that happen around here, I just don't get it. There are people that will benefit from jewellery, money and whatever, but what benefit is there from stealing from a little baby's grave. What value is it to them?
"I could go down to that child's grave in the dark and know where everything is. It fails me how they can profit from it, other than doing it for badness. It's devastating."
Jackie says her mother had visited the grave that morning and everything was how it should have been, leading her to believe that the theft happened in broad daylight.
"The teddy in a glass case would have been quite heavy to carry and there was a lantern with a candle inside," said Jackie. "There was more than one person that did this, put it that way."
She added: "That teddy has been there 14 years; I got it for her third birthday. It's gone…just vanished.
"She never liked the dark, which might sound stupid, but that's why we had the lantern with the light on.
"I have another son and daughter who never met her – she was our first born. My husband and two children came out of the graveyard last night crying. Even though they have never met her (children), it caused them a lot of distress.
"My husband and son are today out looking around the hedges nearby for the items but I can't even do that because if I found anything and it was damaged it would destroy me."
Jackie has tried to comfort herself with the fact that this maybe wasn't a particular attack on her family and has tried to look at an extremely emotional situation with an empathetic eye.
She said: "There was also another lantern taken off another grave yesterday which, it might sound strange, doesn't feel like such a personal attack on us.
"Somebody is bound to have seen something; sure you could hardly carry the items."
She continued: "I have a sister in Armagh who has told me it has happened different times on little baby boys' graves there, where stuff has been taken. It turned out it was a mother who had lost her own little boy and who had never got to bury him.
"I completely emphathise with her because when you're in that situation and that state of mind you're not thinking straight. I would nearly have sympathy for the person if I thought it was that what happened yesterday. I'm trying to think along those lines other than badness."
If you saw anything or can help in anyway, please get in contact with us at Armagh I or directly with Jackie.
Read more news:
Dog attacks leaves county Armagh estate without postal service
Police release CCTV images in relation to shop thefts
Minister confirms Armagh I exclusive as design plan signed for three new campuses
Scout hall where boys were sexually abused is demolished
Sign Up To Our Newsletter