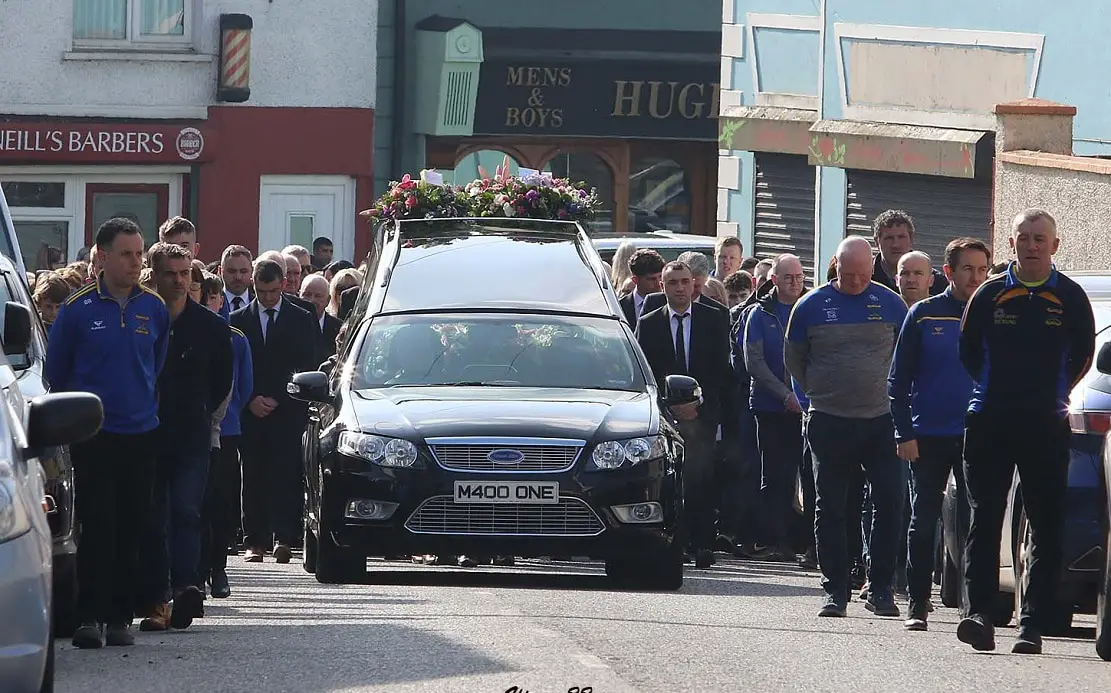 A Keady woman who campaigned tirelessly for justice for her murdered son has been remembered as having the "heart of a lion".
Maria McShane was laid to rest today (Friday) following Requiem Mass at St Patrick's Church in Keady.
She passed away peacefully at home on Monday following a long illness.
On May 18, 1994, her 17-year-old son Gavin – an A-Level student – was shot dead in an Armagh taxi depot by loyalist paramilitary group the UVF.  His friend, Shane McArdle, also 17, died a day later in hospital from his injuries.
Fr John McKeever told mourners that, like Christ, Maria was no stranger to suffering in her life and, indeed, had suffered "more than most people can even imagine".
"She was a victim of the Troubles twice, being seriously injured and losing an eye when the Step Inn bar was bombed in 1976. And then losing her son Gavin, when he was so cruelly murdered in 1994," he said.
"But in spite of all her sufferings, she metaphorically rose from the dead again and again to fight for truth and justice, to fundraise for charity, thanks to which she became honorary Mayoress of Keady for two successive years.
"And most importantly, to not let her heartbreak stop her from being a loving and fun-loving wife, mother, sister and grandmother."
He said that one time Maria even literally rose from the dead. "She had bravely borne her illness over the last four years but three years ago, she was given up for dead in Newry Hospice. Mad panic to get the priest and yet one turn in the bed and Maria miraculously revived," said Fr McKeever.
"And there have been a few instances over the years when it seemed to everyone that she could not survive. Doctors were baffled but Maria did. She spent years on the syringe driver when most people are dead within weeks of receiving one.
"So it is with sadness but also with some relief that we can say she is finally at rest after all her labours and sufferings."
He said that although Maria fought her illness and defied death on several occasions, the timing of her death was a sign that God had "called her to himself at the time that he knew best".
"Maria died on the Feast of Saint Mark, whose symbol is the lion and Maria most certainly had the heart of a lion," he told mourners.
"She's being buried today, the feast of Saint Catherine of Siena, a woman who was fearless in confronting warring kings and dukes and negligent Popes…
"It's as if God were using Maria's death to say to all of us, do not be afraid of anything, or any one. Do your duty. Stand up for what is right. Do not be afraid of the cross. Trust in God and keep the faith for it is the only source of strength that cannot fail you. Have a loving heart for everyone alike for only love conquers fear."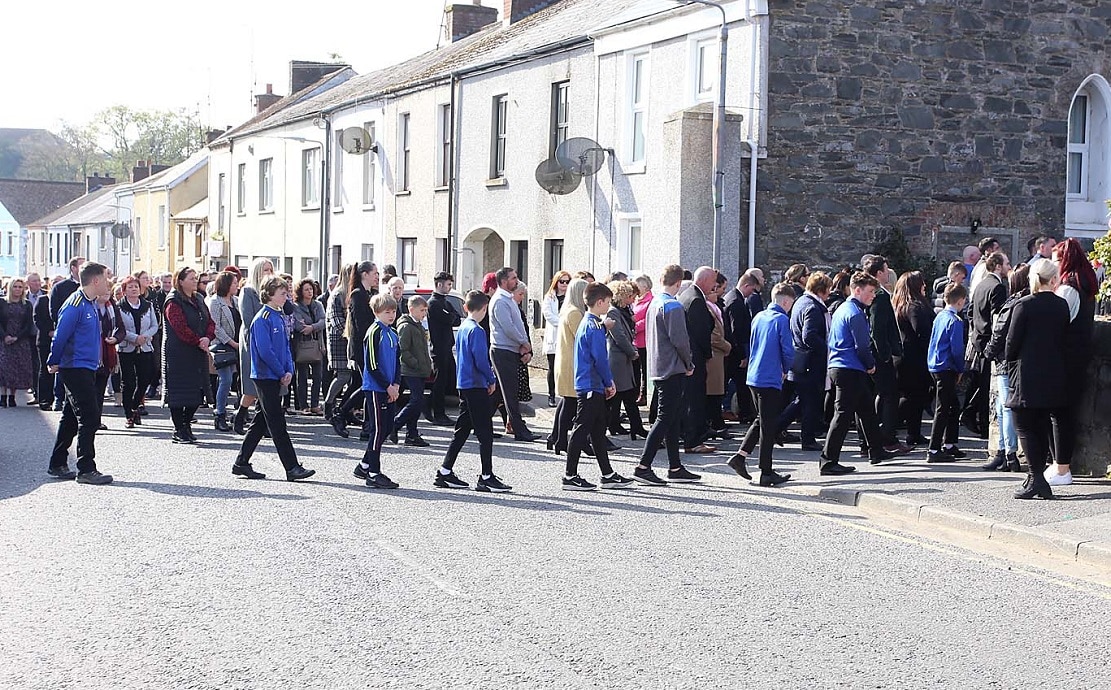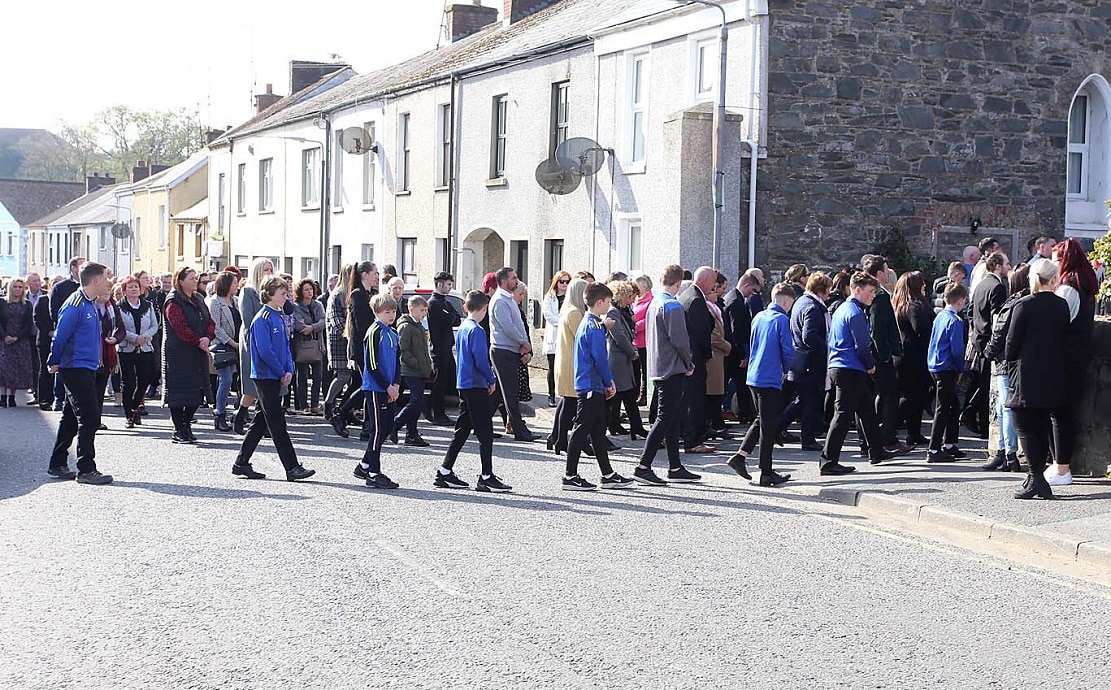 Fr McKeever recalled how Maria could talk to anyone on the same level, telling the story of how, because of her work for justice, she was invited to meet President Bill Clinton in the White House.
He said she brought with her a blackthorn shillelagh that she presented not to the President but to his wife Hillary Clinton, saying: "That's for beating Bill with".
Maria was also a lioness when it came to protecting her family as well as having a lion's heart in her generosity. She would have given her last penny to anyone in need and and was adored by her children, grandchildren, nieces and nephews, Fr McKeever told the congregation.
But he said she received back the love that she gave, especially in the care she received from husband Matt and the family over the past four years.
Her faith also sustained her greatly during her illness. Fr McKeever said the last trip Maria made was to Knock in her cousin Frankie's taxi. "And although she wasn't at all well, she was determined to go there one last time and seek Our Lady's motherly help," he said.
"We can learn from Maria the necessity of the power of prayer to sustain us in the midst of life's struggles.
"Maria carried her cross, heavy as it was at times, with the help of the grace and strength she received from the Lord and also the support of her family and her many carers."
Mrs McShane is survived by her husband Matt, children Caionn, Alana, Brian and wife Annette, grandchildren, sisters, brother, nieces, nephews and the extended family.
Burial took place in the adjoining cemetery.
Sign Up To Our Newsletter