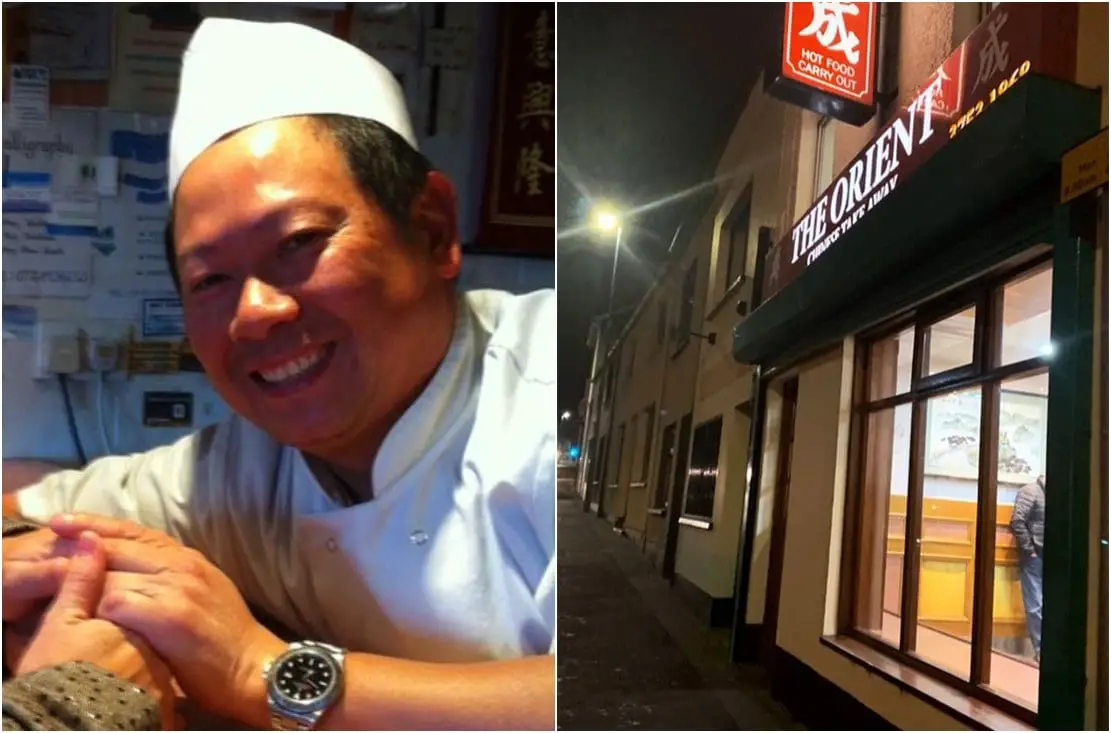 It truly was the end of an era at the weekend as the owner of a well-known Co Armagh Chinese takeaway stepped out of the kitchen for the last time.
Norman Lau set up The Orient in Keady 31 years ago.
And Sunday was his final night serving the local people as he had done for all those years.
Such is his popularity in that part of the county that the takeaway has often been referred to simply and affectionately as 'Norman's'.
Whilst others have come and gone, Norman's has remained a constant for the last 30-plus years, with the man himself being just as well-known as the food coming out through his door!
Norman reflected on how he came to be in the south Armagh town and how he had grown to love it there over those years.
He told Armagh I: "I am originally from Hong Kong but I moved over with my parents back in the 60s. I opened up the shop in Keady in the late 80s. It was a very different town then.
"My place was the only Chinese there at that time. The town was always busy with live music and entertainment on most nights.
"We used to be open late until two in the morning. There were some dark times – I mean we used to say 'black eye Fridays' and 'hangover Mondays'.
"We had to put bars up on the windows in those days. They would have been banging on the back doors to get in but they were removed and replaced with shutters when we did the place up.
"We then were able not to open so late. Other Chinese's came and went but we stayed there, so I guess we must have been doing something right.
"We were getting so popular that we did not have to open late into the night and to be honest I think that was a great thing."
Everyone in the Keady area would know of Norman, his own name more frequently used to describe the takeaway than its actual name.
Many will have had the experience of ringing up to order from the takeaway, only for Norman to recount your previous order with ease before you had even opened your mouth!
"People are just so predictable, they always order exactly the same thing," he laughed.
Norman, who lives in Portadown, said he will miss Keady.
"I will miss the people. It is amazing seeing them come in as kids and then coming in with kids of their own.
"But I will still be up and around there, from time to time; I have a lot of friends in Keady and will keep in touch.
"The town of Keady has done me well. I have made some great friends and the local people are amazing.
"But I have been working since I was 15 – I am 56 now – and I have always thought 'what is the point of working until you drop?'"
When asked how he will fill his free time now, Norman said: "I have so much more time to travel and to spend with my grandchildren, which I am really looking forward to.
"I also will be able to play more golf. I am not very good but maybe I just need more practice. Maybe the Keady ones will invite me over some time to play!"
The loss of Norman from the day-to-day life of Keady will be felt throughout the community – an institution and character known by many and loved by all!
From all of us at Armagh I, good luck for the future.
Sign Up To Our Newsletter