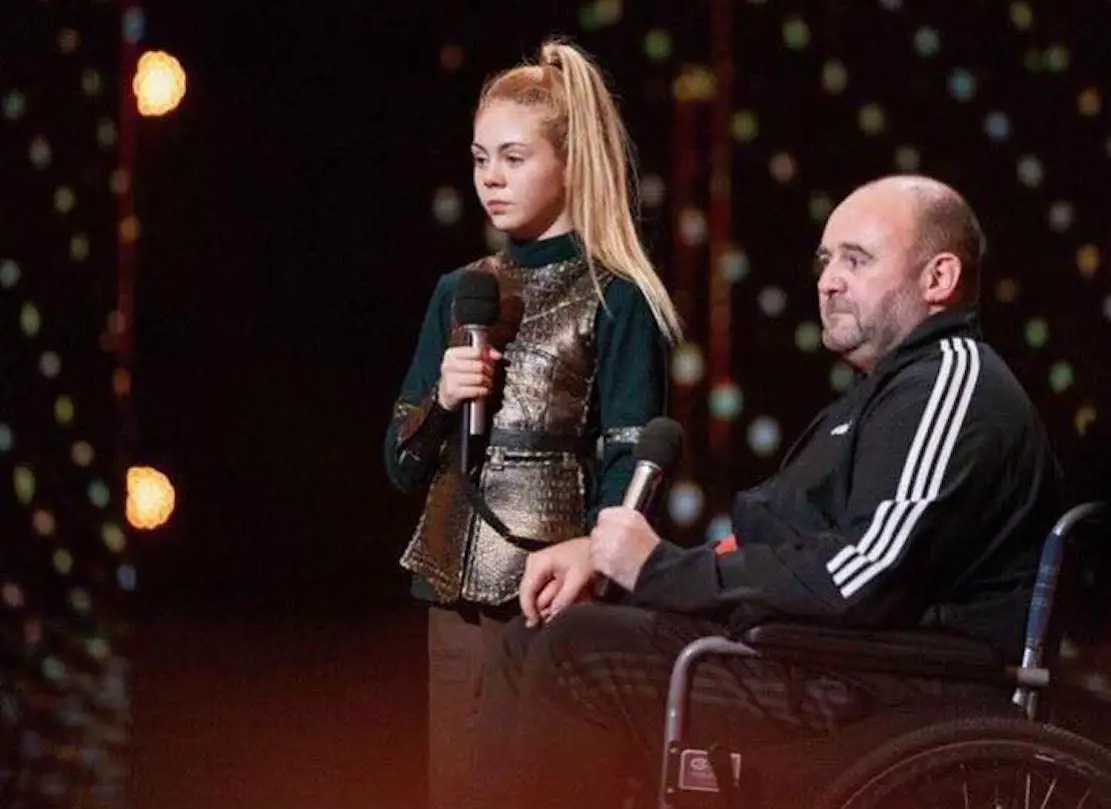 Thirteen-year-old Co Armagh martial arts star Jesse Jane (JJ) McParland has wowed her way into the semi-final of World's Got Talent in China.
And she's done it with her father Gary by her side.
The Keady teen stole the hearts of millions across the UK when she appeared on Britain's Got Talent back in 2015, at just nine years of age.
She eventually finished eighth in that series.
But now, a Chinese audience were left stunned by her routine, inspired by her idol Jackie Chan, and her heart-rending story of how she can no longer train with her dad.
JJ's father was seriously injured in June 2017, when he fell 22ft from a building site. He broke three bones in his back, his pelvis, ribs and a leg.
He used to train with his daughter but has been unable to for a number of years now.
Appearing alongside her in China, proud father Gary, watched on as JJ showcased her talents.
"I love Jackie Chan. It's just so powerful and normally every girl is judged to be a princess," she told the judges.
"Like whenever they grow up they have to wear make up, they have to put on glitter – but not every girl dreams of being a princess so girls are powerful too, we're not all just glitter and glam."
She added: "I would love to be in a movie with Jackie Chan and for him to train me but also that I will be a warrior and grow up to protect my dad, because at the moment he is in a wheelchair and it's very sad."
Joining his daughter, Gary said: "I'm so proud of you Jane, amazing as usual. I love you loads."
JJ told the judges that losing the chance to train with her father was devastating.
"He was always at my training sessions, he would always teach me, he was at every competition and every tournament," she said.
"Whenever he fell I just lost all confidence, I didn't want to do martial arts anymore.
"I didn't want to do anything. He said to me, 'If you continue your dreams (because he knew how much it meant to me) that one day I will walk again'.
"At the moment he can walk a little bit with crutches and he has promised me that he will walk without assistance one day."
One judge commented: "I'm so touched by the story. Dad, you must be so proud of your daughter. She did beautifully today."
JJ is now back in China with her father, taking part in the competition's semi-final.
Sign Up To Our Newsletter