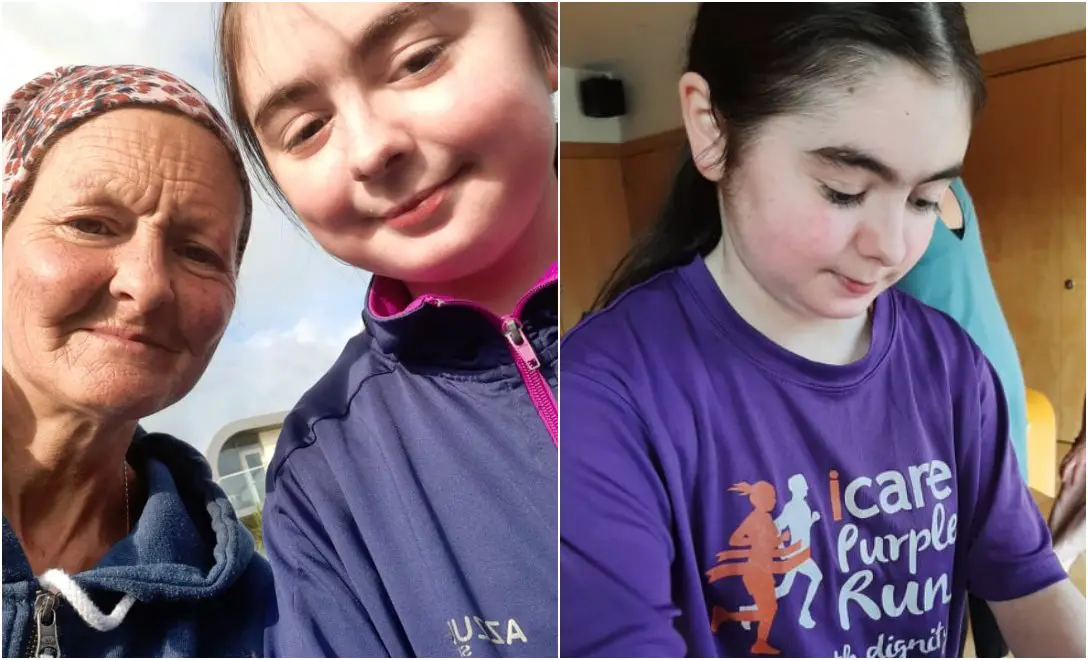 A Keady mum battling an aggressive form of breast cancer since Christmas has spoken of the darkness and desperation which has engulfed her and her family as she continues her remarkable battle against the disease.
Having lost her dad to Covid in Craigavon – as she herself lay in a bed on the other side of the hospital waiting for a life-threatening surgery in March – Katrina Finnegan's future was full of uncertainty.
Having struggled for years with Refractory Coeliac Disease and Crohn's Disease, a Triple X Negative Secondary Breast Cancer diagnosis in the week leading up to Christmas, during the height of Covid, felt like the straw that would break the camel's back.
While admittedly "in a bad state mentally", Katrina's worst fears were for her 12-year-old daughter Kerrie.
Fortunately, in the darkest pit of despair, there has been a flicker of hope, and it came via a charity Katrina confessed knowing very little, if nothing at all, about – the Cancer Fund for Children.
Speaking to Armagh I this week, Katrina detailed her long battle with illness and how it's something her young daughter has grown up living with, however, an aggressive cancer diagnosis was something new to her altogether.
"To be honest it was a total shock," said Katrina of the Christmas 2020 diagnosis. "I was already quite ill. Kerrie is a child who has grown up with her mum being ill.
"I have very rare form of coeliac disease which is hard enough to cope with because they told me that it could lead to cancer. I then had intestinal failure, I was in and out of hospital for many years; and as a result of these issues I have had to give up everything.
"I then had Kerrie; she was the one and only, a bit of a miracle child in the middle of all this, which was incredible but I tried everything, from the City Hospital to the Royal Hospital but all they could do was put a peg feed (a feeding tube) in me to keep me going.
"I was just coming to terms with all that and then, of course, I noticed a lump a couple of weeks before Christmas, it was quite sore but I thought I'd get it checked out. Covid was happening but sure I got in and got it checked. The doctor said she didn't like it. The next thing I know they were testing me – I have to say the staff at Craigavon were excellent. I got the biopsy and result all in one day. They said it was cancer and I was like 'what! Oh my God, no way'."
The difficulty for Katrina was the fact that doctors couldn't locate the primary source of the cancer, limiting their ability to treat it.
Said Katrina: "That was really upsetting because it left me in no man's land. They said they would take it out but that they needed to operate."
But Katrina had already been told that she would never see the other side of an operation.
It was a big risk to take but a decision she made – "I had to go for it".
"I got the surgery in February and we were right bang in the middle of Covid, so it was really scary; unbelievable really, it was my worst nightmare. Everything was against me, everything."
Katrina was fortunate to have been able to undergo surgery in Craigavon and by sheer luck they were able to locate the primary cause of the cancer in her breast. Unfortunately it had spread.
"They told me that it was aggressive – Triple Negative and of course that meant nothing to me," she recalled.
The cancer came within 2mm from her chest wall – any further and her lungs would have been next.
"I had to get more surgery a month later and during this time, my poor wee girl, God love her, she was just all over the place, she didn't know what to make of it; she was use to mummy being ill and getting on with it. But this, she was very, very scared. She was Googling things and finding stuff out. 'Oh mummy' she would say, she went completely withdrawn, wouldn't even talk about it."
Katrina's first surgery in February was a difficult one, recovery was long and arduous but doctors got her home immediately for it was seemingly safer.
"I had a huge recovery to get back on my feet, and I still had cancer," said Katrina. "I was locked up in the house because of lockdown and there was no support. Nurses couldn't come out, I couldn't get the doctors, so it was very frightening, I can't even explain the feeling of isolation and being left there just to hope for the best.
"I would ask, 'is there anybody out there?' but it was the Cancer Fund For Children who came out of the blue – the next thing they're at the door, they met Kerrie and they started to talk to us, what we can do – despite Covid."
"We just weren't coping at all because my dad was fighting Covid; he was dying. Unfortunately, he did die in March. I was due to have the second surgery while he was fighting Covid. I decided to go in; the doctors told me I was too weak to have chemo that it would kill me. They told me they could take away what they could see and offer some radiotherapy.
"I am five and half stone, I have no spleen. Everything was against me and nobody gave me a chance but the surgeons said they would do it.
"I was on one side of Craigavon getting the operation and my dad was fighting Covid on the other side. I remember mentally being in a bad state, it was awful. My dad was sending messages asking if I was okay and I was sending messages asking if he was okay. I remember thinking, 'this is just unreal, this is not happening'."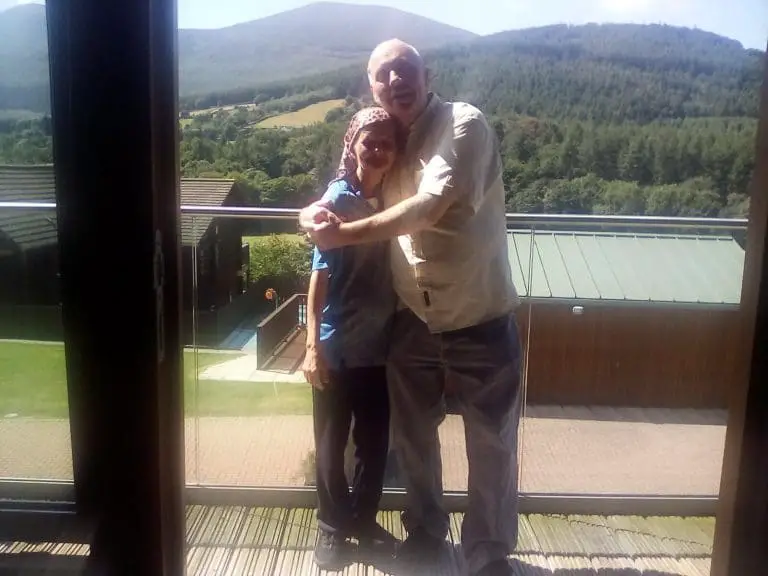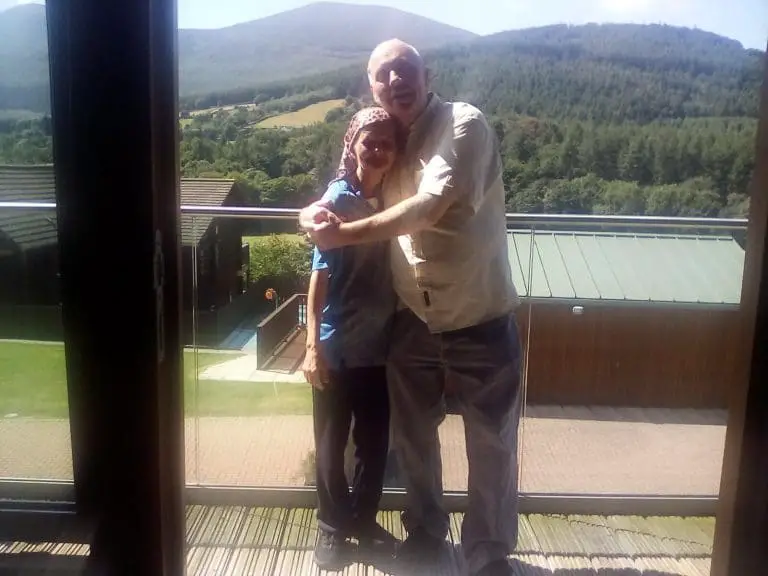 While her dad would never leave the hospital alive, Katrina fought through her operation – continuing to defy the odds.
All the while, the Cancer Fund For Children were sending out Regina, the specialist for Kerrie.
"To be honest," said Katrina, "that was a blessing because that kept her going."
"Regina would just talk away to her, just sit on the floor and do stuff with her, making things, drawing, bits and pieces. It was such a relief to see someone there helping. The charity was talking to me, putting me in touch with others who were going through the same thing – it was amazing, they offered us a lifeline – the only one we had. Only for this charity we had absolutely nothing."
CFFC offered the family – Kerrie, Katrina and partner John – a short therapeutic break at Daisy Lodge.
"At first I wasn't so sure; I couldn't get out the door," recalled Katrina. "They told us to come as a family, I wasn't well at all, I remember thinking it was going to be a disaster but it was about Kerrie.
"We went on it anyway, and it was brilliant, just fantastic! The biggest shock for me was when we got there, the standard was beyond five star. We just walked in and thought, 'Good God!' Every detail was thought of. The staff were so friendly and warm. Such a great family space, the scenery was just beautiful. For once you could forget about Covid."
That break came at the right time, especially after losing her dad and not getting the chance to say goodbye, or offer him a wake.
The break was special but Katrina says she is indebted to the help CFFC have offered her daughter.
"They are a fantastic charity – they haven't closed the door on us. Kerrie has come around so much thanks to them.
"I wanted help for Kerrie because she is an only child, we have very little family, she has lost her grandad, two grandparents before that but CFFC picked her up and put her back on her feet.
"I have that security that someone is going to come out and keep an eye on Kerrie and help her out."
CFFC have been so inspired by Kerrie they have even asked her to be on the Youth Advisory Committee for the charity.
Said Katrina: "She's very involved in that, Zoom calls and meetings with other kids. I love the idea that it's not just for the kids with cancer but those kids who have someone going through cancer – there is no charity like it.
"My darkest fears have been for my child; what is she thinking? What is she feeling? When I knew she was going to be alright, that was such a relief – it's probably half the reason I'm so positive. Someone is helping her and she is okay. That's unbelievable."
This Wednesday, former Irish international rugby captain Rory Best will begin walking from Daisy Lodge in Newcastle to Mayo over nine days to raise funds for the charity.
On Thursday (Day 2), he will be making his way through Keady, from Newry, Belleeks, Newtownhamilton and then onto Derrynoose, where he will begin his third day onwards to Rosslea in Fermanagh.
"I would love people to get out and support Rory," said Katrina. "This is not just money going into research, this is money going directly into the houses to make a lasting impact for people like me and my child.
"These people are going in to sit in someone's house – that's pretty big. Regina has been coming from January and she knows  Kerrie inside out; there's good craic, a good laugh. You can't put a price on that."
Katrina also praised the work of Kerrie's school, St Patrick's High in Keady for their "amazing support", especially the principal, Dr F. Moore and her staff.
"School support is so important and they have really encouraged and supported Kerrie with her education and well-being.
"Kerrie is very intelligent and they are nurturing her wonderful progress, to follow her hopes and dreams."
She too wanted a special mention for St.Vincent de Paul, Keady who "have been so kind, helping us they are amazing always giving, always there, they really care – the kindness they have shown is heartwarming and they always know what help is needed."
As for Katrina, she continues her own fight.
"I've shocked everybody. I'm like a walking miracle, I'm still here; I might still have it, and it's aggressive but I'm still fighting."
She concluded: "I have a strong faith, I believe God is with me and my beautiful Kerrie is my life and inspiration. I will keep  fighting  for her and John. I wish Rory the best of luck and will look out for him in Keady to personally thank him."
To find out more about Cancer Fund for Children and Rory's walk, click here.
Sign Up To Our Newsletter