An Armagh farmer has said he takes little hope from reassurances given after a meeting with dairy sector representatives in Belfast.
After a series of protests by farmers at payments they are receiving for milk, Agriculture Minister Michelle O'Neill has said a collaborate approach is needed.
But Stormont itself, already facing serious financial pressures, does not have the money to throw a lifeline.
Newry and Armagh DUP MLA William Irwin – who chairs the Agriculture Committee at Stormont – said it was imperative that public and wider political awareness is raised of the issues facing the dairy and any sector in difficulty.
Protests have been held at supermarkets over recent days in Enniskillen, Coleraine, Strabane and Banbridge.
Farmers are warning that they face ruin because of the money they are receiving.
The local farmer – who did not wish to be named – spoke after considering the response from the Minister arising out of the sector meeting in Belfast yesterday (Tuesday).
He told Armagh I: "People don't realise how much power supermarkets have. When it gets to the point of importing what we now produce locally, prices will soar and the French will have the country at ransom.
"Our opinion is that Stormont is powerless, despite all the good intentions. However, I also note that not once did the Minister make reference to the big supermarkets which are the crux of the problem.
"She did mention working with retailers, but how exactly? They are using milk as a loss leader to draw the consumer into shops."
He said farmers were told last year, when prices were higher, that they should produce more, with claims all the milk farmers could provide could be used.
"Perhaps they then knew the market would be saturated when quota ended – a novel way to push prices down and pay the farmer less," added the angry farmer.
"Someone is making a huge profit on milk and it ain't the farmer!
"Dairies claim it isn't them and, well, supermarkets are hardly going to put their hand up and admit it's them.
"Does the consumer know that when supermarkets offer BOGOF (buy one get one free) on fresh produce that it's the farmer/grower who takes the hit?"
Turning to calls by officials arising out of the meeting for a more sympathetic approach, the farmer asked: "What had the banks to say? Are they going to extend overdrafts even further, honour sizeable direct debits and defer charges?"
The Minister Michelle O'Neill had said that a "collaborative approach" was needed to address milk price concerns.
And she said all parts of the dairy sector and the banks must work together to ease the current difficulties facing farmers here.
That was the key message Minister O'Neill said she shared with representatives from across the sector at the meeting in Belfast.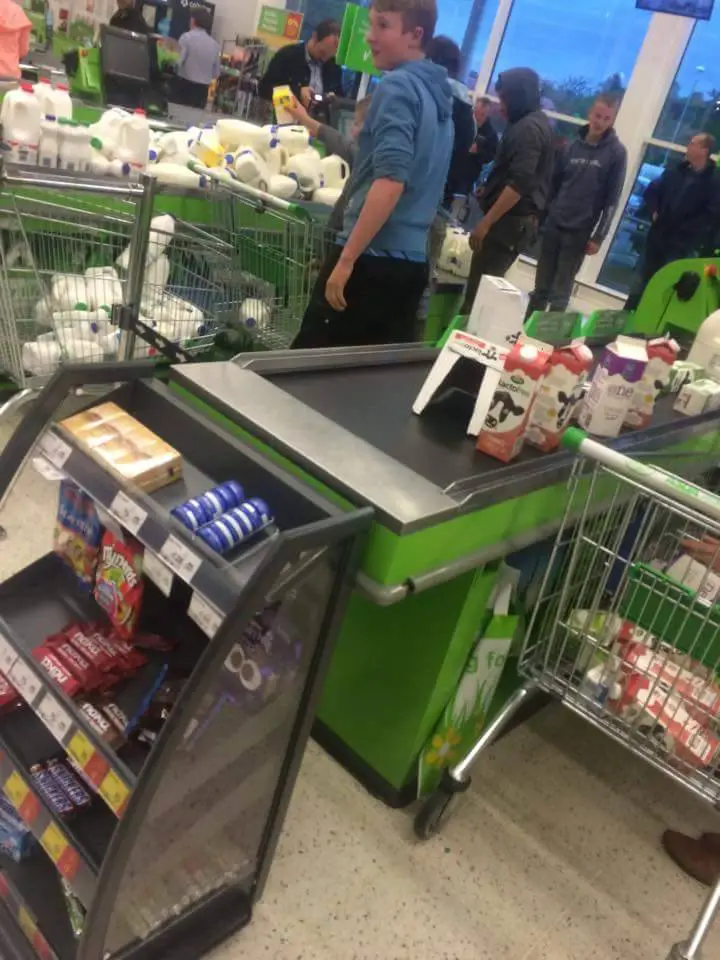 The Minister invited dairy producer and processor representatives, along with the banks, to the meeting to discuss their current assessment of the difficulties facing the sector, as well as their efforts to address them.
She was also keen to emphasise that support for dairy farmers in difficulty must be prioritised at this time.
Speaking afterwards, Minister O'Neill said: "This is a global crisis caused by a range of international market and exchange rate factors. It cannot be solved at a local level alone, but I have been doing all I can to support our farmers, and I will continue to do so.
"While I understand farmers' frustration at the current situation and believe that everyone has the right to peaceful protest within the law, I am convinced that we can better tackle these challenges if we work together.
"That means producers, processors, banks and all politicians, not just here but in Westminster and in Europe as well, each playing their part.
"That is why I invited dairy sector representatives and the banks to meet me. I have been encouraged by their determination and commitment to work through this severe downturn."
The Minister told the meeting – which was attended by representatives from the Ulster Farmers Union (UFU), the Northern Ireland Agricultural Producers Association (NIAPA), the main banks and dairy processors – she expected every effort to be made to address concerns of those farmers affected by the fall in prices.
She said: "I will continue to meet with farmers and to listen. My door is always open and I have asked that others respond with the same attitude. We will also engage with retailers. I am adopting a two-pronged approach, by helping farmers at an individual level and by lobbying on behalf of the sector as a whole.
"Farmers need practical support at this time and I am encouraging our local banks to be as flexible and understanding as possible. It was important that they participated in today's meeting as it is essential that lenders are part of this important discussion.
"I appreciate that dairy processors are also finding the difficult trading conditions very challenging and have tried to cushion their farmer suppliers from falling prices. I would encourage all elements of the dairy supply chain to continue to work together to ensure that we have a sustainable and profitable dairy industry."
She added: "CAFRE dairy advisors are on the ground and will continue to support individual farmers by providing valuable support on improving technical efficiency and business performance. I would urge farmers experiencing financial difficulties to speak to their bank and seek support from CAFRE or Rural Support staff."
The Minister went on to say that action at a European level on raising intervention price thresholds was required and that she was determined to raise the issue in Brussels and in London.
Minister O'Neill added: "I have been lobbying Britain and Europe on raising intervention price thresholds and I have persistently raised the need for effective, timely EU support with both the British Secretary of State Liz Truss and European Commissioner Phil Hogan.
"I am disappointed with their response but am not prepared to allow this to go unchallenged. I have been calling on other Ministers in the other devolved administrations to work with me to apply pressure for effective EU support.
"I am also planning to attend the special Agriculture Council meeting in September. Our concerns must be heard and addressed."
Minister O'Neill intends to meet with the sector again before the end of the month to ensure that this joined-up approach is maintained.
Among those attending were representatives of the UFU, NIAPA, Danske Bank, Ulster Bank, Bank of Ireland, First Trust, HSBC, Barclays, , Dairy UK, United Dairy Farmers, Fane Valley, Glanbia Lakeland, LacPatrick Co-op and NIGTA.
Chairman of Stormont's Agriculture Committee William Irwin – speaking after the recall of the Agriculture Committee last week to discuss the crisis facing the dairy sector – said that had been "a constructive and useful exercise".
He added: "Since this meeting the issue of milk prices have continued to cause concern for farmers and many have been protesting regarding the downward trend in pricing and the impact this is having.
"As a dairy farmer for the past four decades I understand the plight facing dairy farmers in particular at this time and the importance of resolving what is a global problem, and which is affecting local farmers and the wider rural economy.
"My ongoing focus will be to ensure that the DARD Minister delivers the much needed cash injection of the Single Farm Payment on time or in advance of December and that the Rural Development Programme is used to support farmers in the difficult times that we are currently facing.
"I will also be calling on the banks to show real and meaningful practical support, ensuring that farmers are given the flexibility to weather the storm.
"It is imperative that we raise public and wider political awareness of the issues facing this and any sector in difficulty.
"This will afford the opportunity for greater pressure to be applied to those who can help resolve the situation, especially in a wider UK and European sense."
Check our Fair Price Farming NI on Facebook
Read more news:
Jewellery stolen in Keady house burglary
Three customised bicycles stolen from county Armagh garage
Councillor speaks of own experiences to highlight growing homeless plight
Portadown man fined £7,000 for waste offences
Two released on police bail in Milford assault investigation
Sign Up To Our Newsletter