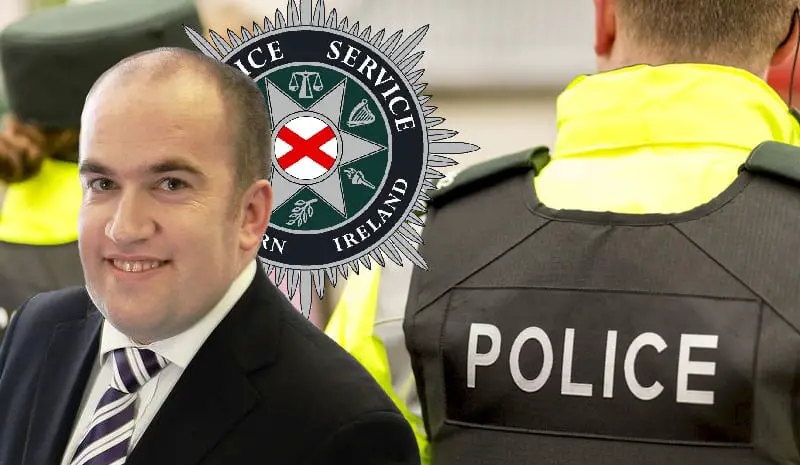 A farmer travelling with his young family was "subjected to an interrogation" by PSNI officers at the side of a road, according to councillor Thomas O'Hanlon.
The alleged incident happened at the side of a road on the outskirts of Keady yesterday evening (Thursday).
And Mr O'Hanlon has branded the actions of officers as "arrogant", "rude" and "completely unprofessional".
The local councillor, who was contacted by the farmer, is to seek an urgent meeting with the PSNI's District Commander.
"Over recent years the PSNI have put a lot of effort into building trust and relationships in the wider Keady community and the behaviour of one officer yesterday evening has set back that work almost a decade," berated Mr O'Hanlon.
"I was contacted by a young man and his family who was stopped by the PSNI in the Derrynoose area on his way home from work.
"He was subjected to an interrogation on the road side, and police made him get out of his vehicle before searching it. They checked the car for tax, insurance and HMRC even dipped the tank to ensure his vehicle was roadworthy, and everything was fine.
"However the police proceeded to search the vehicle and removed a penknife, they seized it and referred him to the Public Prosecution Service."
He added: "The young man is a farmer, the pen-knife is used to open bales of hay and silage and yet the PSNI referred this to the Public Prosecution Service.
"Having been contacted by the family I noticed the PSNI were carrying out an operation in Keady with Customs.
"I approached them to discuss the issue and to try and establish just what went on.  However what I witnessed was arrogance, rudeness and completely unprofessional.
"I am referring the case to the Police Ombudsman and want an meeting with the area's most senior officer as a matter of urgency."
He continued: "The Police have a job to do, and when they do a good job I am the first to commend them for their actions.
"However when they get it wrong they must learn from their errors.  Young people need to be able to trust and respect the PSNI, however when they are treated like this, searched for no reason and humiliated by the PSNI, trust and respect are far from their minds.
"The police need to have a legitimate reason to search a person, vehicle or property and I look forward to hearing them explain their way around this one.  Until this is resolved, my confidence in the police and that of the local community is at an all time low."
When contacted by Armagh I, a police spokesperson, said: "Police were in the Keady area conducting a proactive operation with partner agencies and while there they spoke to a male who was cautioned.
"A report a will now be forwarded to the PPS. A senior officer spoke to the Cllr O'Hanlon about the matter that evening.
Chief Inspector Barney O'Connor added: "Officers routinely speak with elected representatives and always seek to address any areas of concern."
"If there are concerns regarding police conduct, members of the public are encouraged to contact the Police Ombudsman."
Read more news:
Son of late Dr Ian Paisley cancels meeting with Eugene Reavey
Farmer suffers devastating loss after almost 60 sheep taken in latest raid
Construction begins on £20m Quays Shopping Centre extension
Keady mine potentially 'worth billions' after FIVE new gold zones discovered
Passengers face 'noticeable jump' in fares but drivers out of pocket too
Homes evacuated in security alert as four men are arrested
Man threatens staff with knife in Armagh shop robbery
SS Connemara & Retriever disaster to be marked despite funding setback
Sign Up To Our Newsletter