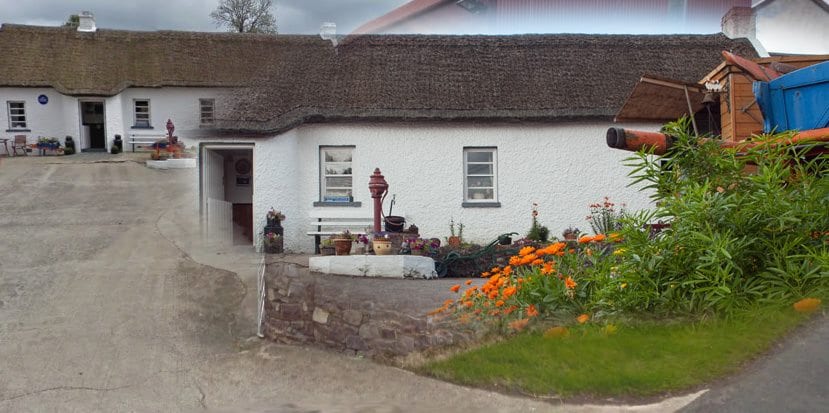 Planners are poised to recommend approval for an extension at Dan Winter's Cottage – the birthplace of the Orange Order which has been drawing visitors to Loughgall for more than two centuries.
It was at Dan Winter's Cottage on the Derryloughan Road in Loughgall that the first warrants of the Orange Order were signed.
And it happened after the Battle of the Diamond, which was fought on September 21, 1795, and saw about 30 Defenders killed at the site.
The Winter family's ancestral home was in the farmyard.
Visitors exploring the roots of Orangeism have made it an essential part of their itinerary for many, many years.
There has been much restoration over the years at the historic site.
Nine years ago the original boil house and cow byre was rethatched. Other farm buildings were also restored, as was the garden, and parking was provided to meet the tourist demand.
Also, the following year, a tea room was opened.
The Winter family is now planning further changes at the historic visitors centre and ancestral home.
It is hoped to extend the meeting room and to replace a corrugated iron roof to the scullery.
In addition, it is planned to contrust a pedestrian path from Dan Winter's Cottage to the viewpoint overlooking the site of the Battle of the Diamond.
Proposals for the works were submitted last April.
Planning officials have now recommended that the development be allowed to proceed.
The application has been marked with an opinion to approve on a delegated list, although this still has to go before councillors sitting on the planning and regulatory services committee for the final decision.
County Armagh is the birthplace of the Orange Order, which now has lodges and brethren all over the world.
Earlier this year Co Armagh Development Association approached Armagh City, Banbridge and Craigavon Borough Council and expressed the hope of attracting more tourists to the area.
This development would sit well with its plans.
Just last year a new state-of-the-art Sloan's House Museum was opened in Loughgall and contains artefacts linked to the long history of the Orange Order.
The Association – as Armagh I revealed in January – wants to establish a specific tourist trail as a key visitor attraction.
It would include sites such as Sloan's House, Dan Winter's Cottage and the Battle of the Diamond.
Early indications have put the cost of such a trail in the region of £330,000.
Sign Up To Our Newsletter