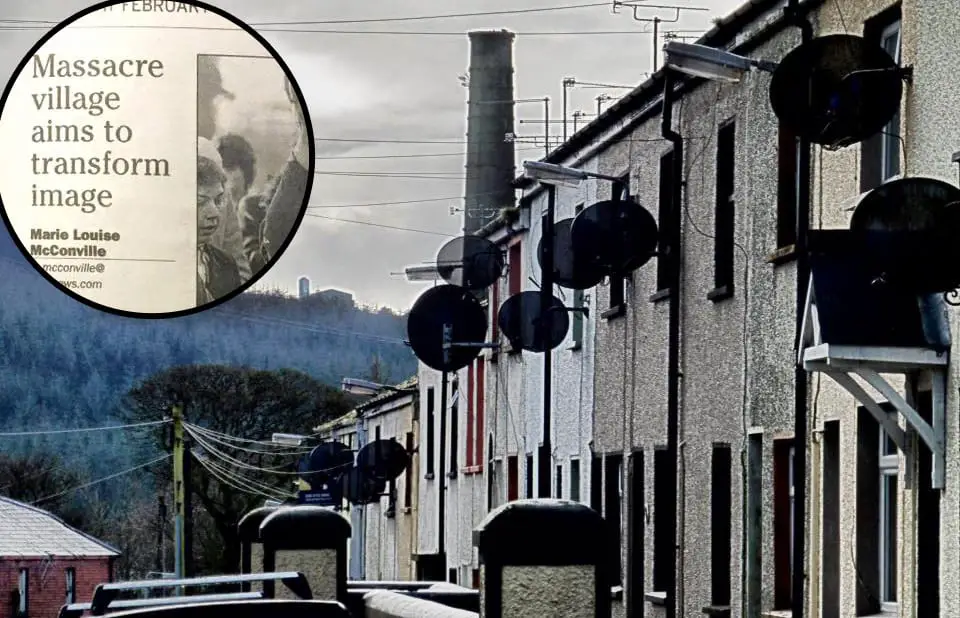 Residents of a small county Armagh village have reacted with anger after a Belfast newspaper report dubbed their home the "massacre village" as it "aims to transform its image".
An article about Darkley – just a few miles from Keady – in the Irish News yesterday (Thursday),  – about a planned Crossfire Trust fundraiser this weekend – spoke of the drive to "stimulate better feelings".
But the comments have stoked fury among the people of Darkley – Catholic and Protestant alike – who have slammed the picture painted of a divided community.
The article goes back to highlight the heinous murders of three elders at the Mountain Lodge Pentecostal Church.
David Wilson, Harold Browne and Victor Cunningham died in an attack claimed by the Catholic Reaction Force, after the rural church was sprayed with bullets on November 20, 1983. Seven others were injured in the attack during a Sunday night service.
The perception that the attack caused division which is held to this day in the village has been rubbished and provoked an angry backlash.
Residents and friends – from both sides of what in reality is a tightly-knit community – have taken to Facebook to voice their views on the public page, The History of Darkley and District.
Among those hitting out at the picture painted by the newspaper is Pastor David Bell, the current pastor at Mountain Lodge.
He was among the congregation – a young man in his 20s – on that shocking night back in 1983.
Pastor Bell has since written a book on the history of Mountain Lodge – 'Fire On The Mountain: The True Story of Darkley Church' – which includes his own recollections of what happened.
And he too has joined the condemnations of the image portrayed.
Writing on the Darkley Facebook page, on behalf of Mountain Lodge, Pastor Bell says: "We are saddened that events that took place 33 years ago during some of the darkest days of the Troubles, and which impacted not only the families which attended the service that night but the entire wider community, should be used in such a negative way.
"I can only imagine the continuing pain and discomfort that such articles must bring to those who lost loved ones on that night and who are continuing to rebuild their lives.
"I can attest to the fact that as a Church we enjoy an excellent relationship with all the local schools and the people of Darkley as well as the wider public.
"We endeavour to share our Christian faith through various Fun Days, Concerts, Camps and other outreach events in the local community and these are always very well supported by all sections of the local community of Darkley and further afield.
"In a few weeks time we will host another Camp, where people always enjoy walking along the country roads and through the village of Darkley and and where many enjoy staying on site for the entire weekend.
"Articles such as this are most unhelpful and are certainly not endorsed by the Church."
Willie Monaghan – the admin for the page – says Darkley is a people looking forward and not mired to the past, lambasting the comments as a "character assassination of our village and people".
Willie – who spoke to Armagh I  about the controversial story – posted: "Thirty-three years ago, a terrible atrocity was inflicted upon our community, a community that lived in peace and in which the issue of religion was never an issue. We didn't need integration because integration was the very fibre of our being. We lived together, we played together, we went to school together and we worked together. In fact, many of us, Catholic and Protestant are not only friends but family!

"On a fateful night in 1983, our community was catapulted into the depths of sectarian mud-slinging. The world has been told for 33 years that Darkley is in 'need' of healing, that Darkley is in 'need' of reconciliation and that Darkley is in 'need' of another massive grant to 'help us through the conflict'.
"I think different, I think the world is in dire need of people like those in Darkley who have always shown that everyone can live together no matter who, or what, they are.
"The image and name of Darkley has been cruelly tarnished, I will admit, but over the years many from the community have worked tirelessly to improve Darkley, to battle dereliction, to improve social housing and to make it a nice place to live.
"The fruits of their efforts can be seen in Shuttle Row, the School Lane, the new wall and various other community schemes. 
"Previously, while our houses and walls were falling in around us due to lack of investment, the one thing that remained intact was our friendships.
"Others, unfortunately, have exploited events for their own ends and with every new grant application, the horrors of that night in 1983 have been dredged up and the suffering of those in Mountain Lodge Church relived in many newspaper columns."
Willie hits out at comments attributed in the article to the Crossfire Trust, which runs Darkley House, which says that people in the area in the past were "reluctant" to come to Darkley which has "a name and an image".
He adds: "Darkley does need funding, it needs regeneration, it needs the support of all external bodies.
"I hope the Irish News, having done Darkley a disservice in their article terming us 'Massacre Village', will actually come and visit our community and highlight the needs of one of the few places in Ireland where Catholics and Protestants have always and continue to live side by side."
Read more news:
County Armagh first ever Colour Dash: All you need to know
Woman (80) left with several fractures after being struck by car
Armagh underpass to get £24,000 facelift after years of anti-social behaviour
Body of man discovered on the outskirts of Armagh
Man (61) to appear in Armagh court over £120,000 cannabis seizure
Tributes as Irish country music and showband legend Gene Stuart dies
Two of UK's best forest parks could provide blueprint for Gosford
Man arrested after police uncover large quantities of drugs in house search
Become a member
Support local, independent businesses by becoming an independent member.
Become a member