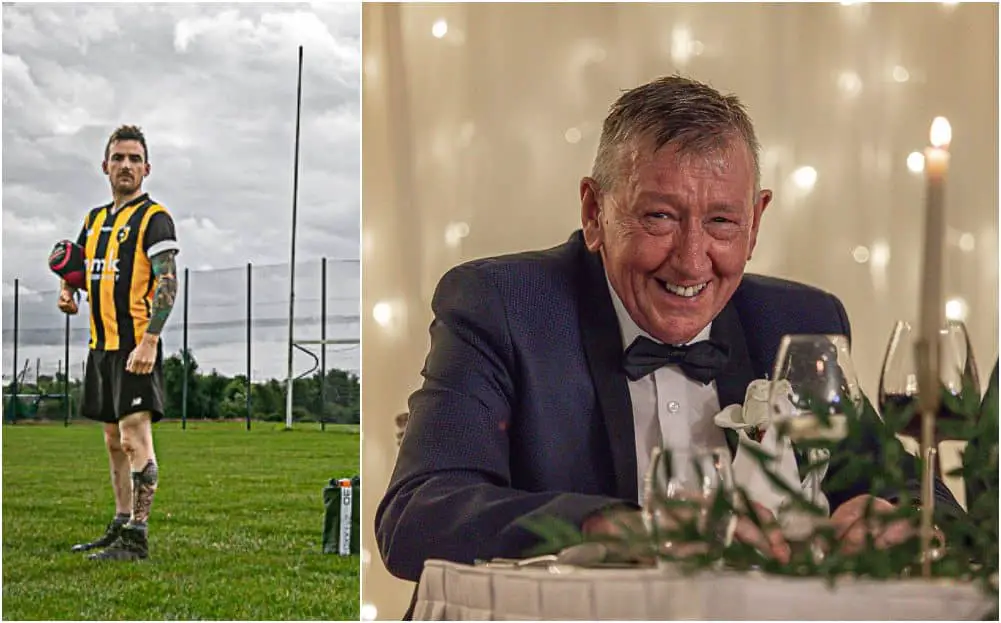 A Crossmaglen man, who is walking the length of Ireland in memory of his late father, is also raising money for the Southern Area Hospice in the process.
Stephen Hughes wants to give back to the hospice, described by both his mum and late dad, Pat, as "a little piece of heaven on earth", and will do so when he begins his 548km walk from Malin Head to Mizen Head on Monday, August 14.
Stephen says he has picked this fundraiser for a number of reasons; one of which was the fact Ireland was always his dad's favourite place to travel, and it was the last memorable holiday his mum and dad did together – the Wild Atlantic Way, back in 2021.
His dad also had a great love for Crossmaglen Rangers and the club kindly presented Stephen with a jersey, which he intends to wear on his travels in the hope of getting as many photographs as possible at local GAA clubs en-route.
Stephen explained: "On June 21, 2022, we were told dad was seriously ill, at which point he was offered a bed in the hospice. Like a lot of families, who didn't quite understand the hospice, having never experienced it, we were extremely upset thinking this was the end, that he would just go in and die there – how wrong we were.
"From the minute mum and dad entered the doors, the service and care they both received was unbelievable. My mum stayed 24/7 with dad and they cared for her just in the same way they cared for dad.
"Although she was offered a bed in the family room she chose to sleep in the armchair beside dad every night; the nurses checked on her and offered her tea at all hours of the night, she actually wanted for nothing.
"They had access to reflexology and chaplain services. When dad entered the hospice we were told it was 'hour-to-hour', but he actually walked out of the hospice, with his walker, on July 7 to go home."
Pat's last wish was to be able to die at home, surrounded by his family. That wish was granted to him and he passed in the early hours of Monday, July 11, 2022.
"We as a family don't believe this would have been possible without the care of the hospice," said Stephen.
"We believe had he not been able to avail of this service he would have died alone in the hospital and we would never have got over that. There are not enough words to express how much easier it has been to suffer the loss of our dad as a result of the care he received in the hospice and the fact that our mum could spend all her time with him as they were inseparable during their 43 years of marriage."
For Stephen, his dad was someone he looked up to.
"When I looked at that man he was unstoppable," he said. "You would look at him and think to yourself that he would outlive you. He loved the outdoors and his farm and animals, this is where he was his happiest."
Pat loved his GAA, his wife, his kids and grandchildren – in no particular order! 
Said Stephen: "I think because of his sense of humour he would have told you in what order; it's the wee things like that, that I guess as a family we miss."
Pat was diagnosed with oesophageal cancer in April 2020. He went through chemotherapy and underwent an operation on August 12, 2020. He ended up in life support after suffering a bleed from the operation. He came off life support just over two weeks later, on August 29.
He came home on September 8 and with "amazing fight and willpower made a great recovery," added Stephen.
However, on Christmas Eve 2021, the family were dealt a massive blow when Pat relapsed. He was admitted to hospital on St Stephen's Day but was able to attend his youngest son's wedding on December 30.
"He had a fabulous day and the photos we have of him from that day we will always treasure," Stephen recalled.
"The next few months were extremely tough on him. He still remained upbeat despite everything. He was the most amazing man and he never gave up until the very end."
The impact of Pat's passing has been huge on all the family, especially when there are family gatherings.
"Cancer is an awful disease and I hope not to have to see it again; it's a very sad way for anyone to spend their last moments on earth. It's hard on us all, but more so the grandkids as they are too young to understand what happened to their grandad. It's been a real learning curve for us and it's a tough one when special occasions happen; he loved having his family around him and we miss the craic."
Now, Stephen has a mammoth task in hand with just a few days left to go before he sets off on his adventure.
This will be the second time in just over a year that Stephen has taken on a challenge for the hospice. Last year he climbed 12 peaks in 12 weeks, ending the challenge on Croagh Patrick on a snowy day on December 12, 2022 – his dad's birthday. He raised £3,250 for the Hospice on that occasion. 
Stephen has been preparing for this latest challenge by walking every morning with his dog, Snoopy, rain or shine – and if this summer's anything to go by, it's been predominantly rainy walks. 
He says he excited to see so much of our wonderful country, whereas his mum has a spreadsheet on the go, estimating where he will be at any one time – "she'll not settle until I get to the end".
As for the H=hospice, Stephen says it's only through that first hand experience that he fully got to understand and appreciate the "absolutely phenomenal" work that they do. 
"You don't have to do enormous things to support them even just support their lotto or buy a ticket for a raffle every little bit counts," he added.
You can donate to Stephen's fundraiser here.
Sign Up To Our Newsletter