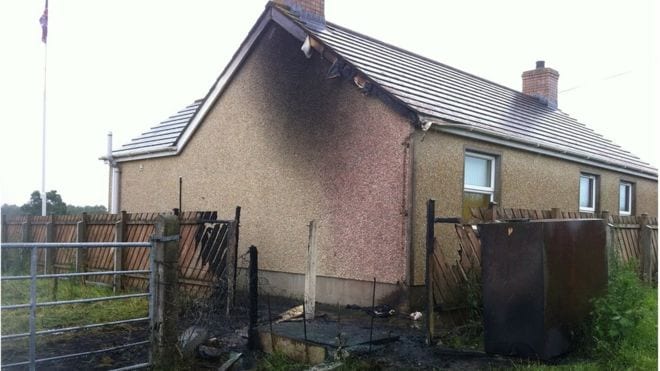 Sinn Fein's youth wing have extended an offer to help with the clean-up after an arson attack on a County Armagh Orange Hall at the weekend.
The party has contacted the local Orange lodge and offered its help, branding the attack on Muckery Orange Hall as "naked sectarianism".
There have also been calls locally for no reprisals, with an escalation in this type of activity sadly more frequent in the run-up to the Twelfth of July demonstrations.
It was Sunday morning when police received a report that, sometime overnight, an oil tank was set on fire.
It caused scorch damage to spouting and the gable wall of the Orange Hall, which had been previously destroyed in an arson attack in 1997.
Upper Bann Sinn Féin MLA Catherine Seeley and local Councillor Fergal Lennon have condemned the attack.
Ms Seeley said: "This attack represents not only an attack on the Orange Hall but an attack on the entire community in Derrytrasna.
"The people who carried out this reprehensible act have nothing to offer the community and do not represent the people of this area in any way."
Ms Seeley continued: "I have been in contact with the Lodge Secretary to convey mine and my party's disgust at this incident and to offer our support in whatever way possible.
"I also conveyed an offer made by Ógra Shinn Féin Upper Bann who wish to help with the clean up and repairs of the hall if possible.
"Incidents like this should be confronted for what they are – naked sectarianism."
Councillor Lennon added: "Muckery Orange Hall is at the heart of the community in Derrytrasna and the community will rally around our neighbours.
"This is a tight-knit rural community and we will not be held to ransom by mindless thugs who represent no one and are of no value to the people here.
"I would encourage anyone who has any information regarding this crime to contact the Lurgan PSNI on 101."
Read more news:
Sign Up To Our Newsletter