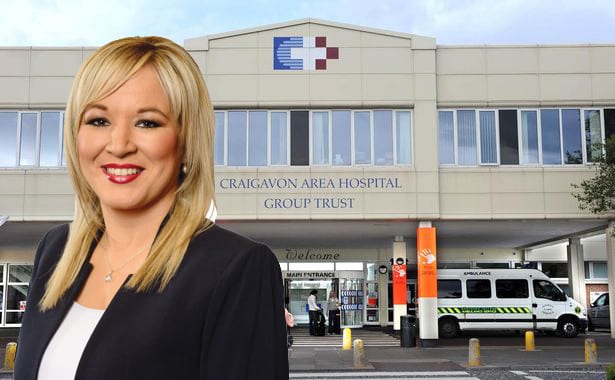 Twelve out of the 209 patients in the Southern Trust who waited longer than 14 days for a referral in June were subsequently diagnosed with breast cancer.
And all 12 of those patients have now begun treatment.
The information was revealed on the floor of the Assembly on Opposition Day by Health Minister Michelle O'Neill.
She lambasted an SDLP motion called on the Minister of Health to "intervene to ensure that patients receive swift, safe and sustainable healthcare and to ensure that patient safety is not further compromised".
The motion had also noted "with anger that, in June 2016, only 6·7% of breast cancer patients in the Southern Health and Social Care Trust area were seen within 14 days, despite the target being 100%".
The Minister – after two hours of debate on the matter – accused the Opposition parties of embarking on 'Project Fear' over a motion which labelled the situation on cancer waiting lists as being "symptomatic of the wider unprecedented crisis engulfing the Northern Ireland health service".
Minister O'Neill said the picture painted on cancer services bears no relation to reality.
"They see a crisis that is 'continuing to deteriorate', whereas, in reality, our cancer service is better than it has ever been," she added. "We treat more people for cancer than ever before"
She said her focus was on delivering everything she could to drive improvement and ensure that the high standards set for our services are met.
Minister O'Neill stated: "Twelve out of the 209 patients in the Southern Trust who waited longer than 14 days for a breast cancer referral in June were subsequently diagnosed with breast cancer. Thankfully, 94.3% did not have a cancer diagnosis.
"All of the 12 patients with a confirmed diagnosis have commenced treatment. Ten received their first definitive cancer treatment within the target of 62 days, which means that the initial delay in diagnosis had no negative impact on their receiving treatment within a reasonable time. One received their first treatment at day 63, just outside the 62-day target. The final patient was a more complex case, and treatment did not commence until day 81.
"This is not to try to downplay the seriousness of the situation, especially for those two patients who did not receive treatment within the 62-day target. While I am far from satisfied with the level of service, I want to acknowledge the sterling service that the trust's clinical team provided for their patients and to show the public that things are not as bad as they may first appear.
"I want to reassure people at home who may have sick loved ones or may be unwell themselves that the level of care they will receive from the doctors and nurses here is second to none."
The Minister said she accepted there were issued in the system but continued: "I am committed to working with all parties in this Chamber who are interested in that collaborative approach to address all these issues. I hope my approach will be reciprocated on all sides.
"Whilst I can always take on board and fully understand any concerns that are absolutely genuine, the future of the health service is too important for one part of the system to be debated as a knee-jerk reaction or in the heat of the moment.
"Instead, I acknowledge that performance is not where we want it to be, and I want to work hard with partners across the system to make sure that everything that can be done is done to improve it."
The Sinn Fein Minister said the decline in performance at the Southern Trust was first reported to her Department in June, and she immediately asked the board to work with trusts as a matter of priority to find ways of improving the situation for patients.
Minister O'Neill said: "The board and the trusts have now put in place innovative solutions to work together to provide additional clinics to address the poor performance in breast cancer while maintaining safety for patients.
"In addition, the trust has extended its working hours, and that has facilitated the operation of a fourth breast clinic. It is early days, but there are signs that their efforts are having a positive effect.
"The latest provisional information indicates that performance in the Southern Trust has improved to 100%.
"I will continue to keep the situation under review, but I want to put on record my sincere thanks to all the staff and management in the Southern Trust and beyond who have worked so hard to recover the situation."
The Minister said the issues in the Southern Trust highlighted the challenges that exist across the system in maintaining acceptable levels of performance.
To that end, she explained that a workshop would take place next Wednesday, October 26, bringing together breast cancer specialists from across Northern Ireland to identify options for delivering a "sustainable, high-quality breast cancer service for the future".
"I look forward to receiving the proposals put forward by the workshop and will ensure that they are given the priority that they deserve," added Minister O'Neill.
Read more news:
'Killer clown' craze hits Armagh after reports of disturbances at city housing estate
'Killer clown' craze hits Armagh after reports of disturbances at city housing estate
Armagh students wow tourists with song at the top of Eiffel Tower
County Armagh takeaway facing hefty fine with illegal worker deported
Road closed following two vehicle crash near Tandragee
Armagh champion fundraiser Mark McSherry plans spectacular show for Marie Curie
New 'park watch' scheme for Mall to combat public drinking and anti-social behaviour
Sign Up To Our Newsletter
Sign up to our newsletter for major breaking news stories as they happen – right to your inbox.