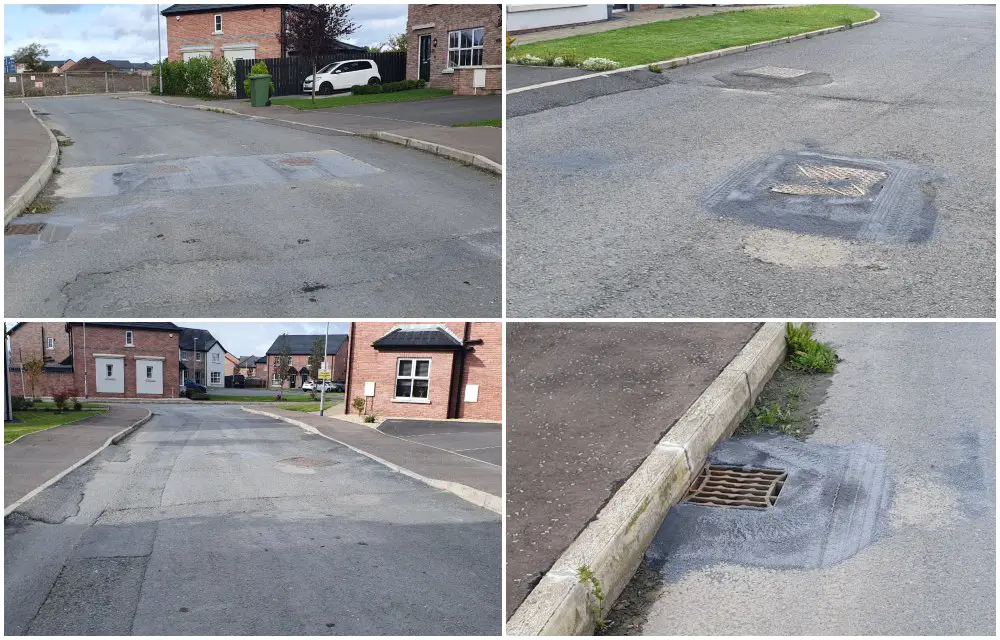 Residents of a housing estate in Craigavon have this week been told that ABC Council refuse workers will no longer be entering the development to empty bins over health and safety concerns.
Instead, residents of Drumford Meadow – a major ongoing housing development just off the Kernan Hill Road – are being forced to bring their rubbish bins to a designated collection point at the site office.
For some, this is a trek of a couple of hundred metres.
Council says this is down to the poor state of the roads within the development – raised metalwork and uneven surfaces – which are a health and safety hazard for their workers.
One resident, who has lived in the development since 2019, contacted Armagh I in a bid to highlight the issue.
"Council put a letter through everyone's doors on Monday to tell them that they would no longer be entering the development over health and safety concerns.
"We've been living here five years and up until this point they had been doing it but we got the letter to say, due to road inspection and health and safety issues, Council will no longer be coming around to the doors. That's a bit of a trek for some residents on a weekly basis.
"The roads haven't been finished since we moved in. There are potholes, there are raised manhole covers, the water doesn't disperse properly; it's beyond a joke.
"There are a lot of young families, like ourselves. There are kids out playing in the street, cycling around. If the Council has deemed it to be a health and safety issue for grown men out collecting waste, why is it alright for us to cycle, drive and let our kids play out on it?"
Armagh I contacted Antrim Construction Company (ACC), who have been responsible for the building work.
David Magee, Building Director for ACC, told Armagh I that while it was unfortunate Council have, at the eleventh hour, adopted this policy, he understands they have rules and procedures to follow.
He added: "We are working to get this surfacing completed as soon as possible, hopefully in the next few weeks. This has been an ongoing issue with the Department for Infrastructure but thankfully they have now agreed to allow us to construct the road as per the approved drawings, which is probably going to cut about four weeks out of the process.
"I have spoken to a Council representative to see if there was any way possible they could work with us, knowing that we're going to have surfacing completed in a few weeks time. If they could give the residents the benefit of a few weeks and continue doing what they doing."
A Council spokesperson said: "The Council is providing a bin collection service to residents at Drumford Meadow. However, as road surfacing work remains unfinished in the current phase of the development, the Council has asked residents to leave their bins at a designated central collection point until this work is complete.
"The housing developer, Antrim Construction Company Ltd, has advised that this work will be completed within the next few weeks and staff are content to pull the bins out to the collection point for any resident who needs assistance during this time. Residents in this area will be notified when bins can be collected from their property."
Sign Up To Our Newsletter