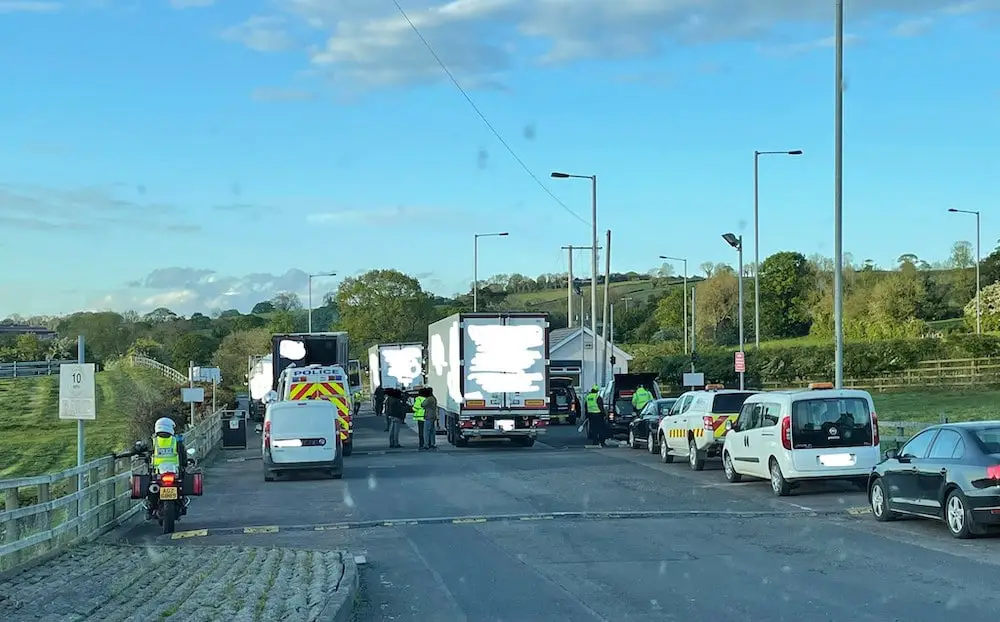 A Co Cavan man who claimed he thought the £900k worth of cannabis in van was "knock off Canadian Goose jackets" has been refused bail despite negative forensic tests.
Court previously heard the 41-year-old claimed he knew nothing about the 60 kilos of herbal cannabis police uncovered in the back of his van when it was stopped at an HMRC diesel checkpoint on the A1 near Loughbrickland.
Brian Anthony McDonagh,of Springfield in Cavan, appeared at Newry Magistrates' Court on Wednesday for the purposes of a bail application via videolink from Maghaberry.
The defendant is charged with possession of Class B, possession of Class B with intent to supply, obstructing powers of search for drugs, importing a controlled drug and being concerned in the supply of Class B.
At a previous court hearing, a constable outlined how McDonagh had been driving a Vauxhall Vivaro van up the A1 when he was ordered to pull into a lay-by close to Loughbrickland at an HMRC diesel checkpoint.
Cardboard boxes in the back of the van were found to contain 60 kilos of vacuum packed herbal cannabis, estimated to have a street value up to £900,000, said the officer, adding that as the search was being conducted, McDonagh "fled from the van" but was arrested in a field a short distance away.
During police interviews, McDonagh claimed that making arrangements through a man he named only as James, he met two males in a lay-by in Ballinasloe who loaded the boxes into the van and he was to be paid £500 to deliver them to "the market at the airport" which police believe is Nutts Corner market.
He further claimed he believed the boxes contained "knock off" Canadian Goose jackets and denied any knowledge of cannabis, maintaining that his DNA would not be on the boxes.
Speaking at court on Wednesday, defence barrister Seamus Lannon stated that negative forensic tests carried out by police on the drugs in relation to his client proved a "significant change of circumstances".
Mr Lannon said that the prosecution would need to prove that McDonagh knew the the substance was cannabis and that he was in control of the drugs.
Prosecution maintained that the case remained, mainly that the defendant was the "sole occupant" of a lorry containing £900,000 worth of cannabis.
They added that the main objection at the first appearance had been risk of flight and this had not been diminished by revelation in the forensic evidence.
Mr Lannon commented: "These drugs were likely flown into the country. If we take what the prosecution have said then every single person on that flight could be suspected of possession of drugs."
District Judge Eamonn King stated: "This information is not relevant to the bail application. I am not here to trial the matter….I am still concerned given this man has an address in Co Cavan that there is still a risk of flight."
Bail was refused and the case was adjourned until September 8 for an update.
Sign Up To Our Newsletter