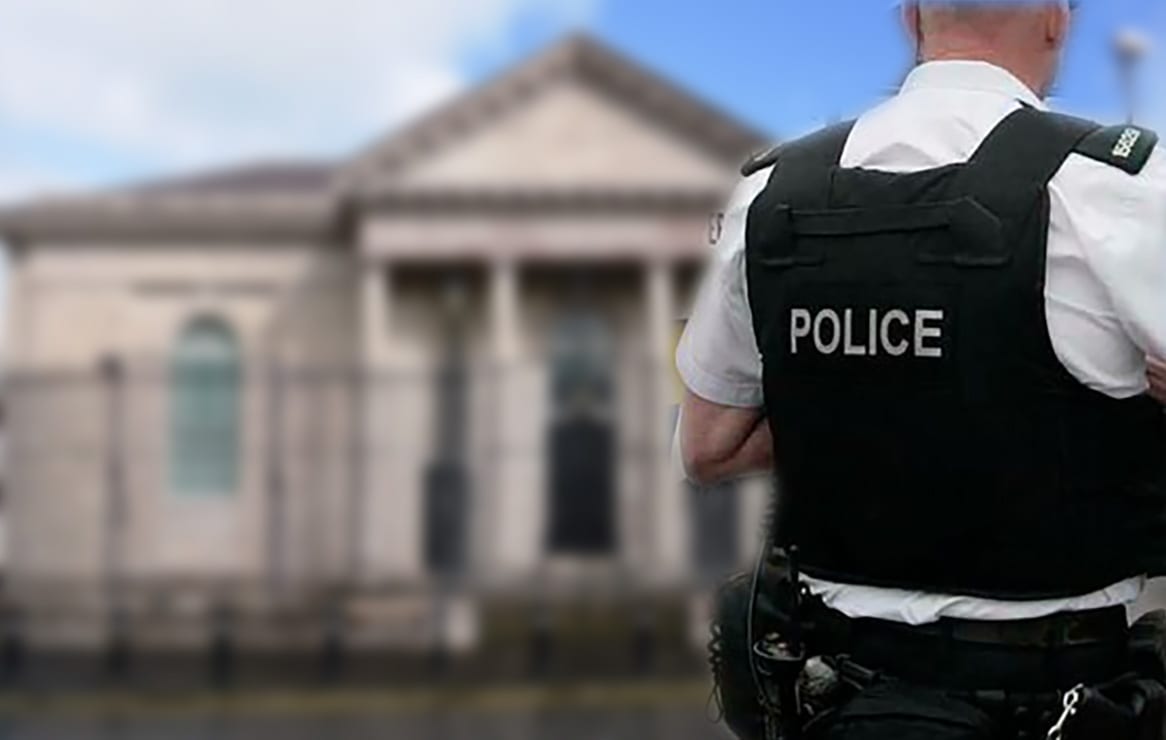 A Banbridge man who assaulted his uncle whom he claims "has been like a father" to him has been handed a suspended prison sentence.
Court heard how the 28-year-old also damaged a light fixture of a police vehicle and body worn camera whilst being arrested on breach of bail.
Aiden McCartan, of no fixed abode, pleaded guilty to three counts of criminal damage, common assault, three counts of possession of Class C, possession of Class B, resisting police and assault on police at Armagh Magistrates', sitting at Newry, via videolink from his solicitor's office.
Prosecution outlined that these offences were accrued by the defendant over two separate incidents.
Firstly on July 5, at 9.20pm, police were contacted by the injured party, McCartan's uncle, who reported that his nephew was at his property in Banbridge being a nuisance.
He stated that the defendant had grabbed him, ripping his T-shirt, before becoming aggressive and pushing him into a chair.
McCartan was subsequently arrested, and when searched a gabapentin tablet was found in the jacket which he was wearing.
During a further search of his bedroom, diazepam and pregabalin tablets were also located and seized by police.
Whilst in custody, police also found a kinder egg in the defendant's boxers which contained suspected cannabis and a yellow tablet.
When interviewed, McCartan said that he had consumed alcohol before having an argument with his uncle. He denied the assault and claimed the T-shirt had been damaged in a struggle.
The defendant stated that he did not own the jacket in which the gabapentin was found. He claimed he had been prescribed the other tablets and said that the substance in the kinder egg was not cannabis.
Then on September 21, police were once more called to McCartan's uncle's property after reports that he was at the address and highly intoxicated.
The defendant was informed he was under arrest on breach of his bail conditions, however, he lay down on the ground and clamped his legs refusing to co-operate with police.
McCartan had to be carried by officers. He kicked out damaging a light fitting in the police vehicle and attempted to knee one officer, damaging a body worn camera.
Defence barrister Alan Blackburn stated: "This is a young man who finds himself in a very serious situation. His last sentence was one of immediate custody.
"For the September 21 offences he spent 12 days in custody with no address available to him and he has now been released from prison."
He continued: "This is a plea at the first opportunity. He sadly has a criminal record but I am hoping that your worship will not impose a period of immediate custody.
"He wishes to return to Banbridge back to his uncle, who has been like a father to him. He lost his own father when he was 15 years of age."
District Judge Eamonn King stated: "If he is like a father to him he shouldn't be assaulting his uncle or being a nuisance in his home.
"In view of the plea of guilty I am not going to impose an immediate custodial sentence."
McCartan was sentenced to four months in prison suspended for 18 months.
Sign Up To Our Newsletter